Jen's Crispy Baked Chicken Recipe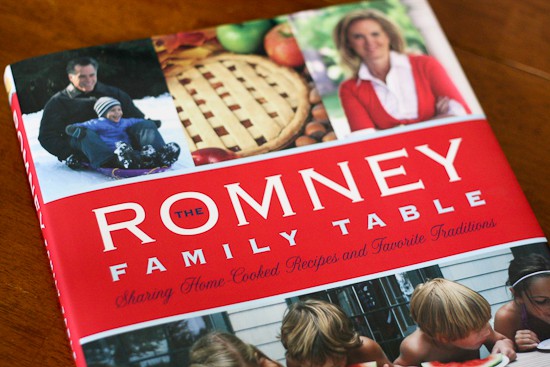 I've got a few things to show you today.
1. A brand, spanking-new cookbook (to help neurological research!)
2. My biggest birthday cake disaster
3. Crispy baked chicken (yes, it's possible).
4. A video of my 1-year-old smearing sloppy joe sauce all over her body as if it was lotion. (Actually I'll spare you that one. And the orange ring in the bathtub that mess left behind.)
The nice people over at Shadow Mountain publishers sent me a copy of Ann Romney's new cookbook, The Romney Family Table to share with you! Not only does this book contain lots of Romney family recipes, but it also has stories about their family traditions and times they spent together.
Oh, and the best part? All of the profits from this book will be donated to the Center for Neurologic Diseases at Brigham & Women's Hospital in Boston, Massachusetts.
You may (or may not) know, but Ann Romney was diagnosed with multiple sclerosis, so neurological research is near and dear to the Romneys.
So, I was in Idaho visiting my family a couple of weeks ago, and it happened to be my dad's birthday while we were there. My dad's a chocolate cake man. (See this awesome Chocolate Malt Cake I made him back in 2010.) My mom suggested that we make Ann's three-layer chocolate cake filled with whipped cream and her special chocolate frosting.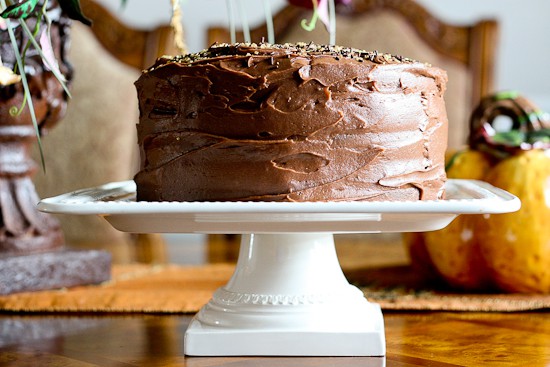 It turned out beautifully!
I was getting ready to take some shots of the cake and my six-year-old (who is now missing one of those front teeth) was waiting patiently off to the side. For what, I'm not sure. It's not like I was going to cut it right then. I may have let her swipe some frosting off the side with her finger. She was counting on that.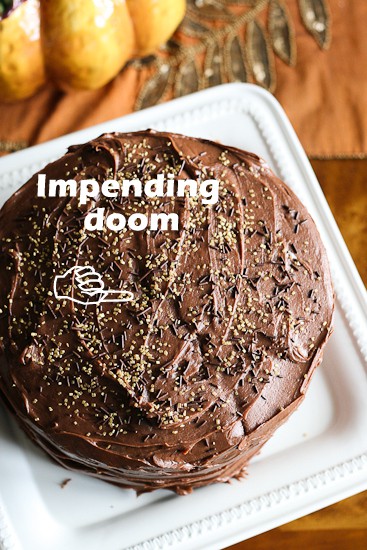 What I didn't notice until I was editing my photos was the beginnings of a crack right down the middle.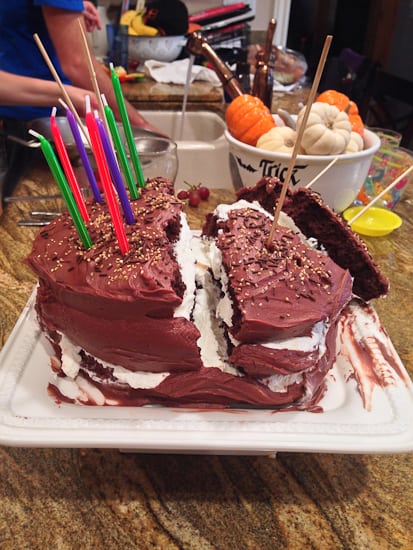 And then this happened. Happy Birthday, Dad.
I told him it was pre-sliced, but I don't think he believed me.
Looking back there were a few things about that cake that sealed its fate. I think whipped cream was a flimsy filling for a three layer cake. Also, the frosting had stiffened more than I anticipated, but instead of softening it up again, I went ahead and frosted it. I think I started the crack.
It didn't specify in the recipe, but it might have helped to stick the cake in the fridge right after we frosted it, but I only anticipated an hour or two of wait time before we sliced into it.
Unfortunately, it didn't last a half hour before it split. Then we stuck a half dozen wooden dowels in it, but it was like nailing jello to a wall at that point.
But we ate it. And loved it. I didn't think the cake was as good as Grandma's Phillips Chocolate Cake, but Ann's frosting was… like… WOW — more like a ganache in taste than the typical cocoa-powder-buttercream. And I actually liked the whipped cream between the layers. It lightened up that rich chocolate frosting.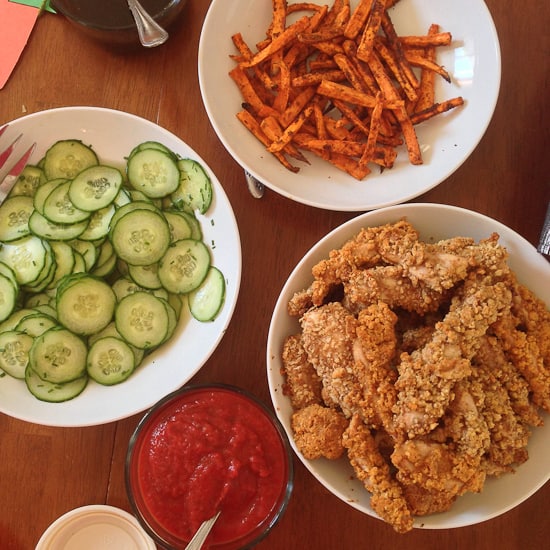 Moving on to a more practical, everyday recipe…. Jen's Crispy Chicken.
It looks fried, doesn't it?
Well it's not. It's coated in a walnut-bread crumb mixture and baked. The chicken was really moist and the crumb mixture didn't have that weird almost-bitter walnut taste (I like walnuts, but you know what I'm talking about, right?) My kids don't like walnuts at all, but they INHALED this chicken. And even ate leftovers the next day for lunch. (That says a lot about dinner leftovers.)
I added the recipe below for you!
I loved the stories associated with many of the recipes in this book because it makes them personal. The photos are a nice touch, too, and I imagine this book will be a great heirloom for the Romney family and those who love and support them. After reading through and trying a couple of recipes from the book, my only critique would be to have more detail in the recipes. Things like prep time, baking time, and servings would have been nice to know, as well as more detailed instructions and modern terminology. I think you'd have to have a basic knowledge of cooking to make sense of some of the instructions. Also, I'm pretty sure I haven't read the term "jelly roll pan" in a published cookbook in at least 15 years.
That being said, Ann Romney is not a trained chef and reading her recipes is like thumbing through family recipe notecards. I kind of liked that. She shares recipes and memories that are dear to her and experiences that brought her family together over the years.
If you get a chance to flip through this book, you won't regret it. Oh, and enjoy the chicken!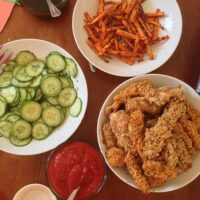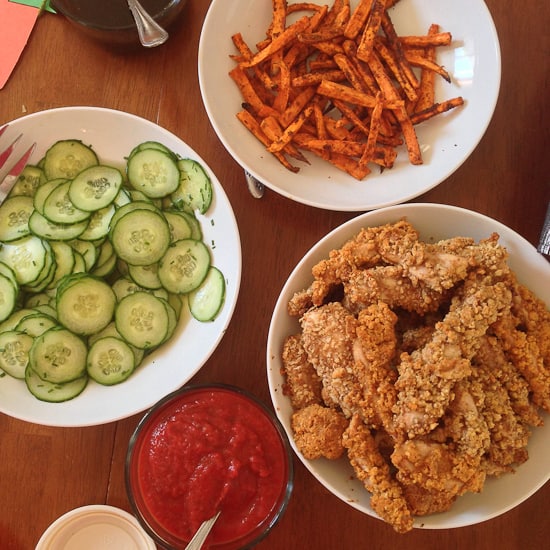 Jen's Crispy Chicken
Yield: Serves 5-6
Prep Time: 20 minutes
Cook Time: 20 minutes
Additional Time: 5 minutes
Total Time: 45 minutes
This recipe was shared with permission from The Romney Family Table. We loved these super crispy baked chicken tenders!
Ingredients
1 3/4 cups walnuts
1 cup plain breadcrumbs (I used panko)
1 1/2 teaspoons salt
1/2 teaspoon ground cayenne
2 large eggs, beaten
2 pounds boneless, skinless chicken tenders (or whole breasts cut into 1/2-inch slices)
Instructions
Preheat oven to 450 degrees F. Coat a large, rimmed baking sheet with oil or nonstick spray.
Blend walnuts and 1/4 cup breadcrumbs in a food processor until finely ground. Transfer to a medium mixing bowl and add salt, cayenne, and remaining bread crumbs. Mix well.
Crack eggs into a shallow dish or pie plate and beat with a fork. Dip each piece of chicken into the eggs, then into the walnut mixture, pressing to coat. Place on prepared baking sheet.
Bake chicken 20-25 minutes or until golden brown. Serve with your choice of dipping sauces. We liked marinara sauce.
Nat's Note: I halved the amount of cayenne and thought it was perfect. Any more would have been too hot for my littles.
Disclosure: Shadow Mountain sent me a review copy free of cost. I received no monetary compensation for this post and all opinions are 100% my own. There is also an Amazon affiliate link in this post, and if purchases are made using this link, I will get a handful of pennies to help support my website!