Spiced Carrot Waffles
I think I could eat waffles and/or pancakes every single day. But only if I had an endless supply of syrup.This recipe is adapted from
my favorite waffle recipe
(my mom's). I like playing around with it to explore new flavors and add a little bit of nutritional value to these (just a little. I won't eat them if they taste like cardboard.) I've found that cinnamon-based flavors mask the wheaty taste of whole wheat flour.
OK, honestly? I was trying to get these to taste like carrot cake. I thought frosting would have been over the top, though. (And Steve would have given me that "look" I tend to get when my sweet tooth takes over breakfast.)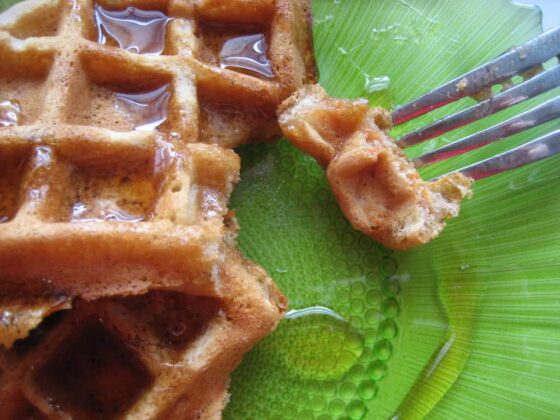 Spiced Carrot Waffles

Ingredients:

1 1/4 c. all-purpose flour
1/2 c whole wheat flour
3 tsp. baking powder
1 tsp cinnamon
1/4 tsp nutmeg
1/2 tsp salt
2 eggs, divided
1 cup packed shredded carrot
1 3/4 c. milk
1/2 c. melted butter

Directions:

Sift together dry ingredients in a large bowl. Combine egg yolks, milk, carrots and oil in a medium bowl; stir into dry ingredients. Beat whites in a separate smaller bowl until soft peaks form. Carefully fold whites into the batter, leaving a few fluffs.

Bake on hot waffle iron according to manufacturer's instructions.

Nat's Notes:
1. For buttermilk waffles, substitute 2 c. buttermilk for regular milk. Add ½ tsp baking soda and reduce baking powder to 2 tsp.