White Chocolate Pretzel Buttons
After researching and drooling for over a year, I finally took the plunge and got a digital SLR camera — a Canon 30D. I couldn't resist when I saw it on Craigslist and found out it was in perfect condition. My little point-and-shoot has served me quite well these past couple of years, but I'm thrilled at what I'll be able to do with this puppy. Being a pianist, I love the saying, "a Steinway does not a concert pianist make," so I'm doing my best to do my homework and figure out how to get my photos the way I want them.
Now to your originally scheduled program . . .
You may have seen these little bites floating around during Christmas time. That's the first time I noticed them, and I was drawn to their simplicity of ingredients, versatility (as long as there are M&M's around you'll have a treat for every season), and ease of preparation, since I didn't have to dip the whole pretzel in chocolate and get the same effect. Whoever first thought of this was brilliant. I have no idea who that was, thus no one gets the credit for these.
These would be a great Valentine's Day treat that your kids could help you with! My 2-year-old place almost all of the M&M's on the ones we made. I was surprised she didn't eat more than she did or stick her fingers in the chocolate. I'll have my little sous chef trained yet!
You can use mini twists or these awesome Snyder's Butter Snaps. They really taste like butter — especially in a side-by-side test with a regular pretzel. (Yes, I did.) They're officially my new favorite pretzel.
My little morsels don't resemble buttons as much because I accidentally bought peanut M&M's instead of regular. I wasn't about to drag my circus back to the store to switch them out, and honestly, I quite liked the addition of the peanut. Peanut butter M&M's would be good, too. Not a fan of white chocolate? Use regular chocolate instead.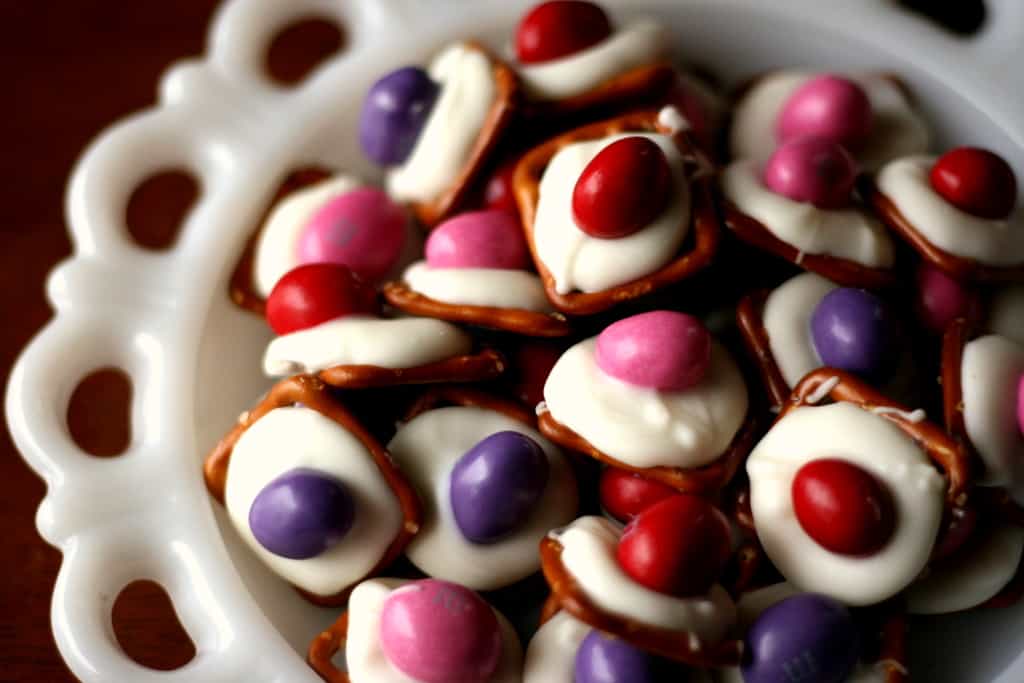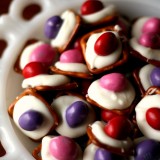 White Chocolate Pretzel Buttons
Ingredients:
1 medium-sized bag of square or mini twist pretzels
1 lb 4 oz (1 pkg) of almond bark or white melting chocolate
1 large bag of M&M's
wax paper
Directions:
Break almond bark into 2- or 3-inch chunks and place in a microwave-safe glass bowl. Cook on high for about 30 seconds. Stir and repeat, heating the chocolate in 30-second intervals and stirring in between until all the chocolate has melted.
Line a rimmed baking sheet with a piece of wax paper and lay the pretzels out in a single layer. Spoon about a teaspoon of the melted chocolate over each pretzel and top each with an M&M. Let them sit for about a half hour or until they're completely firm.
This made around 125, and I had some pretzels and a few M&M's leftover.
from Perry's Plate and lots of other places on the Internet