Mexican Chicken and "Rice"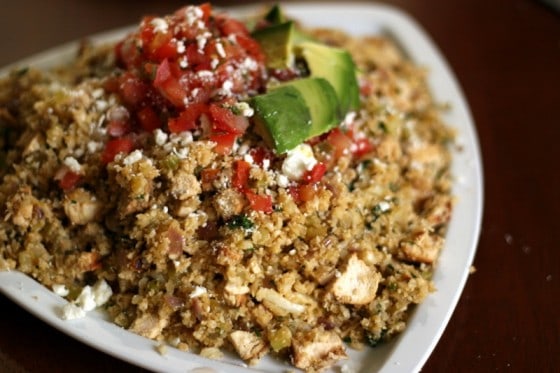 "Rice" is an interesting thing. As you might guess from the quotation marks and perhaps by the photo, there isn't any rice in this dish. What is "rice" made of, then?Cauliflower. Itty bitty pieces of cauliflower. About like this . . .

Ya, Mom, this is one of your motorhome bowls. I somehow ended up with it after our trip last summer.
I've gotten a head of cauliflower several times from our CSA box, and I'm growing tired of eating it raw. Plus the kids don't eat it raw. I came across this recipe on Elana's Pantry (one of my new favorite food blogs) and decided to try it out.Actually I decided to have my husband try it out. Not only is it the first time we've had "rice", but it's probably the first recipe on this blog where someone else did most of the work. We've started a little tradition in our family — dad cooks dinner on Sundays. He's super sensitive to onions, so I had to chop the onion. And grill the chicken. But he did the rest. I'm proud of him :)
This turned out great, by the way. And no, I don't think it had a cauliflowery taste at all. The texture was good — a little more bite than rice. Similar to brown rice maybe. The baby ate it happily, but the toddler was in a "mood". This would be great for someone who's trying to reduce their carb or starch intake as it's essentially a pile of vegetables with a little protein.
As I stared at the mound of "rice" it started to remind me of stuffing. Then I thought that with a tweak of ingredients, this would be a great gluten-free alternative to stuffing! Maybe I'll work on that for this fall. . .
Mexican Chicken and "Rice"

Ingredients:

4 tablespoons olive oil
1 medium onion, diced
1 cup celery, finely diced
1 head cauliflower, trimmed
1 (4 ounce) can diced green chiles
1 pound boneless, skinless chicken breast, grilled and diced into 1-inch pieces
1 teaspoon salt
1/2 tsp cumin
1/2 tsp chili powder
1/2 tsp oregano
1/4 c chopped fresh cilantro
juice from half a lime
1 avocado
grated cheese, if desired (I used Mexican cotija chese)
salsa, if desired

Directions:

In a large skillet, heat olive oil over medium heat. Add onions and over medium heat for 10 minutes, until soft. Add celery to skillet and saute for 5 minutes more.

Meanwhile, place cauliflower in a food processor with the "S" blade and process until it becomes the texture of rice. Add cauliflower to skillet, cover and cook 5-10 minutes, until tender.

Mix chilies and chicken into skillet, then stir in salt, cumin, oregano, chili powder, cilantro, and lime juice.

Serve, topping with avocado, cheese and salsa if desired

Makes about 4-5 servings.

Nat's Notes:
1. For the chicken, I made a quick marinade mimicking the spices in the dish (olive oil, lime juice, chili powder, salt & pepper). I put the marinade in a zip top bag with the chicken and left it in the fridge overnight, then grilled it as my husband was making the "rice".

slightly adapted from Elana's Pantry