Turkish-Spiced Chicken Kebabs with Pomegranate Relish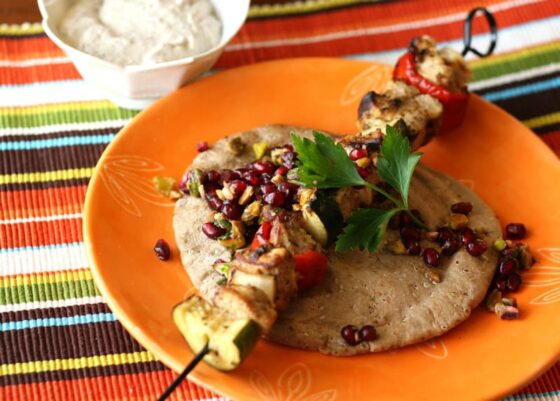 Despite how long and scary this recipe looks, it's really not that bad. Many of same ingredients are repeated (olive oil, lemon juice, seasoning…), and the relish and yogurt simply need to be stirred together, and marinating chicken was pretty easy the last time I checked. When you're ready to cook the chicken, you'll have dinner on the table in under 30 minutes.
We actually ate this with this awesome Cranberry Jasmine Rice (subbing quinoa for the rice and pomegranate seeds for the cranberries… so I guess it's "Pomegranate Quinoa"?) instead of pita bread. But the photo in the magazine looked so pretty, I wanted to replicate it.
LOVED this. (Even the kids!) The leftovers were even great for lunch the next day. And that pomegranate relish? I started eating it with a spoon and had to force myself to stop.
Turkish-Spiced Chicken Kebabs with Pomegranate Relish and Tahini Yogurt

Ingredients:

For the tahini yogurt:
3 1/2 tablespoons fresh lemon juice
1 tablespoon Baharat Seasoning (recipe below)
1 large garlic clove, pressed
1/2 cup plain whole-milk yogurt
1/4 cup tahini (see note)

For the pomegranate relish:
1 1/4 cups pomegranate seeds
2/3 cup shelled unsalted pistachios, coarsely chopped
1/3 cup coarsely chopped fresh Italian parsley
2 1/2 tablespoons olive oil
2 1/2 teaspoons fresh lemon juice

For the kebabs:
1/2 cup coarsely grated onion
2 tablespoons fresh lemon juice
2 tablespoons olive oil
2 teaspoons Baharat Seasoning (recipe below)
1 pounds skinless boneless chicken breast halves, each halved lengthwise, then cut crosswise into 1-inch chunks
zucchini, onion, and bell peppers, cut into 1-inch chunks (optional)
Warm pita breads (optional)

Directions:

To prepare the tahini yogurt, whisk together the lemon juice, Baharat Seasoning, and garlic in a small bowl. Let stand 5 minutes. Whisk in yogurt and tahini. Season tahini yogurt to taste with salt. TIP: Can be made ahead of time. Cover and chill if it's more than 2 hours ahead. Keeps for a week.

For the pomegranate relish, mix all ingredients in medium bowl. Season to taste with salt and freshly ground black pepper. TIP: Can be made ahead of time. Cover and chill if it's more than 2 hours ahead. Keeps for 2-3 days.

Now for the kebabs. Whisk first 4 ingredients in large bowl. Add chicken. Sprinkle with salt and pepper. Marinate at room temperature at least 1 hour and up to 2 hours.

If you're adding vegetables to the skewers, toss them in a little olive oil and sprinkle with salt and pepper about the same time as you prep the chicken. You can chill them or leave them at room temperature.

Preheat broiler, BBQ grill, or stove-top grill pan. Thread chicken and vegetables (if using) onto each skewer. Sprinkle with salt and pepper. Place on small rimmed baking sheet or heated grill. Cook until chicken is cooked through and the vegetables are tender, 5 to 6 minutes per side. Arrange kebabs on platter. Serve with tahini yogurt, pomegranate relish, and warm pita breads.

Serves 4.

Baharat Seasoning
1 1/2 T dried mint
1 T dried oregano
1 T freshly ground black pepper
1 1/2 tsp ground cinnamon
1 1/2 tsp ground coriander
1 1/2 tsp ground cumin
1 1/2 tsp ground nutmeg

Using pestle or blunt end of wooden spoon, mash all ingredients in mortar or small bowl 2 to 3 minutes. TIP: Can be made ahead of time. Store in an air-tight container.

Makes enough for this recipe + leftovers.

Nat's Notes:
1. You can find tahini in most grocery stores in the the ethnic aisle, the "natural food/hippie" aisle, or by the peanut butter. If you don't want to buy it or don't like it, just leave it out.
2. If you opt for the vegetables, you can reduce the chicken by 1/2 pound.
3. I used salted pistachios and liked it.

adapted slightly from Bon Appetit January 2011