Crispy Shredded Chicken Tacos, Two Ways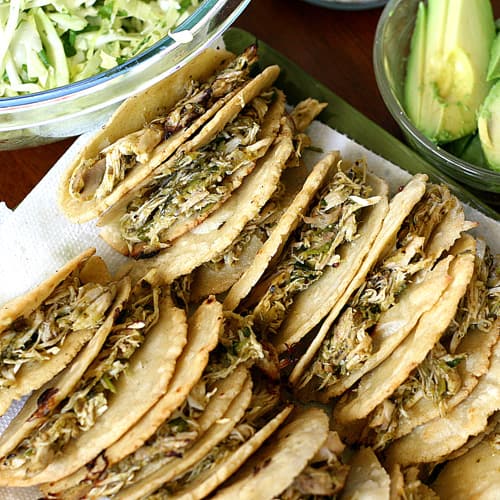 I'm really excited about this post.
I'm so in love with crispy tacos. Not the crispy tacos made from the shells you buy at the store, but from (preferably homemade) corn tortillas. In a nutshell, you fry the tacos (with the filling already inside) in a little oil until they're crispy. If you're a Pioneer Woman fan, you may have noticed the chicken taco recipe she recently posted to her cooking site. These ones are similar, but much easier, I think.
I made tacos for the first time like this a couple years ago when I discovered these Crispy Black Bean Tacos from a Bon Appetit mag, but never played around with fillings. That vegetarian version has graced our table many, many times.
There's another reason why I'm excited for this post. This first variation was actually a collaboration between myself and a real-life friend (Mindy) who lives 600 miles away. Mindy, who runs the book review blog  Reading for Sanity, emailed me one day and told me that she'd used my taco seasoning to make some pretty wicked chicken tacos. . .
Corn tortillas + shredded chicken + taco seasoning + cilantro + pepperjack + lime = 
wicked taco.
Since I had planned on roasting a chicken in the next week or two, I tucked away the idea until I had some leftovers. Because I can't leave well-enough alone, I added a variation of Southwestern Cabbage Slaw (which tops pretty much every taco I make), used cotija cheese (that's what I had), and fried them in a little oil.
Uh yeah… any other recipe I find that calls for leftover shredded chicken better have a lot of potential because if not, that chicken will turn into a taco every time.
Fast forward a couple of weeks… I had more shredded chicken in the fridge along with some salsa verde I made on a whim (see previous post about my impulse tomatillo purchase).
In the meantime I had also purchased a tortilla press
on Amazon, which made smaller and thicker tortillas. You can see the difference by comparing the photo above (hand-rolled) with the photo below (pressed). I'm OK with either kind, although the smaller, thicker ones were harder to manage while frying.
Anyway I made the same tacos again using salsa verde instead of taco seasoning. Another fantastic taco! There are so many variations you could do with this. And the best part is that it's super fast and easy!
Thanks for the inspiration, Mindy!
And although I don't really celebrate Cinco de Mayo, I just like any excuse to eat Mexican food. So if you do celebrate (for real), have a good one!
Crispy Shredded Chicken Tacos

Ingredients:

3 1/2 - 4 cups cooked, shredded chicken (about half of a 4 lb roast chicken)
2-3 T taco seasoning, to taste
1/4 cup chopped fresh cilantro
20-24 corn tortillas
about 1/4 cup oil, for frying + more if necessary

Garnishes: cheese (Mindy recommends pepperjack, I used Mexican cotija), lime wedges, sliced avocado, shredded cabbage

Directions:

In a medium skillet over medium heat, add the chicken, taco seasoning, and 1/4 cup of water. Bring to a simmer and let it cook until the sauce thickens and the mixture isn't so watery, about 5 minutes or so. Remove from heat and stir in the cilantro.

Place a few paper towels on a plate and set it next to the stove.

In another large skillet, heat the oil medium-high heat. It should "shimmer" and bubble quite a bit if you stick a wooden spoon in it. Add a couple of corn tortillas the oil. Wait 10-15 seconds, then flip them over. Place some of the chicken mixture down the center of the tortillas (about 2-3 T, depending on the size of your tortillas). Using tongs, fold the tortillas in half and press for a few seconds. The tortilla should start to hold its shape. Cook for 2-3 minutes, then flip them over to the other side to cook for another 2-3 minutes. Both sides should have golden brown spots and the tortilla should be somewhat crisp.

Transfer to the plate lined with paper towels. Cover or place in a warm oven to keep them warm. Repeat with remaining tortillas and filling, adding more oil if the tortillas start to stick or scorch.

Serve with desired garnishes.

Makes 20-24 tacos or enough to feed 6-8 people.

Salsa Verde Variation: Omit the taco seasoning and water. Add 1/2 cup homemade or purchased salsa verde when the instructions say to add the taco seasoning.

inspired by Mindy Oja from Reading for Sanity