Meet Dorothy! + Holiday Broccoli Salad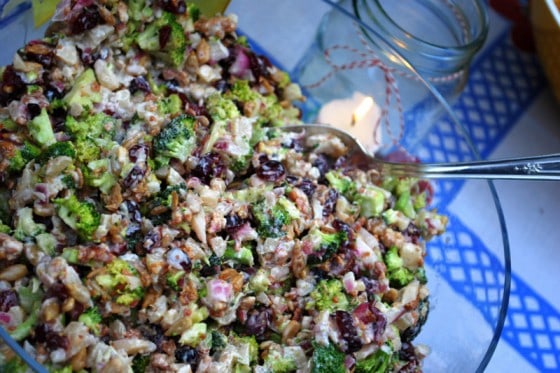 Being raised by a southern woman, I feel a kinship to bloggers from the South. Dorothy is a southern belle currently living in the Northeast with her husband. She blogs over at Belle of the Kitchen and shares stories and experiences from her life as well as from the women who raised her and taught her to cook. I'm excited to have Dorothy here sharing a recipe that's a favorite in our family as well! Thanks and welcome, Dorothy!
*****
I am delighted to be a guest blogger here on Perry's Plate! I love Natalie's blog because she is committed to using real, unprocessed foods, and she packs her recipes full of flavor. I can honestly say that every recipe I've tried has been fabulous!
It is recipes like these that I love to serve to my husband. He raves over them and requests them. We've tried delicious new flavors and updated versions of old favorites. You might wonder why this is such a big deal, but my husband came to our marriage with, we'll just say, different eating habits. But he is forever surprising me in his requests for recipes like this one, which is full of vegetables and goodness, but even more full of deliciousness.
As our summer menus begin to revolve around the grill, it is always nice to have a side of slaw or a fresh salad to serve alongside the burgers, or barbecue, or whatever else might be on the grill. This broccoli salad is one of our favorites to fit that bill (and it goes equally well alongside a holiday meal, which is why it is called what it is). The recipe, originally my mom's, has been lightened with Greek yogurt, and is excellent made with homemade mayonnaise.
Holiday Broccoli Salad

Ingredients:

4-5 cups fresh raw broccoli florets (about 12 oz), coarsely chopped
1 cup dried cranberries
1 can water chestnuts, drained and finely chopped
1/2 medium red onion, finely diced
7 slices bacon, cooked until crisp and crumbled
1/2 cup salted sunflower seeds
1/3 cup mayonnaise (preferably homemade)
2/3 cup plain Greek yogurt
2 tablespoons cider vinegar
2 teaspoons sugar
pinch of salt

Directions:

Combine the mayonnaise, yogurt, vinegar, sugar and salt in a large bowl. Add the remaining ingredients and toss well.

This salad can be made up to 24 hours in advance.

from Dorothy at Belle of the Kitchen