Dilled Roasted Cabbage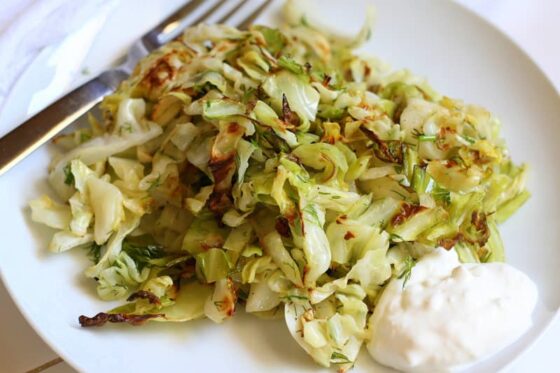 I'm getting a post together about my trip and some thoughts I've had lately. Yes, thoughts that don't have to do with food. I do have those occasionally. So, instead, we're going to talk about cabbage! Get excited!
Ah, cabbage. Cabbage makes me think of Russia (borscht & cabbage rolls), tacos, and shredded BBQ sandwiches. And breakfast. I've told you many, many times how much I love Southwest Cabbage Slaw. We always put it on our tacos and when we have leftovers, it goes on my eggs in the morning. Not as weird as it seems. I promise.
Besides turning into slaw, cabbage (and others in the family: bok choi & Brussels sprouts) can be added to soups, hashes, stir-frys, and salads. The recipes below are my favorite uses for them. Plus I added a new one for you.
Have you ever had roasted cabbage??
*eye rolls abound on the other side of my screen*
Humor me, please?
Here's a cheap, easy peasant-type dish with just a few ingredients. It reminds me of the Crispy Roasted Brussels Sprouts recipe I posted a while back. I never thought I'd ever want to have a half a head of cabbage for lunch, but this recipe convinced me!
Dilled Roasted Cabbage
Prep Time: 10 minutes
Cook Time: 25 minutes
Total Time: 35 minutes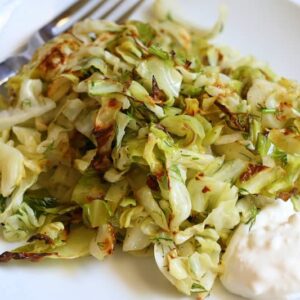 Ingredients:
1 small head of cabbage, cored and sliced into 1/2-inch strips

1/4 cup melted ghee

generous pinch of salt and pepper

1/4 cup chopped fresh dill
Directions:
Preheat oven to 425 degrees F.
Place sliced cabbage in a large bowl. Drizzle with melted butter and toss to coat evenly. Arrange cabbage evenly on a large, rimmed (greased) baking sheet or roasting pan. Roast for 20-25 minutes or until golden brown in spots, tossing the cabbage with tongs once or twice during roasting.
Place in a serving bowl. Mix in the fresh dill and season with salt and pepper to taste.
Serves 4-6.
adapted from The Roasted Vegetable by Andrea Chesman