CSA Wednesdays: Cabbage & Bok Choi + Dilled Roasted Cabbage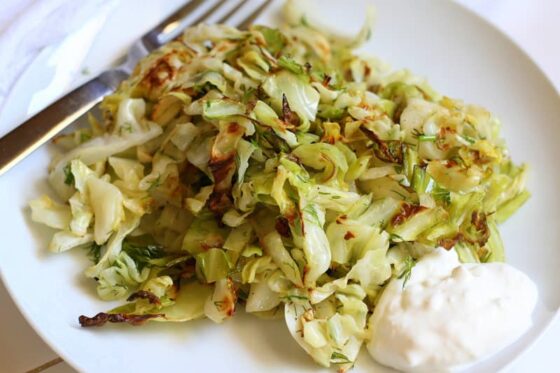 I'm getting a post together about my trip and some thoughts I've had lately. Yes, thoughts that don't have to do with food. I do have those occasionally. So, instead, we're going to talk about cabbage! Get excited!
Ah, cabbage. Cabbage makes me think of Russia (borscht & cabbage rolls), tacos, and shredded BBQ sandwiches. And breakfast. I've told you many, many times how much I love Southwest Cabbage Slaw. We always put it on our tacos and when we have leftovers, it goes on my eggs in the morning. Not as weird as it seems. I promise.
Besides turning into slaw, cabbage (and others in the family: bok choi & Brussels sprouts) can be added to soups, hashes, stir-frys, and salads. The recipes below are my favorite uses for them. Plus I added a new one for you.
Have you ever had roasted cabbage??
*eye rolls abound on the other side of my screen*
Humor me, please?
Pictured: Russian Palace's Borscht, Island Glazed Pineapple & Shredded Chicken Sandwiches, and Spicy Sausage & Sweet Potato Hash over Creamy Polenta
Cabbage (Cooked)
Spicy Sausage & Sweet Potato Hash over Creamy Polenta
Russian Palace's Borscht
Peppery Salmon Potstickers
Cabbage (Raw)
Southwest Cabbage Slaw
Asian Noodle Salad
Bok Choi
To be completely honest, I'm not a fan of bok choi, which, unfortunately, has a starring role in our CSA box. A simple chop and saute in a pan with ginger and soy sauce is fine for most people, but I need a few more flavors to hide it make it more palatable. I've found that you can use it in recipes calling for greens or spinach. These three recipes are the perfect place for them if you're not a fan, either. Bok Choi isn't called for, but it can easily be added.
Pictured: Whole Wheat Grilled Calzones, Hidden Veggie Chipotle Taco Meat, Coconut Curry with Cauliflower, Carrots, & Chickpeas
Hidden Veggie Chipotle Taco Meat
Whole Wheat Grilled Calzones
Coconut Curry with Cauliflower, Carrots & Chickpeas
Here's a cheap, easy peasant-type dish with just a few ingredients. It reminds me of the Crispy Roasted Brussels Sprouts recipe I posted a while back. I never thought I'd ever want to have a half a head of cabbage for lunch, but this recipe convinced me!
Dilled Roasted Cabbage

Prep Time: 10 minutes

Cook Time: 25 minutes

Total Time: 35 minutes

Ingredients:

1 small head of cabbage, cored and sliced into 1/2-inch strips
1/4 cup melted butter (1/2 of a stick)
generous pinch of salt and pepper
1/4 cup chopped fresh dill

Directions:

Preheat oven to 425 degrees F.

Place sliced cabbage in a large bowl. Drizzle with melted butter and toss to coat evenly. Arrange cabbage evenly on a large, rimmed (greased) baking sheet or roasting pan. Roast for 20-25 minutes or until golden brown in spots, tossing the cabbage with tongs once or twice during roasting.

Place in a serving bowl. Mix in the fresh dill and season with salt and pepper to taste.

Serves 4-6.

adapted from The Roasted Vegetable by Andrea Chesman