Grilled Zucchini Finger Sandwiches
My children love to do "grown up" things like help prepare meals, fold and put away laundry, vacuum, sweep, dust, and water the herb pots. Because I'm a fan of encouraging independence in children, I take full advantage of this.
One day I said, "Hey! Wanna make your own lunch?"
And they replied in their high-pitched voices, "YES!" Until they got to the counter and saw a pile of grilled zucchini. Then their little faces became rather somber.
On that particular day they wanted sandwiches, but we had no bread. Not a shocker because we rarely keep bread in the house. Still, they wanted sandwiches.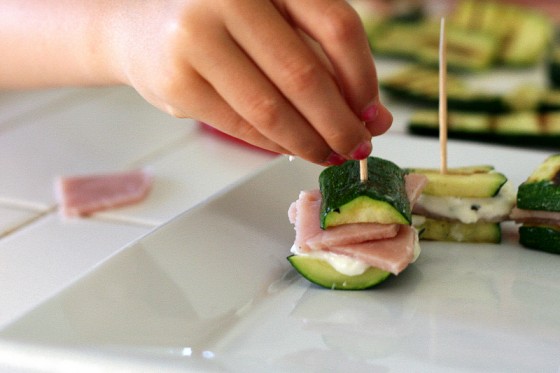 I did have some uncured Canadian bacon and a pile of zucchini in the fridge. After grilling and slicing the zucchini, I called them over to the counter and showed them how to put them together.
They loved assembling these little bites. I'd love to say that they ate these right up, too, but it wasn't love at first taste. They're still wary of zucchini. After nibbling a few, they ended up picking the ham and licking the feta cream out of the ones that Mom didn't eat.
We keep trying, though, right? Because we love those picky little humans.
P.S. Mom loved them.
Grilled Zucchini Finger Sandwiches

Total Time: About 20 minutes

Ingredients:

3 medium zucchini, sliced lengthwise into 1/3-1/2 inch slices
heat-safe oil, like grapeseed
sea salt
10 slices of uncured Canadian bacon, quartered or the equivalent in uncured deli ham
1/2 cup feta cheese
1 T Greek yogurt
2 T milk
1 green onion, sliced thinly

Directions:

Preheat grill (or oven broiler) to medium-high heat. Brush both sides of zucchini with oil and sprinkle with a pinch of salt. Place zucchini on the grill (or on a sheet pan into the oven). Grill until tender and dark grill marks form, flipping halfway through, about 6-8 minutes.

Meanwhile, combine feta, yogurt, milk, and green onion in a small bowl.

Cut the grilled zucchini into 1-inch squares. Place a couple wedges of ham and a teaspoon of feta cream between two zucchini squares. Secure with a toothpick.

Makes enough for 4-6 children or 3-4 adults.