Customizable Omelet Cups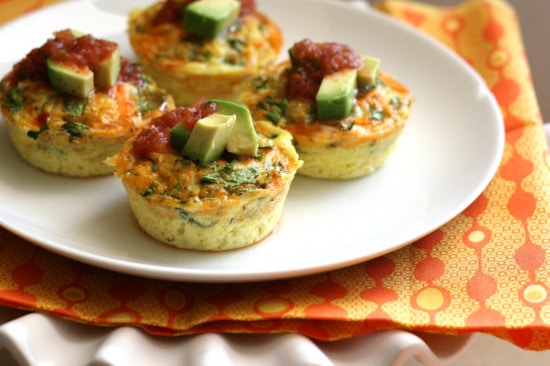 Things have been going pretty well lately and I —
*YAWN*
*blink* *blink*
. . . and I don't even know where I was going with the rest of that sentence. Little Naomi has decided that sleeping at night and being a content, happy baby during the day is completely overrated.
I firmly disagree. I've tried to convince her otherwise, but she's pretty stubborn. And loud. (But still very sweet.)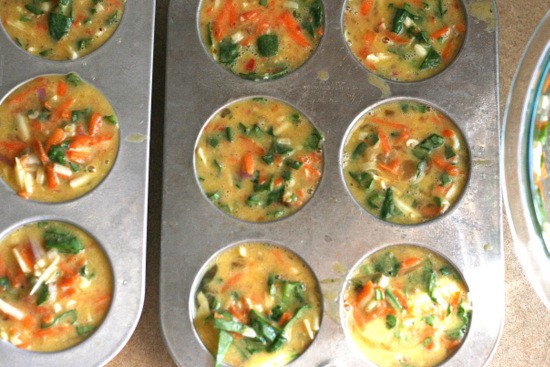 During those precious minutes during the day when I have the use of both arms I only do the basics.
Like shower. Feed the other kids. Keep the dishes under control. We're talking survival mode here. Things are just peachy if I keep my schedule W-I-D-E open.
Aside from being tired and yearning to wear something other than maternity yoga pants, I'm doing pretty well. We're all happy, healthy, and (relatively) clean. Like I said — covering the basics.
Unfortunately, getting an afternoon nap or watching Food Network almost always wins out over updating this little blog. Luckily I have some posts stored up from when I was getting a good 8-hours a night and had the use of both my arms all day.
These omelet cups were a favorite of ours. I've made them a few times and found they really energized the tired granola/oatmeal/pancake rut in which we find ourselves stuck. I went a southwest direction with these, but you can put just about anything you like into them — kind of like an omelet.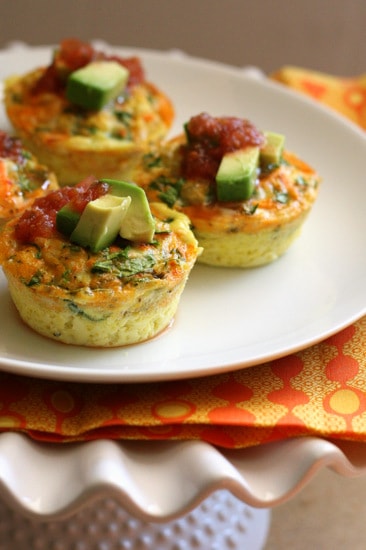 Southwest Omelet Cups
Yield: 12 omelet cups

Prep Time: 10 minutes

Cook Time: 20 minutes

Total Time: 30 minutes

These little omelet cups are totally customizable. Add whatever quick-cooking vegetable and seasonings that you like! Make it your own.
Ingredients
8 eggs
1/4 cup milk (any kind)
1/3 cup salsa
1/2 cup shredded carrot
1 cup chopped spinach
2 Tablespoons minced shallot (or garlic or onion)
1/4 teaspoon salt
1/4 teaspoon black pepper
1/2 cup crumbled feta cheese (optional)
1/4 cup chopped fresh cilantro
Instructions
Preheat oven to 375 degrees F, and grease up a standard 12-cup muffin tin.
In a large mixing bowl, whisk together the eggs, milk, and salsa. Stir in the rest of the ingredients and divide mixture into muffin cups.
Bake for about 20 minutes or until cooked all the way through. (A knife inserted into the center should come out clean. Like when you check a quiche.)
Serve with extra salsa and chopped avocado.
SaveSave