Stuffed Squash Blossoms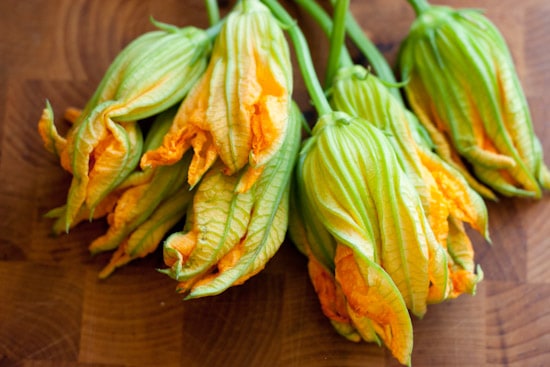 I think my food choices freak out the rest of my family sometimes.
I found these gorgeous squash blossoms at the farmer's market and posted them on Instagram mentioning how I was excited to eat them.
My mom must have seen it because after I asked what we should eat when they come visit this weekend she texted back saying, "Whatever you feel like. Except please leave the flowers as decoration. [big smiley face]"
Whatever I feel like? Usually I feel like eating things like this. Or sushi. Or a gigantic salad. So "whatever I feel like" really means "whatever your Dad will eat." And that does not include any of those things.
I think they'd like stuffed squash blossoms. Heck, my kids (sorta) liked them. The way I made them (with the ricotta filling) makes them taste like cheese ravioli. Honest.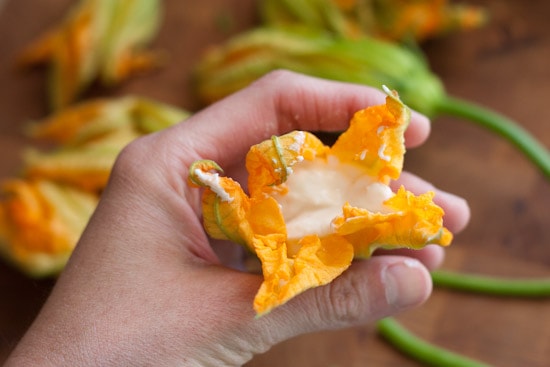 They're a tad tricky to work with, just because the blossoms are so delicate. I used a simple filling of ricotta, goat cheese, and some lemon and spooned it into the main cavity of the flower. Don't over fill these or the filling will end up all over the pan. I know this from experience. :)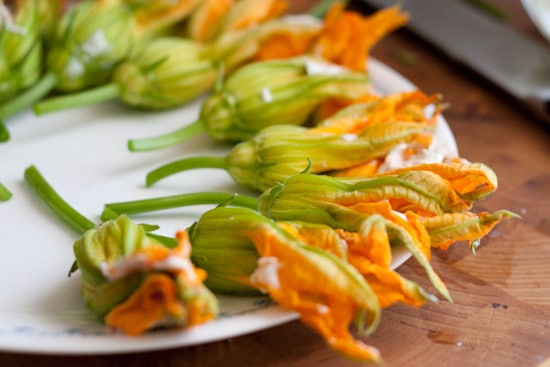 I filled these an hour or so before I fried them. I wouldn't fill them too far ahead or the filling might cause the blossom to break down.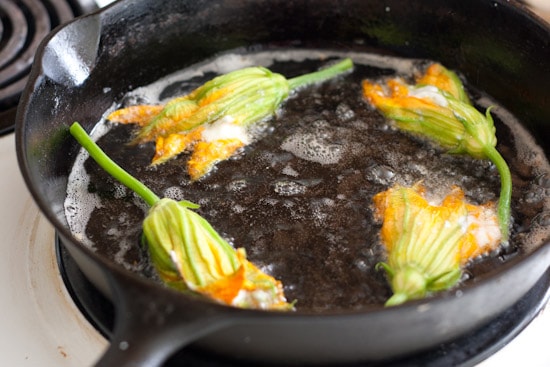 I put about 1/4-inch of coconut oil in my cast iron skillet (which wasn't all that much since my skillet is only 8-inches).
A few tips…
1. Don't expect the whole thing to get crispy. They might if you batter the whole flower, but I chose not to. The very tips will get crispy, but the rest will remain soft.
2. When you flip them and take them out of the pan, grab them by the end of the blossom, not the stem. They'll flip up side down and you might lose some filling.
3. Make sure the oil is hot enough or they'll just be a soggy, greasy mess.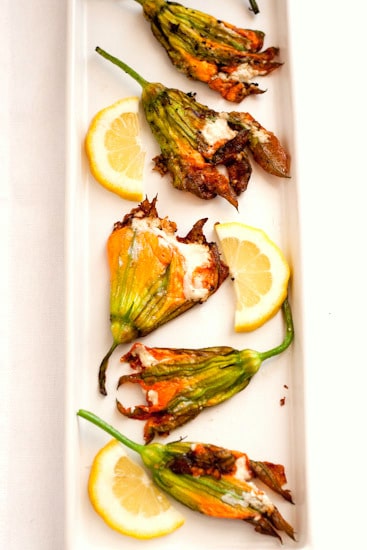 They're still a tad greasy and soft, but really good. The texture reminds me of ravioli with crisp edges. The flowers don't have much of a taste, so it serves as a creative vehicle for the filling.
I hope you're having a fun and safe holiday weekend!
Happy 4th of July! (And Canada Day!)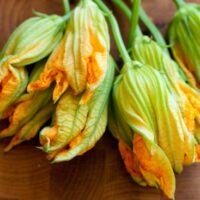 Stuffed Squash Blossoms
Yield: 8 blossoms
Additional Time: 35 minutes
Total Time: 35 minutes
These goat cheese and ricotta stuffed squash blossoms are so tasty that you may end up eating all of your garden blossoms and miss out on some summer squash. (It's ok because your neighbor will probably have a lot to share with you.)
Ingredients
12 squash blossoms
2 ounces goat cheese
2/3 cup whole milk ricotta cheese
1 egg white
1/2 teaspoon lemon zest
1/4 teaspoon sea salt
generous pinch of black pepper
coconut oil, for frying
Instructions
Wash and trim excess stem length from blossoms (I left about two inches). Dry thoroughly.
Combine goat cheese, ricotta cheese, egg white, zest, salt and pepper in a medium bowl. Spoon about a tablespoon into each blossom cavity. Don't fill them past where the petals separate or the filling will run out when you fry them.
Heat enough coconut oil in a skillet to cover the bottom in 1/4 inch of oil. Oil is ready when you get a loud splattering sound as you flick water into the pan. Fry stuffed blossoms in batches. Because flowers have a high water content, these will splatter A LOT. Be careful. Wear an apron and use long tongs. (Maybe gloves? Haha.) Turn them when you see the edges begin to brown. Brown both sides and then transfer to a stack of paper towels to drain the oil.
Sprinkle with a pinch of salt before serving. These are best served warm.
Note: When you move them around in the pan, grab them by the end of the petals and not the stems.
(One more because they're so pretty. *swoon*)