Perry's Plate's Best of 2016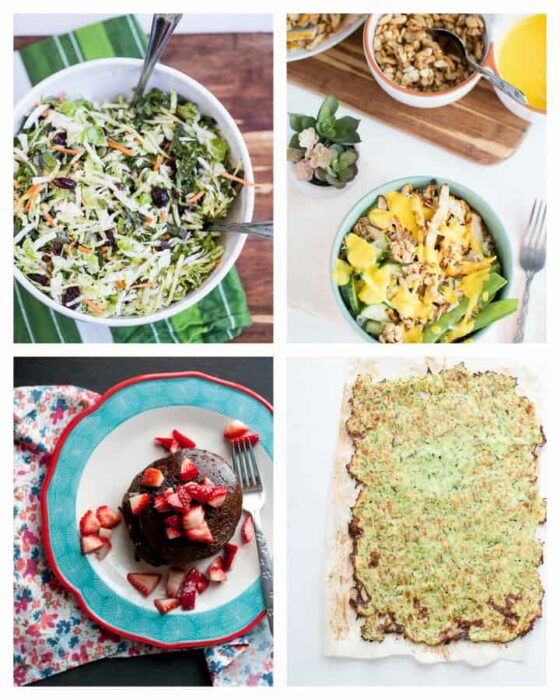 I almost didn't write this post because highlighting 10-15 of the best posts of 2016 would include over half of the recipes I posted this year. And I thought that would be sort of lame. Maybe not?
Last year was a busy one for me since I was furiously working on my cookbook, so posting here was pushed to back burner. Several times. Sometimes months at a time.
I'd still like to give a shout out to some of my favorites — and your favorites, too since these five were the most viewed recipes from 2016.
I included the five most viewed recipes from my entire blog, too, at the bottom of the post. Turns out you're still in love with those enchiladas and that layer cake.
Let's start right on the top, shall we?
This will forever be a regular in my potluck recipe stash. It's light and fresh and tastes just the kits they sell at Costco — without the soybean oil-based dressing.
You'll be thankful for this recipe when you have zucchini and other summer squash exploding out of your garden. Instead of ditching the extra zukes on your neighbor's porch, shred them up and make some flatbread! You can use it as a paleo pizza crust, eat it with curries and stews, or use it as a wrap.
I should revise this to say "for everyone" because we all ate this at one point or another. And my little one couldn't get enough of it.
These pancakes taste like mini chocolate cakes and are a perfect indulgent, but still relatively healthy, breakfast for special occasion mornings!
Oh, man. I adore bowls filled with different flavors and textures — sweet, tart, spicy, cool… this one as everything. And can we talk about the gorgeous color of that dressing?
OK, now for the top recipes from my entire blog. I thought it was interesting that the most popular post for 2016 wasn't even meant to be eaten. And was almost entirely made of sugar. Ironic, no?
This was the number one post, folks. I love this stuff. I keep a jar in my bathroom, and I've given it as gifts. AAANNNND sometimes I eat a finger-ful when I scrub my face. It tastes kind of like cookie dough. You'd do it, too.
This is the first time this recipe hasn't been number one in at least 5 years. It's not paleo, but it's gluten-free and a great way to use up extra vegetables. Plus it's pretty.
This is still my favorite chili. I love the tender chunks of steak in it! You can also use inexpensive cuts of stew meat because slow cookers have magical powers and make them fall-apart edible.
This one surprised me, but then it didn't. This is probably the most often vegetable side dish I make, although I don't use oil anymore — just equal parts water and vinegar. It's right up there with sweet potato fries. Every one of my kids inhales these, and they're great leftover for a few days. I especially love them on salads.
This was the very first time I made zucchini noodles. "Zoodles" wasn't even a tern back then. I was so excited that my kids loved vegetable noodles — I was giddy. And then they decided they didn't like zoodles. And they didn't like pesto. And one of my kids has a pinenut allergy. This may just end up as a lunch for one.
I'm so excited for what's to come this year. My book will be out in July (instead of March. Boo.), and I should be posting an update on that soon. And I should have been doing this a long time ago, but I'm going to focus more on my newsletter and giving you some exclusive content like recipes and meal plans.
Last month I sent out a 2-week Whole30 compliant meal plan with my newsletter, and I've gotten great feedback already! If you missed out on that, I plan to add those meal plans — plus an extra goodie — to January's newsletter.
So, subscribe if you haven't already! You can do it in the sidebar over on the right or by clicking here: Perry's Plate Newsletter Subscription.
We can also connect on Instagram or Facebook. I don't want you to miss any content or giveaways or exciting news or anything! And I love hearing from you — seriously, connecting with you is one of my most favorite parts of blogging. I've gotten to know so many of you through the years and you're like dear friends.
Thank you for all of your encouragement and well-wishes this past year! This blogging gig would be a very lonely place without you, so thank you.
Best of luck in 2017!