Chocolate Valentino (Flourless Chocolate Cake)
Talk about a simple ingredient list: chocolate, butter, eggs. I was about halfway through melting the chocolate when Ivy woke up and demanded to be held. Working with chocolate makes me nervous (I've had too much of it seize up on me.) so I strapped Ivy on and kept working!
The only tricky part about this recipe was not overbeating the egg whites and getting them folded into the chocolate/egg mixture without deflating the whole thing.
The result was a darling, heart-shaped (thanks to Sarah) for letting me borrow her heart-shaped springform!) cake with a crumbly, brownie-like top and a smooth, velvety inside.
I was surprised how good the taste and texture of this cake was for being flour-less. Speaking of taste . . . be sure to use good quality chocolate when making this because the cake will taste just like the chocolate you use. There isn't anything else in the cake to improve the flavor if you use cheap ahemhersheyahem chocolate. I used Guittard semi-sweet morsels and thought it did really well.
The hosts this month wanted us to make homemade ice cream, but also said we could top the cake with whipped cream, if we wanted to. So I did. This was Steve's Valentine's Day dessert and it was also one of the most hectic weeks I've had in a while. I wasn't going to stress myself out by making ice cream, too. I sweetened some cream with powdered sugar and added a vanilla bean for extra flavor. The cake sinks a little in the middle, creating a "crater", which I filled with the cream and a couple handfuls of blackberries. I was feeling a little frou-frou, so I dusted the whole thing with powdered sugar.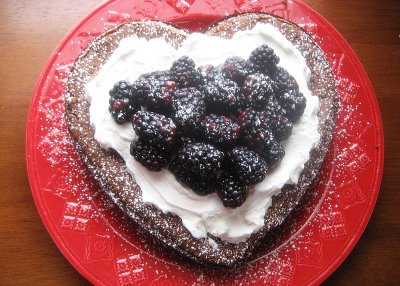 Chocolate Valentino (Flourless Chocolate Cake)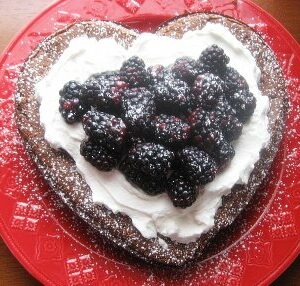 Ingredients:
16 ounces (1 pound) (454 grams) of semisweet chocolate, roughly chopped
½ cup (1 stick) plus 2 tablespoons (146 grams total) of unsalted butter
5 large eggs separated
Directions:
Put chocolate and butter in a heatproof bowl and set over a pan of simmering water (the bottom of the bowl should not touch the water) and melt, stirring often. While your chocolate butter mixture is cooling. Butter your pan and line with a parchment circle then butter the parchment.
Separate the egg yolks from the egg whites and put into two medium/large bowls. Whip the egg whites in a medium/large grease free bowl until stiff peaks are formed (do not over-whip or the cake will be dry). With the same beater beat the egg yolks together. Add the egg yolks to the cooled chocolate. Fold in 1/3 of the egg whites into the chocolate mixture and follow with remaining 2/3rds. Fold until no white remains without deflating the batter.
Pour batter into prepared pan, the batter should fill the pan 3/4 of the way full, and bake at 375F/190C. Bake for about 25 minutes until an instant read thermometer reads 140F/60C.
Note – If you do not have an instant read thermometer, the top of the cake will look similar to a brownie and a cake tester will appear wet. Cool cake on a rack for 10 minutes then unmold.