(Yet another) Pizza Crust Recipe
I think I've unintentionally become a pizza crust connoisseur. Steve is a pizza snob and hard to impress in general, so my attempts at getting his nod of approval have definitely honed my pizza-making skills. Just for reference, here's a little guide on the pizza crust recipes I have on the site:
Whole Wheat Pizza Crust: This is another easy one that will give you pizza in 1 1/2 hours, again depending on how fast your dough rises You can also use white flour if you feel inclined.
Alton Brown's Pizza Crust: This one has an overnight rise in the fridge. The taste and texture of this crust is more restaurant-like. (This one has a better flavor than Peter Reinhart's.)
Peter Reinhart's Napoletana Pizza Crust: A crust very similar to Alton Brown's (the overnight rise), but this one has a better texture than Alton's.
I think all of the recipes I've collected have something unique about them, as does this one, which starts off with an overnight "sponge". A sponge (in dough making) is generally a mixture of water, yeast, salt, and sometimes sugar that's allowed to sit for several hours (or days) until bubbly and fermented. Then it's added to the dough of whatever you're making. Sourdough bread begins with a sponge. A very fermented one. This crust doesn't have the tanginess of sourdough bread, but it does have a fantastic flavor and the texture is chewy and very restaurant-like.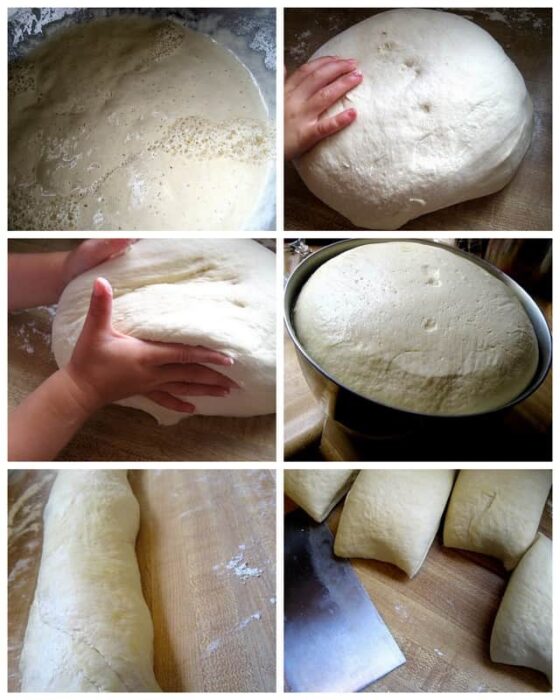 My little helper has a hard time resisting dough.
The top left photo above shows what the sponge looks like when it's ready to use. This particular recipe makes a lot of dough. Like three pounds. (Or 3-4 large pizzas.) I split the dough, as the recipe suggested, into eight portions and froze what I didn't use that night. This stuff comes back to life very well after being frozen. I'll tell you more about it later.My judgment of this dough may be a little skewed because I've never actually made a pizza in the oven with it. I discovered grilling pizza. Yes, GRILLED pizza. (I told someone about it last night and he thought I was making a joke.) I've seen it done on many food blogs as well as on the Food Network. I've been meaning to try it all summer, and I'm really sad I waited so long!
Because zucchini is in abundance right now, I opted for the Grilled Zucchini Pizza I found on
Epicurious
. I'll be posting that shortly as well as other ideas on how to use up some zucchini.

This photo really doesn't do the crust enough justice. Hungry people + eating after 7 = mediocre photos. The second time I made this I stretched the dough out thinner and let the grill marks get darker. It was the thinnest, crunchiest crust I've ever made at home. It was incredible.
Overnight Pizza Dough

Ingredients:

For the sponge
1 cup lukewarm water (110°F to 115°F)
1 envelope active dry yeast, divided (or 2 1/2 tsp)
1 cup all purpose flour, divided

dough
1 1/2 cups lukewarm water (110°F to 115°F)
2 teaspoons fine sea salt
1 envelope active dry yeast (or 2 1/2 tsp)
6 cups (or more) all purpose flour
Olive oil
Yellow cornmeal
Sauces and toppings

Directions:

(The night before) To make the sponge place 1 cup lukewarm water in large bowl of heavy-duty mixer. Sprinkle 1 teaspoon yeast (reserve remaining yeast for dough) and 1/4 teaspoon flour over water. Let stand until yeast dissolves and mixture looks spongy, about 4 minutes. Add remaining flour and whisk until smooth; scrape down sides of bowl. Cover bowl with plastic wrap. Let sponge rest at room temperature in draft-free area overnight (about 12 hours; sponge will look bubbly).
dough

Add 1 1/2 cups lukewarm water, 2 teaspoons salt, 1 envelope yeast, and remaining yeast to sponge, then add 6 cups flour, 1 cup at a time, beating with dough hook to blend after each addition. Continue to beat until dough is smooth, comes cleanly away from sides of bowl, and is only slightly sticky to touch, scraping down bowl occasionally, about 5 minutes. If dough is very sticky, beat in more flour, 1/4 cupful at a time. Scrape dough onto floured surface; knead into smooth ball.

Brush inside of large bowl with oil. Add dough; turn to coat with oil. Cover bowl with plastic wrap; chill 6 hours, kneading dough down when doubled (after 2 hours).
About 1 1/2 hours before baking, dust 2 baking sheets with flour. Turn dough out onto floured surface. Knead gently; shape into 16-inch log. Cut into 8 equal pieces. (At this point you can freeze any unused dough balls. I placed mine on a cookie sheet to freeze, then transferred them to a freezer bag when they hardened. See comments below for use after freezing.) Knead each piece into smooth ball. Arrange 4 balls of dough on each sheet. Cover loosely with kitchen towels and let rise until almost doubled, 1 to 1 1/4 hours.

If using pizza stone, place in oven. Preheat oven to 500°F for 45 minutes. Working with 1 dough ball at a time, dust dough with flour. Press into 5-inch round, then gently stretch and roll out to 9-inch round.

If using pizza stone, sprinkle pizza peel or rimless baking sheet with cornmeal. If not using pizza stone, sprinkle large baking sheet with cornmeal. Place dough round on cornmeal; brush lightly with oil. Top as desired. Slide pizza onto stone or place pizza on baking sheet into oven.
Bake pizza until sauce is bubbling and crust is crisp and brown, lifting edge of pizza to check underside, about 14 minutes.

Nat's Notes:
1. This may seem like a lot of steps, but it's mostly about timing and allowing the sponge/dough to sit and develop. So, to have it ready to bake at 6PM, start the sponge at 10PM the night before, make the dough at 10AM, then roll it out at 4PM.
2. To use frozen dough: The night before you want to use it, place dough ball in a bowl covered with plastic wrap and place in the fridge. Around noon the next day, take it out and set it on the counter. Dough is ready when it has risen and looks bubbly. Transfer to a floured countertop and shape. If you knead it and it tightens up when you try to stretch it, just let it rest for 5-10 minutes, then try again. You might be able to take it out of the fridge the morning you want to use it and set it directly on the counter. I haven't tried that, but I bet it would work.

from Bon Appetit April 2009