Cinnamon-Swirled Pumpkin Rolls
I think it's high time I post something sweet. The last dessert recipe I posted was in AUGUST, for cryin' out loud. I admit, I haven't been baking all that much these last few months. It's hard to have "me time" in the kitchen with a toddler and a newly-mobile baby demanding all of my attention. Plus it's fall. And fall means lots of sweets. (Well, as many as my sweets-resistant husband can tolerate. You wonder why he's so thin. . . we'll that's one of the reasons. Me? I could pound half a cheesecake without blinking an eye.)Anyways, I saw this recipe on
Baker's Banter
(the King Arthur Flour Blog, one of my fav's), and I couldn't get it out of my head for a week and a half. As with most things that get stuck in my head for that long, I ended up making them.
They were gone within 24 hours.
I've made a lot of cinnamon rolls before, so I was pleasantly surprised to see a pumpkin version that used an ingredient I'd never used before and a technique I hadn't tried.
The technique? The directions said to "grease" the counter top. Usually you'd sprinkle flour, right? Well, I decided to try it and simply sprayed some nonstick spray on my counter top, plopped the dough on, and started rolling. Nothing stuck. I think I'll start using this method more often because the less flour you use in rolling out baked goods, the softer and more moist they turn out. Plus it didn't get my counter all messy. I love it!
The ingredient? Crystallized (or candied) ginger, which is ginger that's been cooked in a sugar syrup, then coated with sugar. It's optional, of course, but I happened to have a bottle sitting in my spice cabinet, unopened, but dying to be used. I loved the extra gingery explosions that they added to the rolls. Next time I'll really try to mince the pieces smaller because they can be a little intense if you get a big chunk.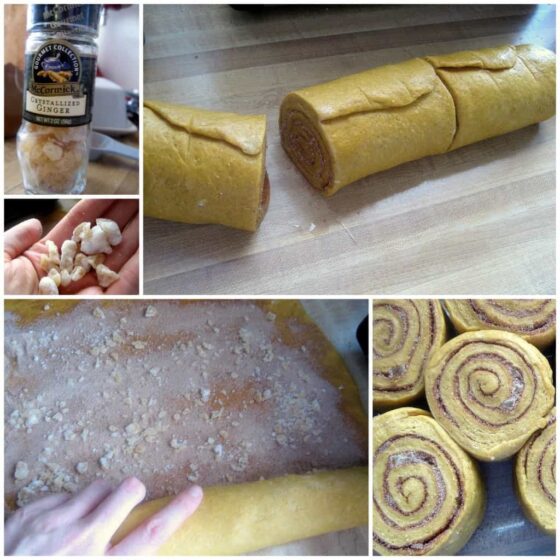 The verdict? They were delicious. But, I have to say that I expected the pumpkin spice flavors to shine more. Halfway through a roll it started to taste like a regular cinnamon roll, albeit a great one. I didn't change the recipe, but next time I would maybe double the amount of spices and brown sugar in the dough. Ya, that ought to do it.
Cinnamon-swirl Pumpkin Rolls

Ingredients:

1 cup canned pumpkin or squash
2 large eggs
2 tablespoons to 1/4 cup lukewarm water (see note)
1/4 cup soft butter
2 1/2 cups all-purpose flour
1 3/4 cups white whole wheat flour (see note)
1/4 cup nonfat dry milk
1 teaspoon ground cinnamon
1/2 teaspoon ground ginger
1/4 teaspoon ground cloves, optional
3 tablespoons brown sugar, light or dark
1 1/2 teaspoons salt
2 teaspoons instant yeast

Filling:
3/4 cup sugar
1 tablespoons cinnamon
1/2 cup minced crystallized ginger, raisins, or dried cranberries, optional

Glaze:
1 cup glazing or confectioners' sugar
1 tablespoon butter
1 1/2 tablespoons milk, or enough to make a "drizzlable" glaze

Directions:

Mix and knead all of the dough ingredients together by hand or in a stand mixer until you've made a soft, fairly smooth dough.

 I let the dough hook on my stand mixer have at it for about 5 minutes.

Cover the bowl, and allow the dough to rise for 1 1/2 - 2 hours, until it's almost doubled.

 Turn the dough out onto a lightly greased surface. Roll it into a 14" x 22" rectangle; the dough will be thin - about 1/8th of an inch. Mix the filling ingredients and spread a thin layer over the dough, leaving one short edge free of filling. Sprinkle with crystallized ginger or dried fruit (or both), if desired.



Starting with the short end that's covered with filling, roll the dough into a log.

 Cut the log into nine 1 ½"-thick rolls.

 Place the rolls into a lightly greased 9" x 9" pan that's at least 2" deep. Set aside in a warm place, covered, to rise for 1 hour, or until the rolls look puffy.



Bake the rolls in a preheated 375°F oven for 25 to 30 minutes, until they're lightly browned and feel set. Remove them from the oven, and set them on a rack. Allow them to cool for about 15 minutes. Towards the end of the cooling time, make the glaze.



To make the glaze: Heat the butter and milk together till the butter melts. Whisk into the sugar.

 Drizzle the warm rolls with the warm glaze. Sprinkle with chopped nuts, if desired.



Yield: 9 rolls.

Nat's notes:
1. The amount of water you add to the dough depends on the weather/time of year. If it's winter or dry outside, add more. If it's raining, then add less. If you're using a stand mixer, the dough should clear the sides of the bowl, but stick to the bottom a bit. Add water just a couple teaspoons at a time until you reach the right consistency.
2. I didn't have white whole wheat flour, so I substituted 1 1/2 c all-purpose and 1/4 c wheat.
3. I didn't use the glaze recipe because I like cream cheese frosting on my cinnamon rolls. Here's the one I used:

Cream Cheese Frosting:
4 oz cream cheese, softened
¼ c butter
1 tsp vanilla
1 ½ c powdered sugar
1 T milk

Beat all frosting ingredients until smooth.

from Baker's Banter, the King Arthur Flour Blog