Homemade Pumpkin Pie Spice + Last Minute Thanksgiving Tidbits
OK, I'm not going to pretend that I'm the authority on the "perfect Thanksgiving dinner" because I'm not. I wish I had photos of perfectly roasted turkeys with fresh herbs sticking out of their bottoms, but I don't. My idea of the perfect Thanksgiving dinner would be sitting at the kitchen table at my mom's. From the pretzel-bottomed jello salad to the "secret ingredient" in her turkey gravy, everything is amazing and just the way I like it. Consequently, I've merely been her sous chef the times I was present at Thanksgiving.
A lot of sites talk about doing alternative menus for Thanksgiving, straying away from the traditional turkey-stuffing-mashed potatoes meal, but to me that's what makes Thanksgiving special. Normally I'm pretty adventurous when it comes to new flavors, but I like to leave Thanksgiving just the way it is.
So what I have for you are just a few little tidbits. Some tips, some FYI, a little "hey try this out".
Tidbit #1: On Turkey Prep
I mentioned a few posts ago that we had a mini-Thanksgiving over a week ago. (Free turkey for spending $100 at the grocery store + No freezer space = Early Thanksgiving) I'm not very experienced when it comes to whole turkeys. This was only the third one that I've had my hands in (literally) preparing. And it still gives me the willies groping around for the sack o' guts.
Turkey #1: 1998 First year at college, roomie and I tried to get the bird in the oven bag (yes, we're an oven bag family). I grossly underestimated the strength of the bag, letting the bird go and seeing it bust through the bottom and land splat on the floor. After a quick rinse and bag #2 (they're smart by selling them in twos), the turkey came out great. I think. I don't remember that part too well.
Turkey #2: 2008 I had just given birth 3 days previously, and I was helping my mom in the kitchen (after lying around ALL DAY… I can only do that for so long). I don't remember exactly what I did. Oh wait, I made stuffing.
Turkey #3: 2009 Completely alone. Did the oven bag again and decided to slather herb butter all over the turkey before roasting it. It would have been great except I was confused on cooking temps, took it out when it was perfectly done (only I thought it was a mistake at the time), put it back in without the bag and ended up with a slightly dry bird. Oh well. Live and learn.
About the butter rub…
I took a stick of butter and mixed it with a teaspoon or so of poultry seasoning, a little garlic powder and some salt & pepper, then gave miss turkey a nice massage, getting the butter mixture under the skin as well. It's supposed to make the skin crisp up better and flavor the gravy nicely, which it did. I shoved sliced lemon and some fresh sage into the cavity, then put sliced carrots, onions, and celery into the bag with the turkey. And if it didn't get dark at 5PM these days I might have had a photo.
Tidbit #2: Old School is Not Cool
Anybody use this stuff?
I do. Every time I make gravy, which is every time I make a turkey. After adding some to my gravy last week, I glanced curiously at the bottom of the can. . .
2003?! Yikes. (Sorry to those of you who ate that gravy. The flour didn't look different to me and I ended up tossing it afterward.) Let that be a reminder. . . check the dates on those random things you keep in your pantry that you only use once a year. Preferably
before
you poison your guests.
Which leads me to . . .
Tidbit #3: Even Older School
Speaking of potentially "vintage" items in your pantry, how about this guy? If you only use this for pumpkin pie once a year, it may last you nearly a decade. But at the end of that decade your pie may start tasting like dirt.
Have you ever smelled really old spices? If you've had your pumpkin pie spice longer than a couple of years, go take a whiff. If it doesn't smell appetizing, chances are it won't make your pie that appetizing, either.
If it's old, throw it out and either a) buy a new bottle and use it up in the next year or b) make your own and use it up in the next year. I'm willing to bet that if you do a fair share of baking, you already have all the spices needed to make "pumpkin pie spice". If you have an empty spice jar, wash it out and reuse it. You can also find glass spice jars at Bed Bath & Beyond for $1-$2 a piece.
By the way, this stuff is great on a lot of things (not just pumpkin pie) . . . pretty much anything you'd put cinnamon in. I've been using it lately in oatmeal with chopped apples. Delish. Here's one version that I've been using. You can play around with the amounts of each spice, but I would leave cinnamon as the dominant flavor.
Pumpkin Pie Spice

Ingredients:

To make almost 2 teaspoons:
1 tsp cinnamon
1/4 tsp nutmeg
1/4 tsp ginger
1/8 tsp cloves

To make just over 2 Tablespoons:
4 tsp cinnamon
1 tsp nutmeg
1 tsp ginger
1/2 tsp cloves

Directions:

Mix well and store in an airtight container for a few months.

Nat's Notes:
1. Feel free to adjust the spices to your liking. Allspice would also be a good addition.
Tidbit #4: Dessert
Make this, too. . .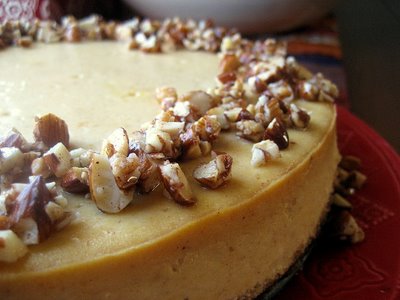 White Chocolate Pumpkin Cheesecake
Have a great Thanksgiving!