Roast Chipotle Chicken Tacos
Finally. I think this is about the 5th chicken I've roasted in the last several months and the first time that it was both photogenic and taken out of the oven with enough daylight to take a decent photo. Sure she has spots (which you'll see why in a sec), sure her legs are legs are flailed out like a woman in labor (I don't have kitchen twine), but she's golden brown and delicious.I'm not one for frou-frou plating photos with colorful cloth napkins, tealight candles, and a scatter of ingredients across the table. That's not how we eat. Plunking down a screaming hot chicken on a platter with half-wilted leftover oregano is about as far as I go. I try keep it real, folks.
How did it end up looking like that? It all started with a 4-5 lb whole chicken and this . . .
What's that? It's butter. And chopped chipotle chiles. And a bunch of fresh herbs. This magical concoction gets stuffed underneath the skin. Like this:
To prevent the skin from ripping too much, I added a holes to the upper thigh and just under the leg so I could get the butter rub all over the inside.
If you're getting the willies, I totally understand.
When you're done, it should look like this:
The remaining butter mixture is supposed to be rubbed over the outside of the chicken. Soft butter does NOT spread well on a cold, moist chicken. I tried, though. Instead, I drizzled it with some grapeseed oil.
Here comes the fun part. . .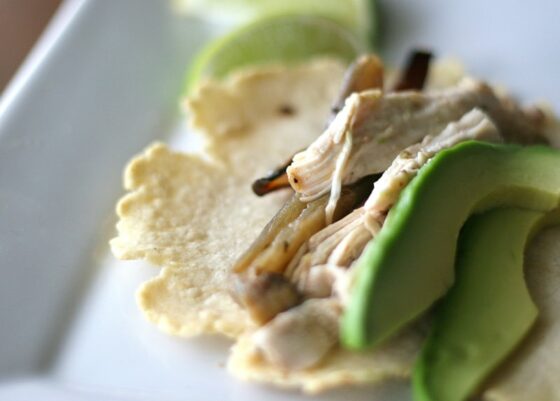 Remove the meat from the chicken, and put it in a warm corn tortilla (
homemade
, if you're feeling adventurous) with some avocado slices and some onion and garlic bits that were cooked alongside the chicken. Top the whole thing with a drizzle of the pan juices (which I failed to do for this pic) and insert into mouth.
Seems like a lot of work for some tacos, doesn't it? The thing I love about roasting chickens is getting even more meals out of them later. Leftover bones? Make some chicken broth! Leftover meat and juices? Make something that I'm going to be posting about shortly. :)
Roast Chipotle Chicken Tacos

Ingredients:

1/4 cup (1/2 stick) butter, softened
1 T chopped fresh cilantro leaves plus 3 fresh cilantro sprigs
1 T chopped fresh oregano leaves plus 3 fresh oregano sprigs
1 T chopped fresh rosemary leaves plus 3 fresh rosemary sprigs
4 teaspoons minced canned chipotle chiles in adobo
1/2 teaspoon ground coriander
1 4- to 6-pound roasting chicken, rinsed, patted dry; neck, heart, and gizzard discarded
2 large onions, each cut into 8 wedges through root end, leaving root ends intact
12 garlic cloves, peeled
1 cup (or more) low-salt chicken broth
1/4 cup white wine (or more chicken broth)
lots of warm corn tortillas
1 avocado, halved, pitted, peeled, thinly sliced

Directions:

Using a fork, mix butter, all chopped herbs, chipotle chiles, and crushed coriander in small bowl. Season to taste with salt and pepper. TIP: Can be made 1 day ahead. Cover and chill. Bring to room temperature before using.

Position rack in bottom third of oven and preheat to 400°F. Place chicken, breast side up, in large roasting pan; place reserved neck, heart, and gizzard alongside. Starting at neck end of chicken, slide fingers under skin to loosen, being careful to avoid tearing. Spread all but 1 tablespoon seasoned butter over breast meat and thigh meat under skin. Rub any butter remaining on fingers over outside of chicken. Sprinkle main cavity of chicken with salt and pepper; place all herb sprigs in cavity. Tie legs together loosely. TIP: This can be done a few hours ahead of time.

Place onion wedges in large bowl. Melt remaining 1 tablespoon seasoned butter in small saucepan over low heat; pour over onion wedges and toss to coat. Arrange onions around chicken. Sprinkle onions and chicken with salt and pepper.

Roast chicken and onions 30 minutes. Scatter garlic cloves around chicken; add 1/4 cup broth to roasting pan. Continue to roast chicken until a thermometer inserted into thickest part of thigh and breast registers 170°F, basting occasionally with pan juices and adding more broth by 1/4 cupfuls as needed to maintain juices in roasting pan, about 1 hour 15 minutes.

Remove roasting pan from oven. Tilt chicken, draining juices from cavity into pan. Transfer chicken, onions, and garlic to platter. Tent with foil to keep warm. Add 1/4 cup broth and wine to pan. Place over 2 burners and bring juices to boil, scraping up browned bits. (Or transfer juices to a saucepan if you used a casserole dish to cook the chicken.) Strain juices into bowl. Discard fat from top of juices.

Cut meat from chicken. Serve, making tacos with warm tortillas, chicken, onions, garlic, and avocado. Drizzle tacos with pan juices.

Serves 4 adults with leftovers.

adapted from Bon Appetit April 2010