Easy Chicken Masala Meal + Next Day's Lunch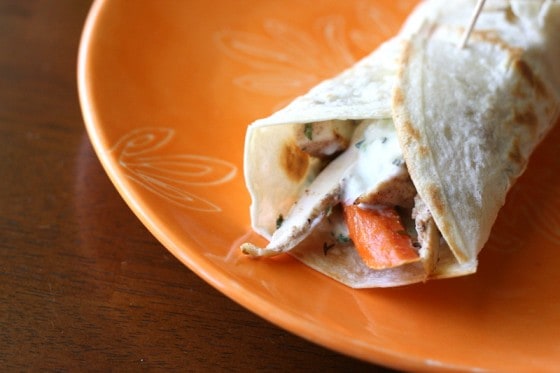 I started off with a photo of the leftovers because, honestly, that was my favorite thing about this meal. It was delicious the first night, but I made some of
this quinoa
to go with it and it just didn't jive. It was already on my plate, though, so I tried to photograph around it. It was getting dark. The kids were hungry. . . blah blah blah. Such is the life of a wannabe-food-blogger-who-has-toddlers.The moral of my excuse-ridden story is this:
* This meal is easy.
* This meal is delicious. (But would probably be more delicious had I used the chicken it called for. My options that night were cutting apart a whole, raw chicken and using boneless, skinless chicken breasts. I'm not a butcher.)
* This meal makes delicious leftovers.
* For perhaps the first time in my life I ate a big pile of cooked carrots and LOVED it. I usually don't like cooked carrots (by themselves). And consequently I'm infatuated with the rich, intense flavor of cumin seeds now (find them cheap in the ethnic aisle or at an ethnic market).
* This was the best cucumber raita (yogurt dip-stuff) I've ever had. Grating the cucumbers is the way to go.
* Don't make this quinoa to go with it. Rice is nice. So is flatbread.
The End.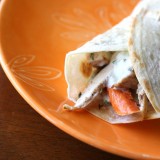 Easy Chicken Masala Meal
Ingredients:
For the chicken:
1 cup plain whole-milk yogurt
1/4 cup coarsely chopped fresh cilantro
3 tablespoons extra-virgin olive oil
1 tablespoon garam masala
2 teaspoons coarse kosher salt
1 large garlic clove, pressed
1 4- to 4 1/2-pound roasting chicken, cut into 8 pieces, backbone removed
2 small onions, cut into 1/4-inch-thick slices
For the Caramelized Cumin-Roasted Carrots:
12 medium to large carrots, peeled, cut on diagonal into 1/2-inch-thick pieces
2 tablespoons extra-virgin olive oil
1 1/2 teaspoons cumin seeds
2 teaspoons coarse kosher salt
For the Cool Cucumber Raita:
2 cups plain whole-milk yogurt
1 7-inch-long piece English hothouse cucumber, peeled, coarsely grated
1 teaspoon coarse kosher salt
2 tablespoons (packed) finely chopped fresh cilantro
4 teaspoons finely chopped fresh mint
Directions:
To make the chicken:
Mix yogurt, chopped cilantro, olive oil, garam masala, salt, and garlic in 13x9x2-inch glass baking dish. Add chicken to marinade, 1 piece at a time, coating all sides. Cover with plastic wrap; refrigerate at least 2 hours. TIP: Can be made 1 day ahead. Keep refrigerated.
Position racks in top third and bottom third of oven; preheat to 400°F. Arrange onions in thin layer on large rimmed baking sheet to form bed for chicken. Top with chicken pieces in single layer, spacing apart for even roasting (chicken will still be coated with marinade). Discard remaining marinade.
Roast chicken on top rack until cooked through and juices run clear when thickest portion of thigh is pierced with knife, about 1 hour. Chicken should register 170 degrees F with a meat thermometer. Serve chicken atop onion slices. Spoon pan juices around.
Nat's Notes:
1. Reduce salt by half if using boneless, skinless chicken breasts.
2. Garam masala is an Indian spice blend found in most spice sections of the supermarket or at an ethnic market.
To make the carrots:
Preheat oven to 400°F. Spray large rimmed baking sheet with nonstick spray or line with foil and spray foil with nonstick spray.
Combine carrots and all remaining ingredients in large bowl; toss to coat. Spread in single layer on prepared baking sheet. Roast carrots (on the rack underneath the chicken) until tender and lightly caramelized, turning carrots over once, 35 to 40 minutes.
To make the raita:
Line strainer with cheesecloth and place over bowl. Add yogurt; cover and refrigerate at least 2 hours and up to 1 day. (see note)
Combine drained yogurt and grated cucumber in small bowl. Add coarse salt, chopped cilantro, and chopped mint; mix well. Cover cucumber raita and chill at least 30 minutes and up to 2 hours.
Nat's Notes:
1. I didn't strain my yogurt, and I didn't think it turned out runny. If you're concerned about it, but don't want to strain, you can always buy Greek-style yogurt, which is thicker and doesn't need straining.
Next Day's Lunch: Indian Chicken Wraps - Wrap leftover chicken, onions, and carrots in a warm flour tortilla (or flatbread) and spread a little raita over the top. D. Lish.
from Bon Appetit February 2010