Guest Post: Crispy Roasted Brussels Sprouts + Winners!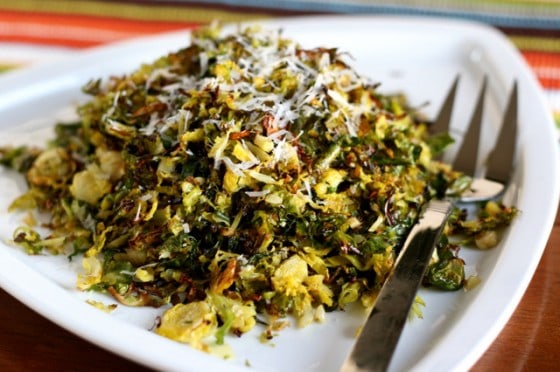 Before we moved to Nevada, my best friend in Cali (and her husband) took us out to eat at a swanky little place called Neumanali for what turned out to be one of the best (if not THE best) meals of my life. One thing that I particularly loved was their roasted shredded brussels sprouts. I was determined to recreate them in my own kitchen, and I think I did a pretty good job.
Want to know how it's done? Click on over to Ucreate Foods and see the step-by-step tutorial I wrote for one of their creative guest chef posts. I was so excited to be featured there! (Thanks Tyra!) Or see the recipe posted below…
And now for the winners of the blogiversary giveaway! Can I tell you how much I LOVED reading all of your food memories? Thank you so much for sharing.  My own memory is popping popcorn with my grandpa. He tossed the popcorn in the bowl to mix the butter and salt in and he rarely dropped a kernel. He died when I was 12, so that is one of the few memories I have.
There seemed to be a common theme of being with family and cooking from scratch.Let's keep that going!
The little random number generator seemed to pluck both right out of the middle of the stack. The winners are . . .
#59 Jordan – My earliest food memory is making holiday fruit cake at my great-grandmother's house in a dimly lit kitchen.
#62 Janssen – My earliest food memories are of holiday meals at my grandmother's house. She is a fantastic cook and always lays a gorgeous table. And even though she is very well-mannnered, she still thought it was funny when I put olives on my fingers.
Congrats Jordan and Janssen!
Crispy Roasted Brussels Sprouts

Ingredients:

1 lb brussels sprouts, trimmed and sliced thinly
2 T heat-safe oil (like grapeseed or coconut)
2-3 cloves garlic, minced
salt and pepper, to taste
juice from half of a lemon
1/4 cup freshly shredded Parmesan or Pecorino-Romano cheese

Directions:

Preheat oven to 400 degrees F. Place the sliced brussels sprouts on a heavy rimmed baking sheet. Add garlic, drizzle with oil, and add salt and pepper to taste. Mix everything with your hands to coat everything, then spread them out in an even layer.

Roast in the center of the oven for 20-25 minutes, stirring every 8-10 minutes to ensure they're cooked evenly. When they're as dark as you want them, remove the pan from the oven and let them sit for 5 minutes or so to slightly cool off. Transfer to a serving bowl or platter, sprinkle with lemon juice and cheese.