Weelicious Cookbook Review & Giveaway!

Have you ever visited Catherine McCord's website Weelicious.com? It's like the online mecca for parents searching for ideas, tips, recipes, video tutorials about what to feed your kids (and babies!)
Weelicious is now a cookbook! A super cute, information-filled, beautifully-photographed cookbook. Want one?
Go to the bottom of the post to enter! (It's easy. I don't make you jump through hoops, remember?)
Psst… I wrote a more detailed review over at Reading for Sanity if you're interested in knowing ALL of the thoughts I had about this book!
This week we tried out the Turkey Pesto Meatballs. I made them with my Easy Roasted Balsamic Tomato Sauce.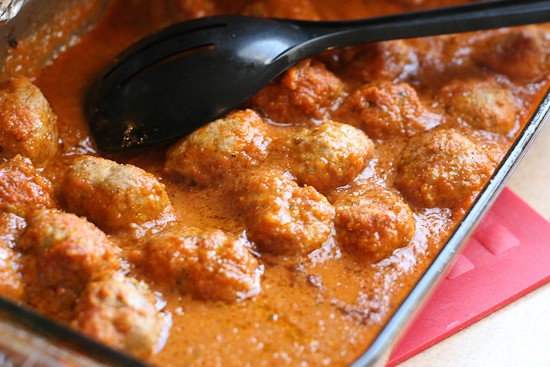 Verdict? Good. My kids loved them. I accidentally used more turkey than I thought I did so the pesto flavor was diluted, but I can see this being a great meal to make ahead and throw in the oven!
I also tried Catherine's take on Veggie Nuggets — the vegetarian version of chicken nuggets found in the freezer section in the grocery store. (And also full of fillers and all kinds of not-so-natural ingredients, despite what the label says.)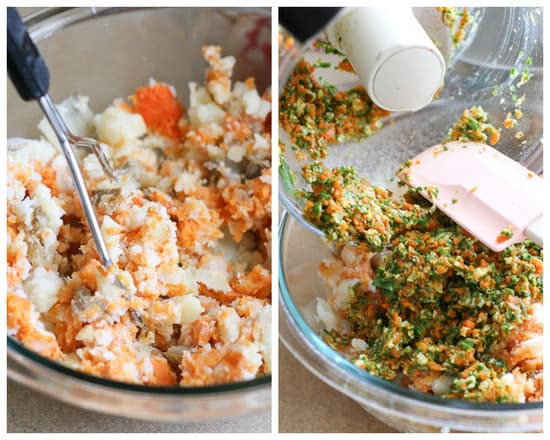 I have to say, these weren't my favorite. I did some substituting (as I sometimes do, to add more nutrient-dense vegetables and reduce the amount of grains, especially wheat) and that may have been the reason for their bland taste. My kids didn't mind them, though. We didn't have any leftovers!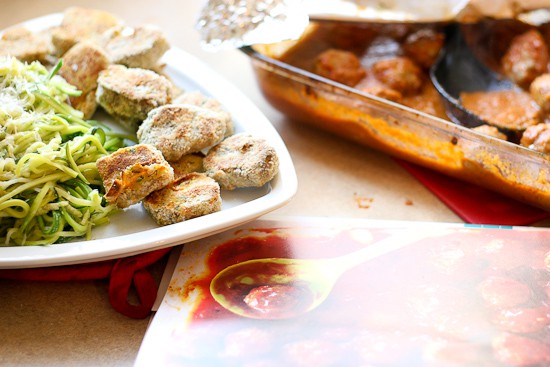 I served both of these with zucchini "noodles" sauteed in butter, and the kids kept telling me they wanted me to make all of it again! My Kindergartener even wanted the leftover meatballs and noodles in her lunch the next day.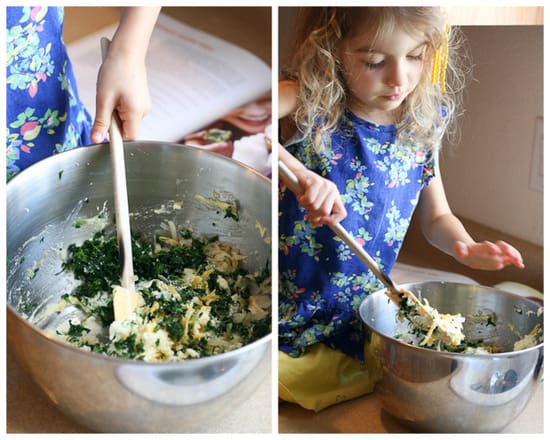 The next day I made the Spinach Ricotta Bites with my 3-year-old for lunch.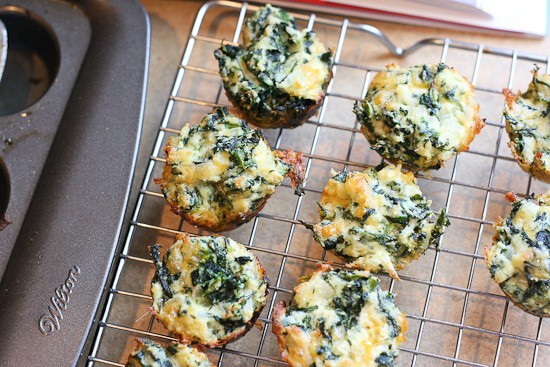 Guys, I couldn't stop eating these. I won't even tell you how many I ate. (I had a stomach ache afterwards.) They taste like little spinach and cheese quiches only a hundred times better. My little Ivy loved them, too!
I'm definitely making these again.
This book is a total winner and a must-have if you have kids! Want a copy?
TO ENTER THE GIVEAWAY:
Just leave a comment below and answer the following question:
"How do you handle feeding a picky eater?"
Kids aren't the only picky ones. Adults can be just as bad!
A few little details…
1. Comments will close on Tuesday, October 2nd, 2012 at 8PM Pacific Time. I'll use a random number generator to choose one winner that I will contact and announce here on the 3rd (if I remember). If I don't get a response from the winner after three days I'll pick a new one.
2. Contest open to US residents only.

3. Leave a valid email address for me to contact you.
4. One comment per person, please. As much as I would love for you to follow me on Facebook, Twitter, or Pinterest, I'd rather have you do it because you genuinely like my blog. Not for extra entries in a contest!
5. The comments must be on this post. If you email me or send me a Facebook message, I'll just tell you to leave your comment here. On this post.
I received a review copy from WilliamMorrow (HarperCollins) Publishing, and they are also  providing the giveaway copy. All opinions are 100% my own.