Homemade Body Scrub with Brown Sugar and Coconut Oil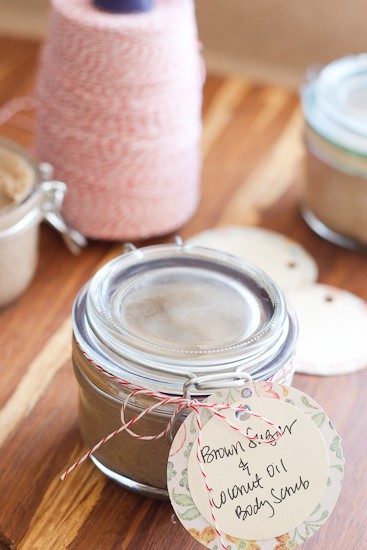 Homemade body scrub that tastes a little like cookie dough, that is.
Ok, a lot like cookie dough. Every time I use this on my face I dip my finger in it and eat a glob. Needless to say there isn't a lot of exfoliating going on when I'm doing a round of Whole30. Too tempting. Or I'd forget and eat some anyway.
It's a terrible habit. However, I love that I can make homemade body scrub for a fraction of the price of store-bought and find everything I need at the grocery store.
(P.S. Hide it from your kids.)
Plus it tastes like cookie dough. Pfft. What brand can claim that?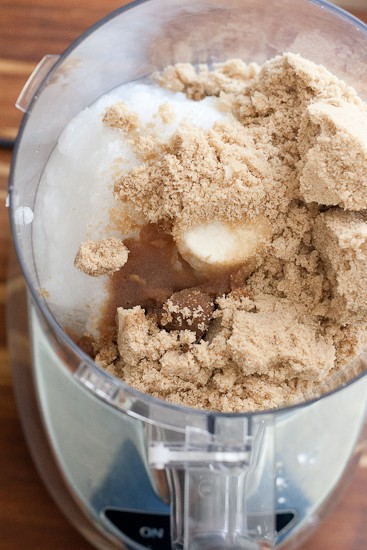 If you've wanted to know how to make sugar scrub, here we go!
You don't need a food processor for this, but it makes it super easy. Just throw in the coconut oil, brown sugar, and other add-ins. (Like essential oils or… um… vanilla extract. Maybe I shouldn't make it so easy for me to eat.)
Then buzz it around until it looks creamy. Like this…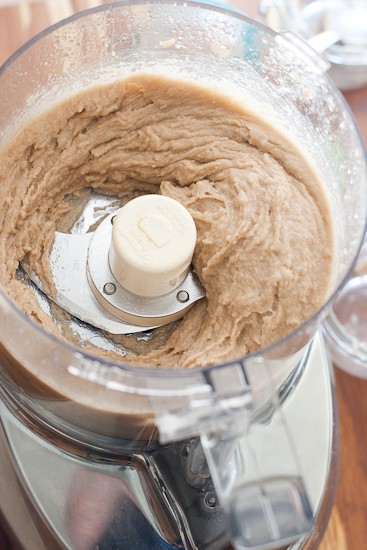 TIP: If you let it go too long, the friction will warm the coconut oil which will cause the whole thing to separate.
Like this…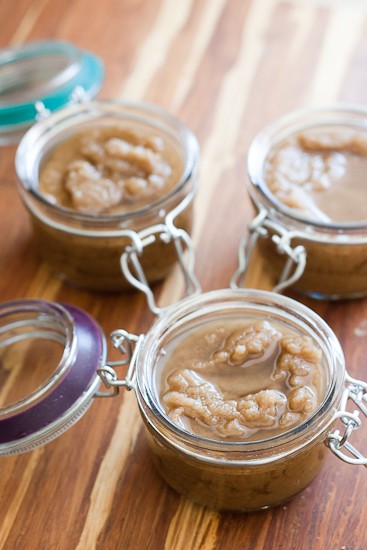 A lot of commercial body scrubs are separated like this. This will also happen if you keep homemade body scrub in your shower all the time. It's still OK to use, though. Just mix it around with your finger before you use it.
And lick it off your finger.
Oh gosh. I should really start using olive oil instead. Or turn it into a salt scrub.
Anyway. I like the creamy look better.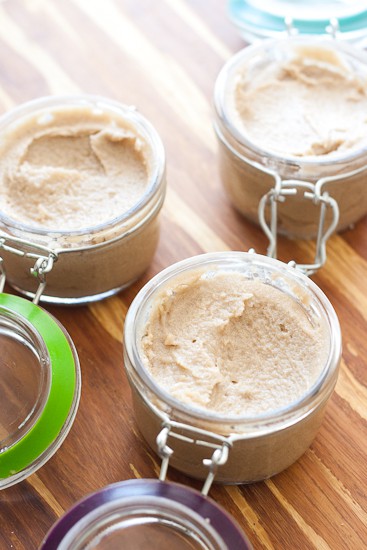 I made these to put in some gift baskets for my girls' teachers for an end of the year teacher gift. They LOVED it! I found the jars at Ross. They were $5 for a 3-pack. Super cute, right?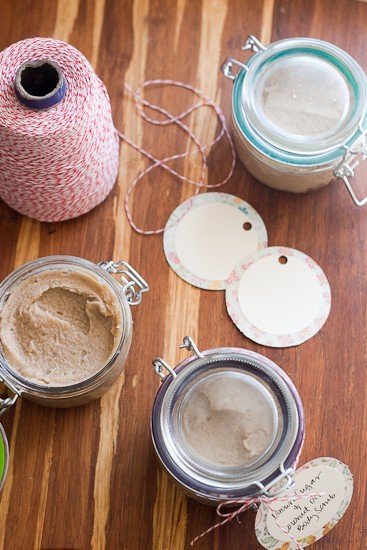 Then I tied a simple tag on there with some string. These are great little inexpensive gifts you can give to teachers, friends, new moms, or to use as stocking stuffers or simply thank you gifts!
I've been using this as a body exfoliator and face scrub for a few weeks, and I LOVE it. I'm already a huge fan of coconut oil and I love how it makes my skin feel. I've also been using straight coconut oil as a facial moisturizer for a couple of months, and I can tell a big difference in my complexion, which is more uniform than it's been since I was a kid. I don't even wear foundation any more — just a few spots of concealer. The scrub does a great job exfoliating and the oil leaves my skin feeling super-hydrated and soft.
By the way, if you haven't read The Coconut Oil Miracle. You need to. It's such an informative and eye-opening book! I'm now convinced that coconut oil will make me immortal. At the very least it will keep me from getting premature wrinkles. Hopefully.
In an attempt to make my hygiene products more natural, we've been using diluted castile soap for body wash and I've been using the Oil-Cleansing Method I learned about on The Art of Simple (formerly Simple Mom) for nearly three years now. I haven't ventured into the "no-poo" movement, but I do try to find shampoos that are free of most of the usual suspects (parabens, sulfates, etc.) I've also switched to mostly mineral make-up.
Do you make your own bath and body products? Please share! And if you make this DIY sugar scrub, let me know how you like it by dropping a comment below or tagging me on social media!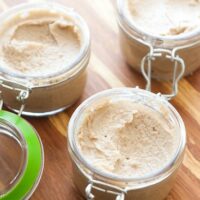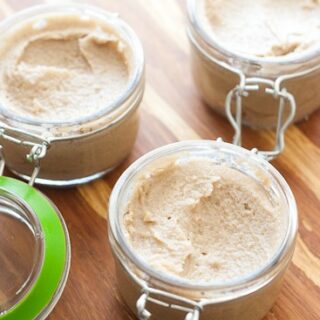 Homemade Body Scrub with Brown Sugar and Coconut Oil
Yield: Makes about 1 1/2 cups

Prep Time: 5 minutes

Total Time: 5 minutes

Make your own body scrub at home with things you already have in the pantry!
Ingredients
2 cups brown sugar
1 cup solid (but soft) coconut oil
Extra additions (vanilla extract, essential oils, etc.)
Instructions
Whip together the sugar, oil, and any extra additions until the mixture looks creamy and resembles loose cookie dough.
You may use a food processor, but don't let it process too long or the coconut oil will melt and the mixture will separate. If this happens, just put it in the freezer for a few minutes to solidify and mix again.
Store in an airtight container. Lasts for weeks. Maybe months. If it's stored in the shower, you may have the same problem with separation as the coconut oil warms. Just stir it around with your finger before using.
It's OK to lick your finger, too. :)

Disclosure: This post contains an Amazon affiliate link. Purchases made by using these links doesn't cost you any extra and helps to keep my content free.

SaveSave