What We Eat Weekly (Fall/Winter #4)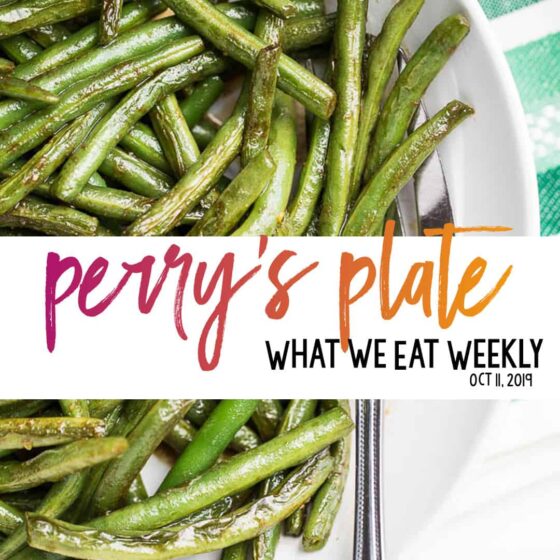 Here you'll find our weekly dinner plan! Almost all of our dinners are gluten-free and most are grain-free and dairy-free or can be easily converted. Some weeks we do well sticking to plan, and some weeks…. well, you know. Life happens.
The "coming soon" meals mean I'm doing photos and will have links added as I publish those recipes.
Dinner Menu for Oct 11th:
Monday
Leftover Borscht (We ate the last of a double batch I made over the weekend. It never gets old.)
Tuesday
Quick Sausage & Veggie Sheet Pan Dinner (Yes, again. I used the rest of the Kiolbassa grass-fed smoked beef sausages and broccoli & sweet potatoes I got last week at Costco.)
Instant Pot Cilantro Rice (coming soon!)
Salad greens, Paleo Ranch, and whole grain mustard (goes super well with that sausage!)
Wednesday
Thursday
Instant Pot Mashed Potatoes (Used a mix of Yukon and sweet potatoes. Recipe in my Instant Pot Cookbook.)
Friday
Pizza & Caesar Salad Kit
Middle School Fall Festival. (Food trucks! Whoop!)
Saturday/Sunday
Neighborhood Fall Festival
Dinner at friends' house.
Weekly Notes:
Wednesday and Thursday are a little ambitious, but I'm hoping they'll give us leftovers for lunches over the weekend. And possibly future dinners.
I did 1.5x the Mini Skillet Meatloaves recipe, made them a little smaller and ended up with 26. I froze half of them for another meal.
---
Disclosure: This post may contain Amazon affiliate links. Purchases made by using these links don't cost you any extra and helps to keep my content free.