What We Eat Weekly (Fall/Winter #9)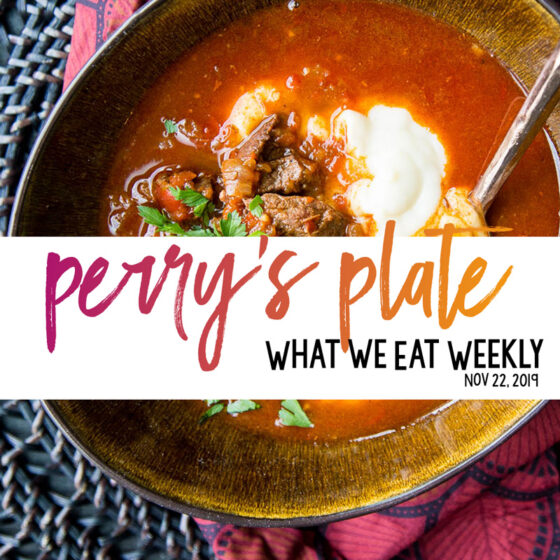 Here you'll find our weekly dinner plan! Almost all of our dinners are gluten-free and most are grain-free and dairy-free or can be easily converted. Some weeks we do well sticking to plan, and some weeks…. well, you know. Life happens.
The "coming soon" meals mean I'm doing photos and will have links added as I publish those recipes.
This week I leaned heavily into Instant Pot dinners (sometimes using both cookers!) If you don't have two cookers, yet, I'd highly recommend it. Just the other day someone messaged me and told me what a game changer it is! I totally agree.
I also used a few recipes from my Instant Pot cookbook, The Big Book of Paleo Pressure Cooking. Grab a copy if you don't have one yet! It's such a fabulous book and has so many of our favorite Instant Pot recipes.
Dinner Menu for Week of Nov 22th:
Monday
Toppings: shredded cheese, diced pickles
Tuesday
Creamy Garlic-Almond Soup (Used Instant Pot)
(The pesto and shredded Brussels were used as a garnish for the soup. Steve and I LOVED it, but the kids didn't like the Brussels in their soup so they ate them separately.)
Wednesday
Thursday
Paleo Hungarian Goulash (Instant Pot)
Leftover basmati rice
Roasted vegetable mix (cauliflower, broccoli, Brussels)
Friday/Saturday
Leftovers, salad bar, or pizza
Sunday
Easy BBQ Ribs
Garlic Mashed Potatoes
Weekly Notes:
Sunday is my daughter's 11th birthday and she requested ribs & mashed potatoes for her special dinner. (Her favorite foods ever. She's a total meat and potatoes girl. :)) The ribs and mashed potatoes are both made in the Instant Pot and the recipes are in The Big Book of Paleo Slow Cooking. (I just adapted it to my IP) The Instant Pot version of the Garlic-Almond Soup is in The Big Book of Paleo Pressure Cooking.
---
Disclosure: This post may contain Amazon affiliate links. Purchases made by using these links don't cost you any extra and helps to keep my content free.