Meet Jenna from Eat, Live, Run + Kicked-Up Turkey Meatloaf
Thank you so much for all of your well-wishes! It's so fun having such a supportive and enthusiastic group of friends and readers. I love you guys! Don't forget to enter to win a copy of  Farmers' Market Desserts before Friday!
Food still grosses me out, (read why if you aren't in the know) so I've got Jenna here from Eat, Live, Run to pick up some of my slack! I love her twist on a traditionally frumpy dish. I don't know about you, but meatloaf, done right, is one of the best things ever. This actually looks good to me, and that's saying a lot! Take it away, Jenna! 
Hi guys! Jenna from Eat, Live, Run here and I'm super excited to be guest posting for Natalie today. I want to share one of my favorite recipes to make this time of year—turkey meatloaf!
But not just any ol' turkey meatloaf—this is kicked up turkey meatloaf! That's right, this lovely loaf of meat is doctored up with lentils and mushrooms to make it even heartier (and healthier!) than ever.
What? You say you don't like meatloaf? You say it's too 1982 for your taste? Well, here's a secret for you: I don't really like "normal" meatloaf either. "Normal" meatloaf usually makes me want to just put on my pajamas and take a long nap in a meat-and-potatoes coma.
But not this guy!
It's lightened up and kicked up, and sure to be a favorite at your dinner table this winter. I like to serve mine with plenty of sriracha and ketchup on the side. Or on top. Okay fine, I like to smother the thing in ketchup and sriracha. Jude me, why don't ya!
Kicked Up Turkey Meatloaf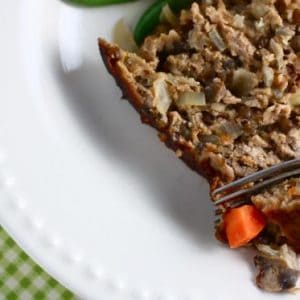 Ingredients:
1 lb lean ground turkey

1 cup cooked black or green lentils

1 large carrot, diced

1 large onion, diced

2 cloves garlic, minced

2 cups mushrooms, chopped

1 1/2 tsp worcestershire sauce

1/4 cup ketchup

1 tsp salt

1/2 T olive oil

1/4th tsp black pepper

3/4 cup panko breadcrumbs

1/3 cup milk

1 egg, slightly beaten
glaze:

2 T ketchup

1 T pure maple syrup

1 T balsamic vinegar
Directions:
Preheat oven to 400.
Heat the olive oil in a large skillet over medium high heat. Add the diced onions and saute for about six minutes, until soft and translucent. Add the carrot and garlic and cook for three minutes. Add the chopped mushroom and cook for another five minutes or so, until the mushroom has turned soft and all the veggies are nice and juicy.
Remove from heat and transfer to a large bowl. Add the cooked lentils, salt, pepper, worcestershire sauce and ketchup and mix well.
In a small bowl, combine the milk and panko bread crumbs. Let sit for three minutes so the breadcrumbs can absorb a little of the milk. Add to veggie mixture.
Add ground turkey and beaten egg and mix well. It's easiest here to use your hands. Transfer to a greased loaf pan and press down to smooth top.
Combine the ingredients for the glaze and pour over top of meatloaf. Spread with a spoon to cover the top.
Bake for 55 minutes or until a meat thermometer reads 165 degrees.
from Jenna at Eat, Live, Run