Meet Cara! + Almond Joy Granola
This will be the last guest post for a while, which means I better get my act together soon! I have loved all of the guest posts, and I'm so grateful for my blogging friends helping me out during my morning sickness/packing & moving weeks.
Today I'm so happy to have Cara from Cara's Cravings here with a crazy (in a good way) granola recipe that I may just make this morning for breakfast! Cara and I share a love of wholesome, healthy food, and I've been reading her blog for a long time now — ever since her Pumpkin Cheesecake Swirled Brownies and Thai Peanut Turkey Burgers made me fall out of my chair. Cara is not only a fabulous blogger and a contributor to Clean Eating Magazine (woot!), she also has a great personality and I've thoroughly enjoyed getting to know her better! She's just plain awesome and one of my only Jewish friends. Welcome and Happy Hanukkah Cara! — Natalie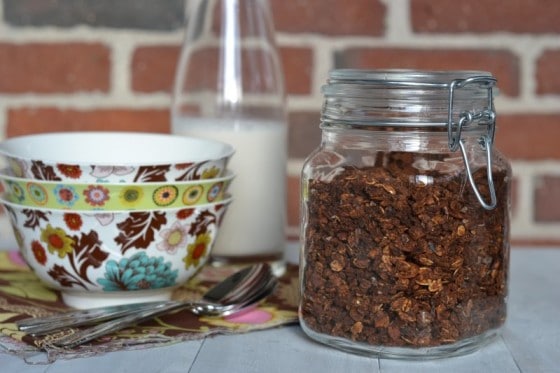 Hey there! I'm Cara from Cara's Cravings and I'm so happy to "meet" you today. I'm sure we'll get along just great because we already have plenty in common: a love of healthy, wholesome, delicious foods packed with colorful ingredients and natural goodness.
How do I know you love that? I'm psychic, of course. Kidding. Obviously it must be true because you read Perry's Plate! Natalie's philosophy on food and feeding her family is something I share and a reason I've been reading for years. That, and the fact that I can count on her for super sweet stories and emails that demonstrate good nature and compassion. (And the gorgeous pictures – can't leave those out!) Because she's been such a kind friend to me, I'm happy to be helping out while she's taking care of business.
I don't have kids yet, so I can't speak from personal experience, but word on the street is that one of the most important things you can do to avoid sickness during pregnancy is to make sure you don't get too hungry. Heck, I'm not pregnant, and I don't like to get too hungry either! What's a girl to do? Snack, of course! Even if you're not starving (and I just said we don't want to go there) it's important to get small bites in every couple of hours to keep that tummy in check.
With that in mind, I thought it would be appropriate to share a healthy, grab-and-go snack that you can make at home. This is the kind of snack you can package up in petite portions so you always have something on you in case of hunger emergency, or you can leave it on the counter to nibble on when you absolutely can't wait till dinner is done. Granola!
I must confess, store-bought granolas, which often have high sugar content, have become been a turn-off for me. They're just too dangerously addicting! When I make granola myself, I can keep the nutrients balanced by controlling exactly what's going into it. In this recipe, I used crispy brown rice cereal which bulks everything up without adding tons of calories. Wholesome oats, almonds and coconut add wonderful nutrition and flavor. Speaking of flavor, I'm a self-proclaimed chocoholic, and find it appropriate to have chocolate at any time of day. That's why I added rich, earthy chocolate flavor to my granola with unsweetened cocoa powder and raw cacao nibs. If you've never tried them, this is the perfect recipe to do so! If you're itching for a new snack, I hope you'll try this new favorite of mine. Thank you, Natalie, for inviting me to share it!
Almond Joy Granola
Yield: 16 servings
Total Time: about 1 hour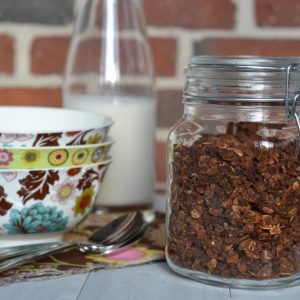 Ingredients:
1 cup (114gm) sliced almonds

1 cup (30gm) brown rice cereal

1 cup (80gm) rolled oats

1/2 cup (56gm) unsweetened shredded coconut

1/4 cup (52gm) ground flax

1/2 teaspoon salt

1/2 cup unsweetened applesauce

1/4 cup maple syrup

2 tablespoons (10gm) unsweetened cocoa powder

1/2 teaspoon coconut extract

1/4 cup (28gm) cacao nibs
Directions:
Preheat oven to 325ºF.
In a large bowl, combine almonds, cereal, oats, coconut, flax, and salt. Mix well.
In a small bowl, stir together applesauce, syrup, cocoa powder, and extract until smooth. Pour over the dry ingredients and mix until thoroughly combined.
Spread the mixture into an even layer on a rimmed baking sheet. Bake for 40-45 minutes, stirring every 15 minutes. (Granola will crisp up more upon cooling.)
Sprinkle in cacao nibs, and store in an air-tight container.
Servings Per Recipe: 16

Serving Size: 1/4 cup (21gm)

Amount Per Serving

Calories 118.1

Total Fat 7.0 g

Saturated Fat 2.3 g

Polyunsaturated Fat 1.4 g

Monounsaturated Fat 2.5 g

Cholesterol 0.0 mg

Sodium 83.3 mg

Potassium 67.6 mg

Total Carbohydrate 12.7 g

Dietary Fiber 3.0 g

Sugars 4.4 g

Protein 3.2 g
Cara Lyons is the author of Cara's Cravings, a food blog dedicated to indulgent yet wholesome food for healthy living. She is also a contributor to Clean Eating Magazine.