Falafel-Crusted Cauliflower Pitas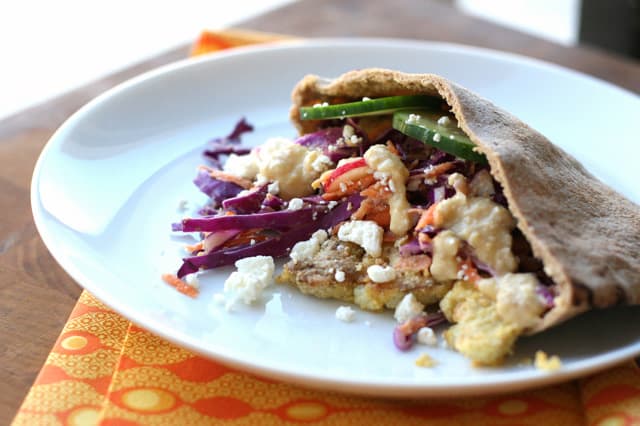 Have I ever told you about my stint as a busgirl at an Egyptian restaurant during high school? That job involved a lot of firsts.
First time working for someone other than friends of my family.
First time (and only time since) I was asked to belly dance at my job.
The regular belly dancer would drive up every Saturday evening in her maroon Ford Mustang, make a grand entrance, hug me, pour herself a glass of wine, and get her little clackers moving. She shook it pretty well for a woman in her 50s.
No, it wasn't that kind of place. It was a higher-end restaurant (for little Idaho Falls, ID) and the dancing was really tasteful and interesting to watch.
And no, I didn't.
It was also my first exposure to Middle Eastern cuisine. The owners were real-life Egyptians and they made everything from scratch, including the falafel. Every night after I worked I made myself a falafel pita with cucumbers and feta. I've had a special place in my heart for falafel ever since.
I noticed a fun twist on falafel in this month's issue of Food Network Mag where they dredged chicken tenders in dried falafel mix and baked them. Because I had an extra head of cauliflower in my crisper, I used that instead. You can find falafel mix either in the bulk section of a grocery store or boxed in the ethnic food aisle. If you can't find it (or don't want to buy it) I added ingredients for a good substitute in the recipe notes. That's what I used, actually, because I didn't have falafel mix myself.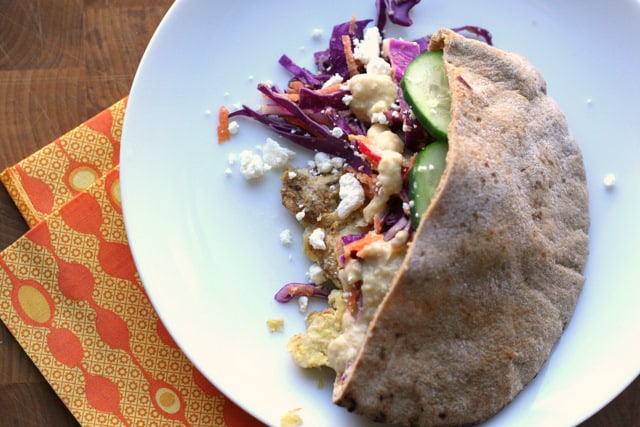 Too bad that restaurant was only open for 4 months. That gorgeous old building was later converted to a cute cafe. Then into a wedding reception center… where we held our wedding reception.
Funny how things work out.
Falafel-Crusted Cauliflower Pitas

Yield: 6 stuffed pita halves

Prep Time: 15 minutes

Cook Time: 15 minutes

Total Time: 30 minutes

Ingredients:

For the pitas:
1/2 of a large head of cauliflower
2 T heat-safe oil, like coconut or grapeseed
1/2 cup falafel mix (if you don't have this, see note below)
3 cups coleslaw mix (or a mixture of shredded cabbage & carrots)
5-6 radishes, sliced thinly
Sliced cucumbers & crumbled feta, for garnish
3 whole wheat pitas, halved

For the dressing:
6 T prepared hummus
Grated zest and juice from 1 small lemon
Dash cayenne, if desired

Directions:

Preheat oven to 425 degrees F.

Remove leaves and main stem from the cauliflower head. Slice it in half (storing half in the fridge). Place the other half, stem-side down on a cutting board. Slice the cauliflower into 1/4-inch pieces. (Not florets. Cut it like you would a head of cabbage.) Not all of it will stay in tact and you'll have pieces of all sizes. Just make sure all of them are the same width (1/4-inch) so they cook evenly.

Place the sliced cauliflower in a medium bowl and drizzle with oil. Toss to combine. Pour the falafel mix into the bowl and toss, to ensure the cauliflower is completely coated. Spread cauliflower out on a baking sheet. Bake for 15 minutes or until they are tender and golden brown.

Meanwhile, combine the ingredients for the dressing, plus 3 tablespoons of water in a large bowl. Remove about 3 tablespoons of the dressing and keep in a smaller bowl for later. Add coleslaw mix and radishes to the large bowl with the dressing. Toss to combine.

Assemble pitas by adding a few pieces of cauliflower to each pita half, followed by the coleslaw, then add sliced cucumbers and feta for garnish. Drizzle some of the reserved dressing over top.

Nat's Note:
1. If you can't find dried falafel mix (I didn't have any), mix 1/2 cup chickpea flour, 1/2 tsp cumin, and 1/4 tsp each onion powder, garlic powder, and salt. I wouldn't try to make falafel with this mixture, but it gives the cauliflower a falafel-y flavor. If you can't find chickpea flour, use regular flour, for a slightly less falafel-y flavor.

adapted from Food Network Magazine, Jan/Feb 2012