A Foodie Gift Guide + Misen Knives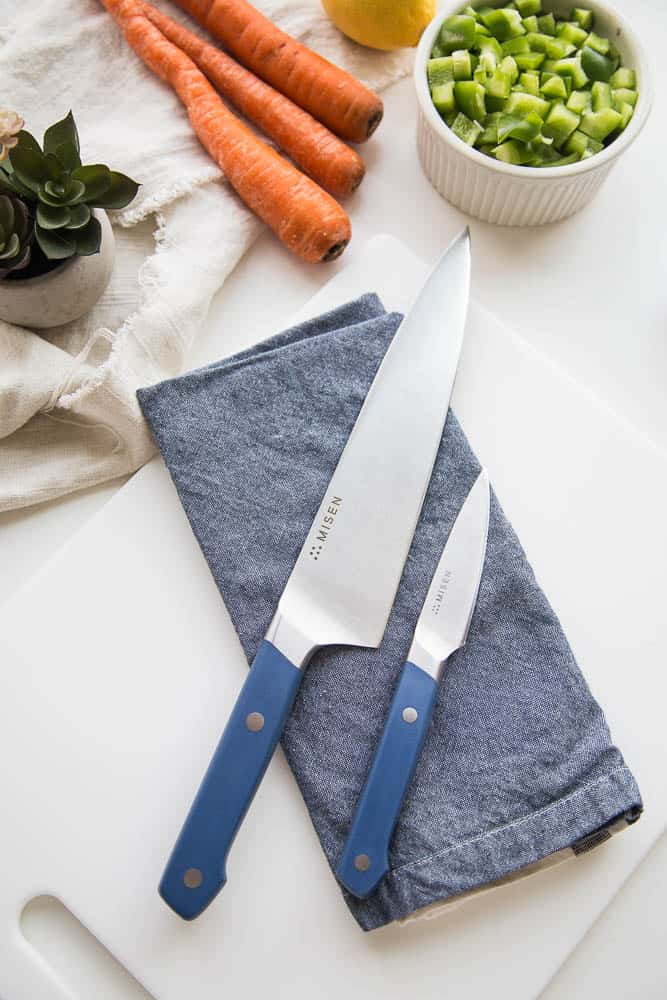 I'm asked frequently what my favorite kitchen essentials are, and my immediate answer is always GOOD KNIVES. Top of the list. Hands down. Always. Always. Always.
(I've added a few more of my favorite things later in this post!)
The knife sets you buy at Target or Walmart (or even Macy's depending on the brand) might be sort of sharp for a month, but it's all downhill from there.
I heard a lot of people say that they don't enjoy cooking. After I pick myself up off the floor from fainting, I think about why that is, and I'm willing to bet one of the reasons is because they aren't using high-quality knives. Have you ever tried to cut a potato with a dull knife? I wouldn't enjoy cooking either, my friend.
Having a really great knife that I sharpen regularly has been a game changer for me. I've been known to pack my knife if I'm traveling somewhere and anticipate doing some cooking. #weirdo
You don't have to spend a fortune on knives, just maybe $60-70 on ONE good chef's knife. (Quality is WAY better than quantity when it comes to knives!) I use my chef's knife about 95% of the time in the kitchen, and I keep it super sharp.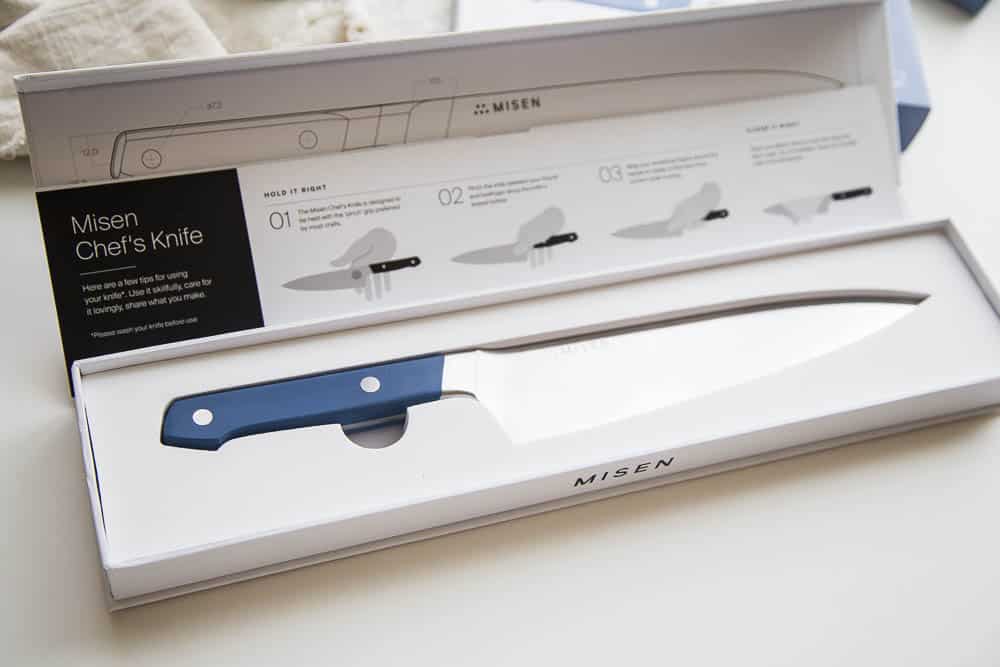 Recently I've had the opportunity to try out knives from Misen. I've been using them exclusively for over a month, and they're my new favorites! How cool are those diagrams? Holding your knife correctly makes chopping a lot easier and more comfortable, too.
Get $10 off a purchase on the Misen website by using the code PERRY10!
I'm giving away this set of knives (chef's knife + paring knife = $95 value!) over on my Instagram account today! You can find me here: Perry's Plate Instagram. Just look for the knife post. It'll be easy to spot.
---
A friend of mine prodded me to do a foodie gift guide this year. I resisted because every time I tried to do it my list looked incredibly practical. And boring.
My friend encouraged me anyway because she said she's always looking for the BEST of things and it would be a perfect guide for me to compile.
Well. . . . OK then. Here we go. This is a few of my must-have kitchen items that I use almost daily and love. (Those are the things that make me the most happy!) I linked to either identical or similar items over on Amazon so you could see more details, cost, etc.

Spiralizer – I just adore my spiralizer, and the newer model has two extra slicing blades! You can zoodle your heart out with this. (Make this first: Pesto Zucchini Noodles with Broccoli & Bacon). Or even Sesame Marinated Cucumber Noodles. Butternut squash noodles are pretty amazing, too — featured in my Easy Italian Sausage Meatballs & Marinara post.
Glasslock Storage Containers – These are my most favorite storage containers EVER. I bought two sets a few years ago when they offered them at Costco. I'm not a fan of plastic containers because they look worn out and crappy after a few runs through the dishwasher. These have glass containers with plastic snap-on lids. And the glass is oven-safe.
8″ Nonstick  Green Pan – These little pans might seem like scrambled egg pans for one, but I have two of them, and I literally use them EVERY SINGLE DAY. Part of the reason is because we haven't had a microwave in our kitchen for years and they get used for heating up leftovers. The other reason is because you can make Gluten-Free Crepes WAY faster if you've got two pans going.
Melamine Bowl Set – This was another Costco find that I use quite often. I don't like the look and feel of Tupperware-type bowls. These ones are more sleek and modern looking, and I love the colors. I use them quite often if I'm taking food somewhere — like to a church activity or a party.
Flour Sack Towels – Nothing irritates me more than to grab a towel to clean up a spill and have to wait 5 minutes for the towel to soak it up or to have it just smear water around without absorbing anything. Flour sack towels are SUPER absorbent. Love them.
Heat-Resistant Spatulas – Back in the day Williams-Sonoma spatulas were one of the only ones that were heat-resistant to high temperatures. Most good quality spatulas are these days, and I especially love the kind that are all one piece instead of having a removable head where mildew can get trapped. Ew.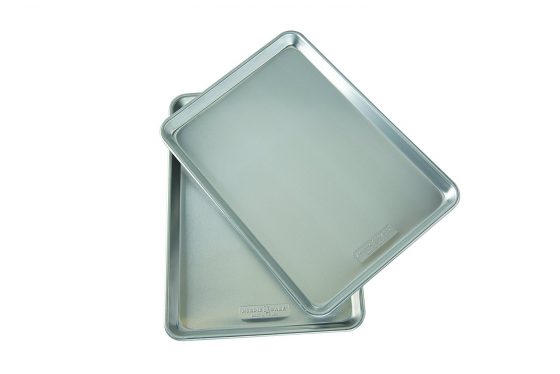 Nordicware Sheet Pans – This one gets its own section. You know how much I love roasted vegetables. And roasted anything, really. I've had a set of Nordicware sheet pans for over a decade and they're still going strong. They don't look like this, but I kind of like that grungy, well-loved look when I'm roasting stuff. I save the nice, new-looking ones for baking. They're also sturdy and won't scratch as easily as a Martha Stewart pan I have — a couple runs with a pizza cutter and it was scarred for life. *eyeroll* (Don't buy those.)
If you've also got a Food Processor, a Microplane Zester, an Immersion Blender, and an Instant Pot you should be set, my friends.
Don't forget to stop by my Instagram account this week to enter to win a set of Misen knives and a whole bunch of other stuff — giveaways every day!
Merry Christmas!
---
Disclosure: I received complimentary knives from Misen, but no other compensation for this post. All comments shared are my own. This post also contains Amazon affiliate links. Purchases made by using these links doesn't cost you any extra and helps to keep my content free.
SaveSave
SaveSave
SaveSave
SaveSave
SaveSaveSaveSave