Chevy's Sweet Corn Tomalito
I had good intentions of posting this with Chevy's salsa recipe, but I can only do so much in a day, people. Luckily I'm in Idaho visiting my parents for the next several days getting a much needed break from my life. My sister flew in from Maryland, so I have a nanny, too, while my mom works up in her office during the day. The only way this could be better is if Steve was here. I miss him. He really likes this recipe, and he was the reason why I made it in the first place.
When we first started eating at Chevy's, they would bring you your entree and on the side of your plate would be a pile of yellowish mush with a cactus-shaped tortilla chip sticking out of it. Looks can be very deceiving when it comes to food. This pile of mush was often, depending on what we ordered, our favorite part of the meal. It's like a really sweet cornbread-type, puddingish thing. Not a dessert, but definitely satisfied my sweet tooth after eating spicy food. That stuff is gold.
You have to order it as a side now. Bummer. It's alright though, because I haven't been too impressed with Chevy's the last few trips. Now that I have recipes for my two favorite things there, I don't really need their overpriced corn mush anymore. I can make my own, thanks.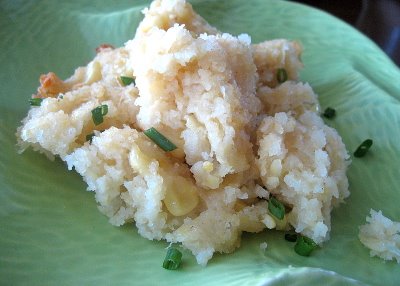 Chevy's Sweet Corn Tomalito

Ingredients:

4 c frozen corn, thawed
1/3 cup butter, softened
1/2 c sugar
3/4 c milk
1/2 c masa harina (corn flour, found in the Mexican food aisle)
1/2 c corn meal
1/2 tsp baking powder
1/2 tsp salt

Directions:

Preheat oven to 325.

Cream butter and sugar until smooth. Add milk and masa and mix well.

Puree the corn. Add corn to butter/masa mixture and mix well. Add corn meal, baking powder, salt, and remaining corn and mix until combined.

Pour mixture into an ungreased 8x8 inch baking pan. Cover with foil and place into a 9x13 pan. Add hot water to larger pan until it's about 1/3 full. Bake for 1 1/2 to 2 hours or until corn cake is firm in the center. Let sit, covered for 10 minutes before serving. Makes 8 servings.

Nat's Notes:
1. This is best eaten the day you make it, while it's still hot. As it cools it gets sort of dense, but it still tastes great. It's even good warmed up the next day, but it never regains the fluffy, fresh-from-the-oven texture.

from Top Secret Restaurant Recipes 2 by Todd Wilbur