Mexican Chocolate Chip Cookies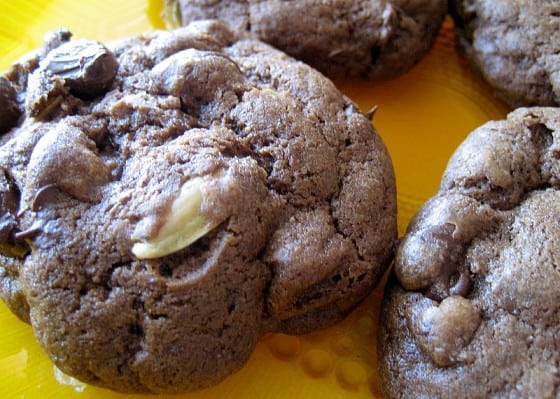 These may look like regular chocolate cookies with a few nuts thrown in, but don't be deceived. There's cinnamon baked into them as well as chunks of chocolate and pepitas (pumpkin seeds). The pepitas are optional, but I loved the bit of salty crunch it gave them. I also love cinnamon and chocolate together. This recipe came out of
Mom's Big Book of Cookies
.
I got this book for my birthday over the summer. I'm usually pretty picky when it comes to cookbooks and thought at first glance that it would be a ho-hum book of run-of-the-mill cookie recipes.
Um, no. The author, Lauren Chattman, is a pastry chef, and I think that's reflected in her recipes. I was pleasantly surprised at the wide variety of unique flavors and cookies I had never heard of before, like Cinnamon Toast Meringues and Almond Joy Cookies (coming shortly). I also like the techniques she uses.
So back to this cookie . . . I used her suggestion of rolling all of the dough into little balls, freezing them on a sheet pan, then placing them in a resealable bag so you can just take out a few when you just want a couple of cookies after dinner. Or when your friends come over and surprise you.
Or you can just take a dough ball out and gnaw on it. That's where most of the dough went. Straight into my mouth. I have no patience for ovens.
Mexican Chocolate Chip Cookies

Ingredients:

2 1/2 cups all-purpose flour
1 tsp baking soda
1 tsp salt
6 T unsweetened cocoa powder
1 tsp ground cinnamon
1 cup (2 sticks) unsalted butter, melted and cooled slightly
1 cup firmly packed brown sugar
1/2 cup white sugar
2 eggs
1 tsp vanilla extract
2 cups semisweet chocolate chips
1 c pepitas (shelled pumpkin seeds), optional

Directions:

Preheat the oven to 375 degrees F.

In a medium-sized bowl, combine the flour, baking soda, salt, cocoa powder, and cinnamon.

In a separate, large mixing bowl, cream the butter and sugars together until smooth. Add eggs and vanilla and beat until smooth. Stir in the flour mixture and mix just until all of the flour is incorporated. Stir in the chocolate chips and pepitas, if using. Chill the dough for 10 minutes (or up to 6 hours) to let the dough firm up.

Drop the dough by tablespoonfuls on ungreased baking sheets leaving about 3 inches between each cookie. (Balls of dough may be placed next to each other, frozen, transferred to a resealable freezer bag, and stored in the freezer for up to 1 month. Frozen cookies may be placed in the oven directly from freezer and baked as directed.)

Bake the cookies until dry around the edges, but still soft on top, 9-11 minutes (a minute or two longer if they were frozen). Let the cookies cool for 5 minutes or so, then remove to a rack to finish cooling. Makes about 48 cookies.

from Mom's Big Book of Cookies by Lauren Chattman