Mr. Darcy's Scones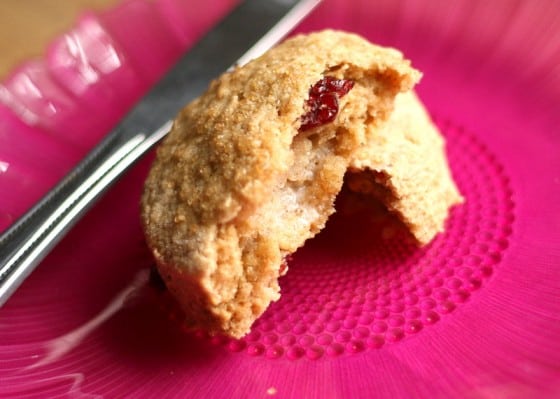 I believe this was the first time I've ever made scones, but not the deep-fried kind slathered in honey-butter you get at the fair. If a biscuit hooked up with a muffin and had offspring, I believe they would be scones. I'd always wanted to make them, but my desire to make breakfast healthier usually wins over the desire to indulge in the morning. Maybe because I have kids now who insist on having food in their mouths within 3.5 minutes of waking.
To go with some fruit smoothies, I picked a half-way "healthy" recipe that contained some oatmeal and swapped most of the white flour for white whole wheat flour, and they turned out great! They're moist, soft, and taste like an cranberry oatmeal cookie-muffin-biscuit-thing.
I had no idea until I read the notes that went along with the recipe that scones had British (Scottish, to be exact) heritage. My, my. . . I guess I should also admit that part of the reason why I chose this recipe was because they were "Mr. Darcy's."  *blush* I think he would have liked these.
Mr. Darcy's Wheat Meal Scones (Cranberry-Oatmeal Wheat Scones)

Ingredients:

1/2 cup uncooked regular oats
2 cups white whole wheat or all-purpose flour
2/3 cup all-purpose flour
2/3 cup whole wheat flour
1/3 cup packed brown sugar
1/4 cup white sugar
1 tsp salt
1 tsp baking powder
1 tsp baking soda
1/4 tsp ground cloves
1/2 tsp ground cinnamon
3/4 cup cold unsalted butter
1 large egg
1/2 to 3/4 cup buttermilk
1 cup raisins or dried cranberries (or a combination of both)
Milk, cream, or melted butter for brushing
Coarse or regular sugar for dusting

Directions:

Preheat the oven to 375. Prepare a large rimmed baking sheet with parchment, nonstick spray or a silicone liner. Place oven rack to upper-third position.

Place oats in a food processor and process until fine. Add the flour, brown sugar, white sugar, salt, baking powder, baking soda, cloves, and cinnamon and blend briefly. Take the frozen butter and grate it using a cheese grater (cool trick I learned...helps to blend it faster and more evenly in the dough). Add butter to the dry mixture and pulse to make a coarse, grainy texture.

Transfer mixture to a large bowl. Make a well in the center and add the egg and most of the buttermilk. Stir lightly with a fork to blend, adding more buttermilk if needed to make a soft, shaggy dough. (I ended up using a whole cup.)

Dump mixture on to a lightly floured work surface and knead 8-10 times until the mixture is barely rollable. (Don't knead too much or the scones will turn out tough.) Pat or roll out to 1-inch thickness and cut into 3-inch wedges or rounds. Place them on the prepared cookie sheet. Brush tops with milk or melted butter and sprinkle with a bit of coarse sugar.

Bake until golden brown, 12-15 minutes. Makes 15-20 scones.

Nat's Notes:
1. I didn't have a big enough food processor to put all those ingredients, so I just processed the oats, then put them in a large mixing bowl where I whisked in the rest of the dry ingredients. Then I added the butter and mixed it around with a fork until I got the texture I needed.
2. After I cut out my rounds, I wadded up the extra dough and froze it. I imagine that I could simply thaw it, roll it out and make more, but I haven't tried it yet. When I do, I'll update this post and let you know how it turned out.

adapted from A Passion for Baking by Marcy Goldman