Fried Green Tomatoes, Two Ways
I never thought in a million years I would ever make these. I'm so glad I did, but reason why I gave it a second thought was due to a bit of a garden tragedy.
Once upon a time I had three large, fruit-laden tomato plants growing by my porch.
Then a mole/gopher/vole/underground critter decided it would be funny to chew off the main stalk about 3 inches from the ground, completely severing the plants from their roots.
Suddenly I had 50+ green tomatoes that I had no idea what to do with. (Until they ripen, of course)
My first thought was fried green tomatoes. Seriously, what else can you do with these? A lot, apparently, after googling for recipes. I was curious about fried green tomatoes, so I went ahead and made them. Good thing because they were much better than I imagined.
Biting into a green tomato isn't a very pleasant experience. Once they're cooked, though, they take on a bright, tangy flavor that I thought would go well with the sweetness of caramelized onions. I'm so glad I thought to pair these two together because it was an absolutely deliciouscombination. Steve even asked me, "are you gonna post this?" Which means he really thinks I should.
I wanted to add one more shot to show you how dark they get, but I was quickly running out of daylight.
If you have ever shied away from caramelized onions because you don't like raw onions, then you're missing out on something special. Onions, in my opinion, are the vegetable kingdom's greatest magicians. It always blows me away how something so pungent as a raw onion can transform itself into something that tastes as sweet as jam — with no sugar required. I read on a blog once that caramelized onions are to vegetarians what bacon is to an omnivore. Spot. On.
Sub. Lime. It almost makes me sad that most of my tomatoes have ripened now.
After the first batch of tomatoes, I decided to make another batch (no, not on the same day) and play around a bit. I kept adding things and tweaking it until I ended up with a frou-frou appetizer.
Delicious? Yes. Fussy? Very. I added the variation instructions at the bottom of the recipe.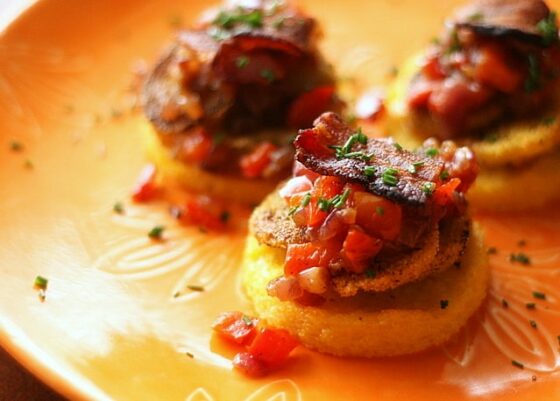 Above: Fried Green Tomatoes on Polenta Rounds with Bacon, Peppers, and Onions
Fried Green Tomatoes with Caramelized Onions
by Natalie
1 lb green tomatoes, sliced into 1/4-inch rounds
2/3 cup buttermilk
2/3 cup cornmeal or self-rising flour
big pinches of salt and pepper
for the onions:
2 large white sweet onions, halved, then sliced
2 T butter
big pinch of salt
The onions take a while so get them started first. In a large, lidded skillet melt  butter over medium-high heat. Add sliced onion and salt. Cook, stirring, until onions begin to soften, about 5 minutes. Reduce heat to medium-low, cover, and cook for about 30 minutes. Stir every 10 minutes or so, and if they begin to scorch, lower the heat. By the time they're finished, they should be medium brown in color (you could even cook them longer until they're a caramel color) and reduced considerably. Transfer onions to a bowl. You can store them in the fridge in an airtight container for a few days. Just warm the onions when you want to use them.
Meanwhile, lay the tomatoes out on a cookie sheet and sprinkle with salt. Let them rest for about 15 minutes, then blot excess moisture from both side of tomatoes with a paper towel. Place the buttermilk in a shallow bowl. In a separate shallow bowl, place the cornmeal and a couple big pinches of salt and pepper. Dunk each tomato in the buttermilk, shaking off the excess, then coat both sides in cornmeal.
Heat about 1/2-inch of oil to about 350 degrees in a medium skillet over medium high heat. (If you don't have a thermometer, stick the end of a wooden spoon in the oil. If it bubbles almost instantly, then the oil is ready.) Working in batches, place breaded tomato slices into oil and fry for about 5-8 minutes, turning once, until both sides are golden brown. Transfer to a plate lined with paper towels or a cooling rack  to drain off excess oil. (These are best eaten warm and fresh, but will keep in the fridge for about 2 days. Put them on a cookie sheet and warm them in a 350 oven when you're ready to use them.)
Serve tomatoes with onions.
Makes about 4 servings.
Variation: Fried Green Tomatoes on Polenta rounds with Bacon, Peppers, and Onions
1 recipe Fried Green Tomatoes (above, minus the caramelized onions)
3 cups low-sodium chicken or vegetable broth
1 cup coarse uncooked polenta
1 tsp salt
2 T butter
1 medium onion, diced
1 bell pepper, diced
6 slices of uncooked bacon, halved
2 T minced fresh chives
To make the polenta, bring chicken broth to boiling in a medium saucepan. Add the salt, then slowly pour in the polenta while whisking. Continue to whisk as the polenta thickens, about 5 minutes. Reduce heat to low, add butter and let polenta cook for an additional 5 minutes or so until cooked through and butter is melted. Spread polenta into a small rimmed cookie sheet or roasting pan. Refrigerate for an hour or so until it's solid. TIP: This can be done up to 2 days in advance.
Cook bacon in a medium skillet over medium heat until fat has rendered and bacon is crisp. Transfer bacon to a plate and set aside. Add diced peppers and onions to bacon drippings and cook until tender and onions begin to brown. Remove with a slotted spoon and place in a bowl.
When you're ready to assemble appetizers, remove polenta from the fridge. Using a 2 or 3-inch round cookie/biscuit cutter, cut as many rounds as you can out of the polenta. (Alternately, you can make them square so you don't have bits leftover.) Place rounds on a baking sheet and place under the broiler for 3-4 minutes until they're warmed up.
To assemble, place the warm polenta rounds on a platter. Top each with 2 or 3 fried green tomatoes (depending on size), a spoonful of peppers and onions, and a piece of bacon. Sprinkle with chives.
Makes about 8 appetizers with some leftover tomatoes.