Meet Joanne! + Golden Vanilla Cupcakes with Avocado Buttercream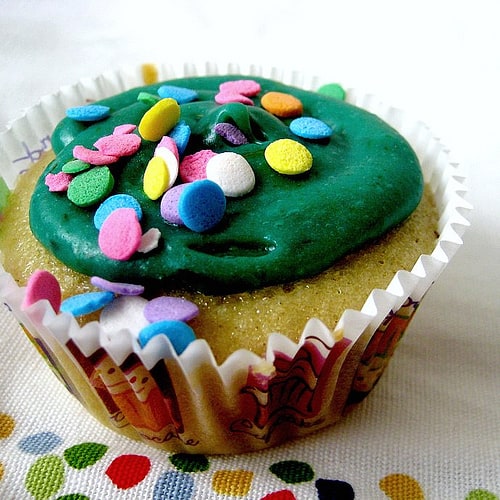 Joanne amazes me. She cooks, bakes, blogs, takes beautiful photos, and cracks me up with every post. She also runs marathons and is a MD/PhD student in NYC. Whenever I read Joanne's posts over at Eats Well With Others, I wish I had lived in, or at least visited, NYC at some point in my life. And had been a spunky food blogger in college. Unfortunately, food blogs didn't exist in 1998. Or blogs in general, really. I'm pretty sure no one had invented avocado buttercream, either. . . 


*****
Everyone in my life is always a bit dubious when I tell them I've baked something that's good for them.
That's mostly because I lie used to be that girl who substituted applesauce in for butter and whittled oil down to a mere tablespoon even when the original recipe called for multiple cups.
Until one fateful day. When I stopped.
And conveniently "forgot" to mention it to anyone.
Oops.
It was a batch of red velvet cupcakes that did it.
I was bringing them into class for a friend's birthday and I wanted them to be perfect. So I said, "Eh…I'll just leave all the oil in. Just this one time."
And the thing about full-fat baking is that you think it's not all it's cracked up to be. Until you try it.
Those cupcakes were fawned over like no other cupcakes I'd ever baked.
I remember my roommate reaching for a second cupcake saying proudly, "Well, the things Joanne bakes are never that bad for you."
I averted my eyes. Looked at the ceiling. Then at the ground.
Started mumbling about the weather. Or baseball. Or some other topic about which I know absolutely not a thing.
I'm pretty sure she still hasn't forgiven me. She certainly hasn't gone back for seconds on anything I've baked since then.
Then again, she also sees how much butter I go through in a week. So, really? I don't blame her.
I am not going to tell you these are good for you.
But given that they have no butter and no eggs and are topped with a frosting that is chock full of avocado and healthy fats and omega 3's?
I am totally going to say that they are the lesser of two evils. And may even lower your cholesterol. True story.
They're also so incredibly moist and delicious that no one will be able to tell that they're vegan.
Shhh. It'll be our secret.
Golden Vanilla Cupcakes + Avocado Buttercream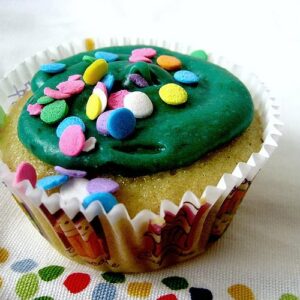 Ingredients:
For the cupcakes:

1 cup almond milk

1 tsp apple cider vinegar

1 1/4 cups all purpose flour

2 tbsp cornstarch

3/4 tsp baking powder

1/2 tsp baking soda

1/2 tsp salt

1/3 cup canola oil

3/4 cup sugar

2 tsp vanilla extract

1/4 tsp almond extract
For the buttercream:

8 oz very ripe avocado meat

2 tsp lemon juice

1 lb powdered sugar, sifted

1/2 tsp vanilla extract
Directions:
For the cupcakes:

Preheat the oven to 350. Line a cupcake tin with cupcake liners.
Whisk the almond milk and vinegar in a mixing cup. Allow to curdle for a few minutes.
Beat together the soy milk mixture, oil, sugar, vanilla, and almond extract. Sift together the dry ingredients in a separate bowl and add to the wet ingredients, mixing until just incorporated and no lumps remain.
Pour into muffin liners and bake for 20-22 minutes. Transfer to a cooling rack and allow to cool completely before frosting.
Makes 12.
For the buttercream:

Mix together the avocado and lemon juice until smooth. Little by little, beat in the powdered sugar. Add in the vanilla extract until combined. Dye with food coloring if, like mine, your frosting is an extremely unappealing shade of green.
Makes enough to ice at least 2 dozen cupcakes.
Cupcake recipe adapted from Vegan Cupcakes Take Over The World by Joanne at Eats Well With Others

Buttercream recipe adapted from Joy The Baker, who got it from Alton Brown