Hey guys! This would be delicious with my Gluten-Free Pie Crust!
Chicken pot pie and I have had a rocky relationship over the years. We had about a 10-year break-up because of a food poisoning incident, and it's just been in the last couple of years that I've been willing to kiss and make up. We're cool now.
Probably my all-time favorite chicken pot pie recipe is Ina Garten's. It's absolutely incredible. A lot of other people think so, too, because she's managed to maintain 5 out of 5 stars with 447 comments on her recipe on the Food Network website. See?
Wow, eh? Of course things that taste this good are usually very time consuming and contain lots of cream and butter. That recipe is no exception.
So may I offer a quicker, less buttery alternative? I hate to even compare something I made with the legendary Ina, but . . . mine's pretty good, too.
(Not as good as hers. I have to throw that in.)
I cheated a little, though. I mentioned earlier that I like to get multiple meals out of whole roasted chickens and this is one I often turn to. The fact that the chicken and leftover pan juices are already packed with flavor gives pot pies a tasty advantage without any extra effort. And if you make broth and use it as well . . . killer stuff. You can use any leftover roast chicken recipe, too.
Plus you can either make individual pot pies using ramekins or a giant one in a pie plate. In the picture collage above, I used a set of leaf-shaped miniature cookie cutters to cut up my pie crust and just layered them over the filling in the ramekin.
I originally made this with my grandma's pie crust, but you can use my Perfect Gluten-Free Pie Crust, too!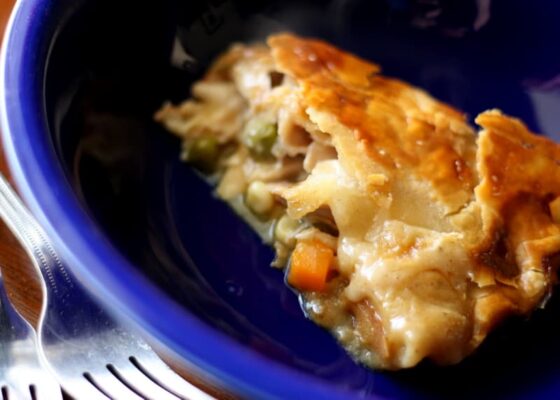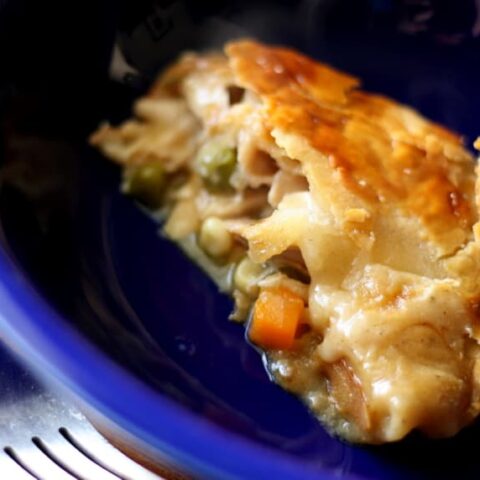 Roasted Chicken Pot Pie
Yield:
Makes 6-8 servings
This is the best homemade chicken pot pie I have ever made! Using the drippings and meat from a roast chicken saves you lots of time and adds lots of flavor.
Ingredients
1 1/2 - 2 cups shredded roasted chicken meat
1 cup leftover pan drippings from chicken (fat skimmed from the top)
4 Tablespoons butter
1 1/2 Tablespoon tapioca flour
1 clove garlic, minced
2 cups frozen small vegetables (like peas, carrots, corn mix)
4 cups chicken broth
1 Tablespoon chopped fresh (or 1 tsp dried) herbs (see note)
1/4 cup heavy cream or coconut cream (optional)
salt and pepper to taste
1 egg
Instructions
Preheat oven to 400 degrees F.
In a large skillet or saute pan, melt butter over medium heat, then add flour and chopped garlic. Stir to combine and cook for a couple of minutes until the mixture starts to bubble and turn slightly brown.
Add 3 cups chicken broth, pan drippings, shredded chicken, vegetables, herbs, and a pinch or two of salt and pepper. (The mixture will become more flavorful as it thickens, so don't add too much salt at this point.)
Cook over medium heat until it becomes bubbly, then reduce heat to medium-low and simmer for 5-8 minutes until mixture thickens. Add more chicken broth if it gets too thick, 1/4 cup at a time. Remove from heat and stir in the cream, if using.
Pour filling into a 9-inch pie plate and let it cool for a few minutes.
Roll out pie crust a bit so it's about an inch bigger than the pie plate, then place over the top of the filling. Tuck edges underneath themselves to form a smooth edge and crimp, if desired, using your finger. Cut 2 or 3 small slits in the top of the crust, toward the center.
Place egg in a small bowl with 1 T water and beat with a fork. Brush some egg wash over top of the crust. (You'll have some leftover.)
Place pie plate on top of a rimmed cookie sheet (in case it spills over while baking) and place in the oven. Bake for about 40 minutes until the crust is golden brown.
Notes
Nat's Notes:

1. I try to use some of the same herbs I used in the pot pie as I did when I baked the chicken, to complement the flavors already in the pan drippings and the meat. If you're unsure what to use or if your drippings and meat don't have a strong flavor, rosemary is a good choice.

2. You can also make individual pot pies by dividing the filling into ramekins. This recipe will fill 5 or 6 10-oz ramekins. (Or 4 10-oz + 2 5-oz like I did. The smaller ones are good for the kids.) You can cut the pie crust into rounds to fit over the ramekins or use a small cookie cutter (like the leaves I used above) and cover the tops with a bunch of cut-outs. Place ramekins on a rimmed cookie sheet and bake until crust is golden brown.

3. Feel free to use fresh chopped vegetables instead of frozen. Just saute them for a few minutes in the melted butter before you add the flour.