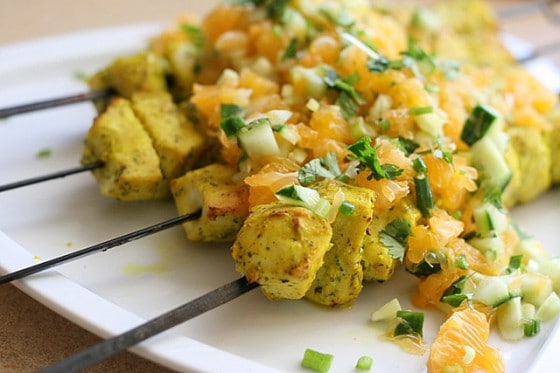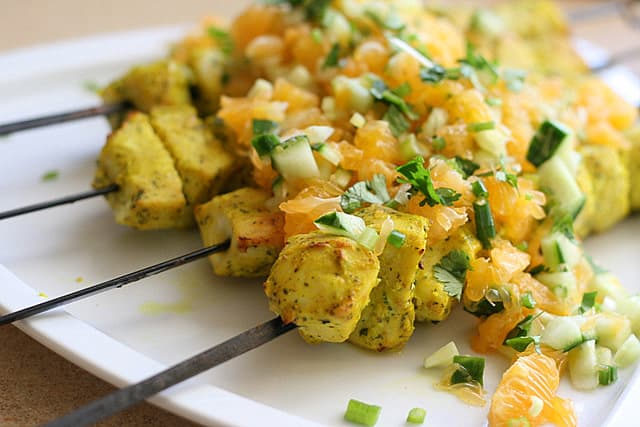 I know I'm not the only one craving fresh, healthy food right now. Having cravings like that makes it easier to make outrageous resolutions after the holidays, doesn't it? While I don't plan on swearing off sweets (ever), I'm definitely going to give my body a break for a while.
We ate these skewers and clementine salsa on New Year's Day and not only are they beautiful (the colors were amazing together!) they were light, and fresh, and just what we needed. I was surprised at how much I liked these.
I'm still converting slowly over to the "fruit with meat" camp. These skewers were similar to ones I made a year ago so I figured they were safe.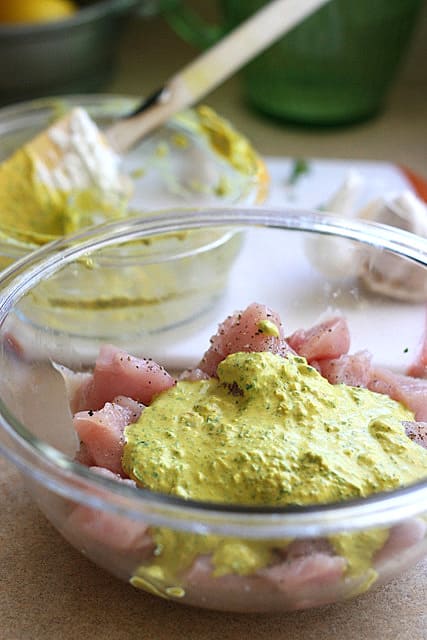 This was also the brightest marinade I've ever made. Way to go, turmeric.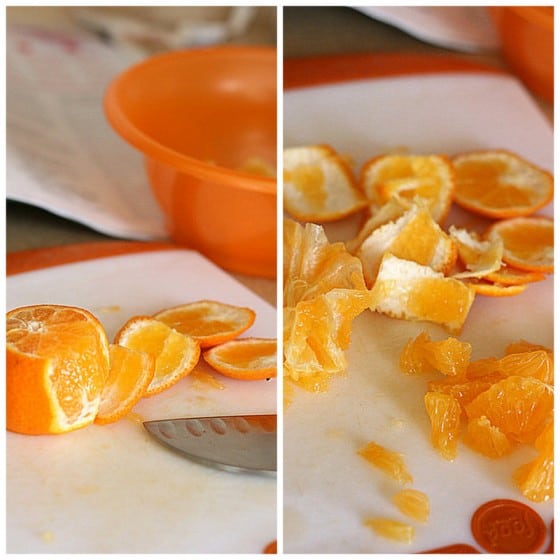 The original recipe called for Meyer lemons, but because I didn't want to go searching for them, I used clementines and lemon juice instead. If you're really into tart foods, you could try using regular lemons.
I was afraid my face would implode, so I didn't.
This technique of slicing off the peel and pith, then cutting the segments out from the membranes is called supreming. The result is a totally naked citrus segment, which is quite nice. Lemons and regular oranges are easy to supreme. Clementines aren't, I found.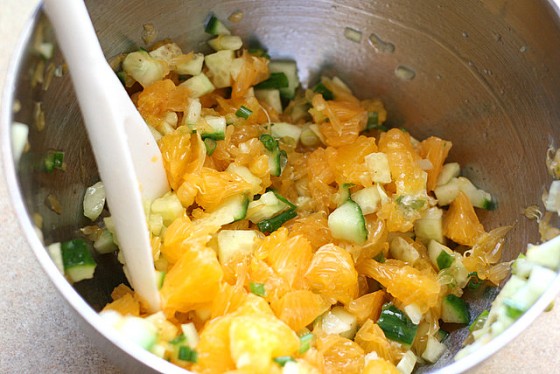 Those sweet little fruits have a tendency to jump out of their peels and break into segments so easily that it was hard to get the "naked" segments out without the whole thing falling apart in my hand. I made it through all of them, but if I were to make this again, I'd simply peel the clementine like usual and chop up the segments. There really isn't much pith to begin with.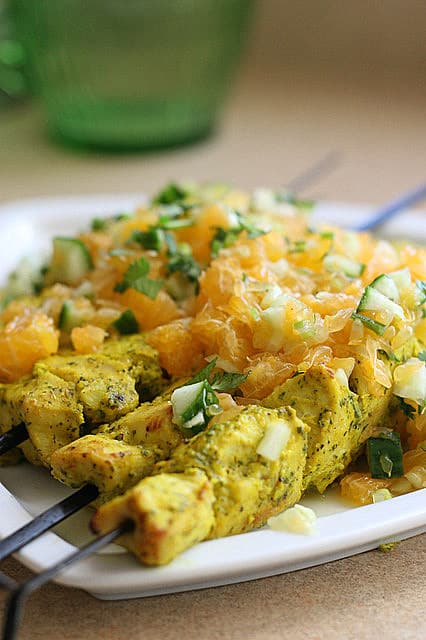 The salsa was rather sweet, but it complemented the chicken wonderfully. The salsa would also be great over fish. If you're looking for something to serve this with, I added a few suggestions to the bottom of the post. It's a great main dish, but it needs a side or two to really round out the meal.
Or maybe I feel that way because I'm hungry ALL.THE.TIME.
Marinated Chicken Skewers with Clementine Salsa
Additional Time:
45 minutes
These turmeric-marinated chicken skewers are so delish with the bright, colorful clementine salsa! They're also paleo and Whole30 friendly!
Ingredients
For the skewers:
1 1/2 pounds skinless, boneless chicken breasts or thighs, cut into 1 1/2 inch pieces
1/4 cup + 2 T chopped fresh cilantro
1/4 cup coconut cream or plain yogurt
1 Tablespoon avocado oil
2 garlic cloves, coarsely chopped
1 teaspoon ground coriander
1 teaspoon ground turmeric
For the salsa:
7-8 clementines
1 Tablespoon freshly squeezed lemon juice
1/2 of an English cucumber, finely chopped
3 Tablespoons thinly sliced green onions, divided
1 serrano chile, seeded (optional) and finely chopped
pinch of salt
Instructions
Place chicken in a bowl and season with salt and pepper.
In the bowl of a small food processor puree 1/4 cup cilantro, coconut cream, oil, garlic, coriander, and turmeric.
Pour marinade over chicken, and toss to coat. Let it marinate at room temperature for 20-30 minutes. If you choose to do this ahead of time, simply chill until ready to use and let it stand at room temperature for 30 minutes before continuing.
Meanwhile, prepare the salsa by cutting the peel and white pith from the clementines; discard scraps. Cut between membranes to remove clementine segments. Chop segments and place into a bowl. Try not to get too much of the clementine juice in the bowl. (If this seems tedious to you, just peel the clementines like you normally would and chop up the segments.)
Add chopped cucumber, 2 T of the scallions, lemon juice, and chile to the bowl. Mix well and season with a pinch of salt. Set aside.
Preheat oven broiler or BBQ grill. Thread chicken pieces onto skewers and transfer to a foil-lined baking sheet (if broiling). Broil (or grill), turning once, watching closely to prevent burning. Chicken should be cooked in about 10 minutes.
Transfer skewers to a serving platter and top with salsa. Garnish with 2 T cilantro and 1 T chopped scallions.
Save
Save
SaveSave