Popcorn-Crusted White Fish + Salad-in-a-Jar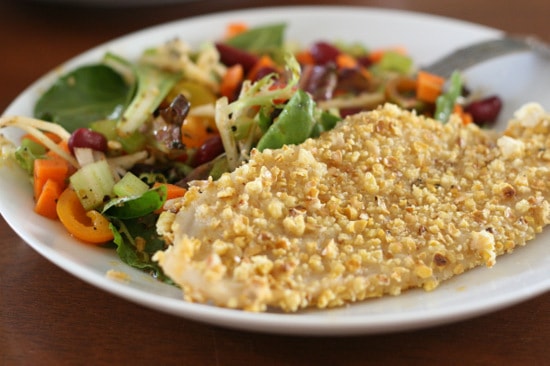 While I'm trying to convince my fussy 5-week-old that using me as a pacifier is a bad idea, I grabbed another recipe from my pre-baby stash.
Our newest addition is running me through the mill. We've tried pacifiers, bouncy seats, swings, slings, car rides (that's when she screams the loudest), singing, standing on my head… telling her jokes…
The only thing that keeps her happy for more than 5 minutes is hearing her big sisters talk and sing to her (it's precious, really) and nursing.
And THAT, my friends, is why I've spent more time hanging out with you on Facebook than writing posts. (And because I have a hard time forming coherent thoughts for more than 5 minutes at a time.)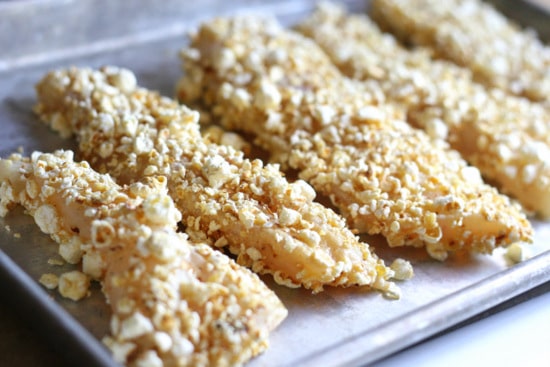 By the way, I'm glad so many of you piped up on the Vitamix vs. Blendtec post last week! If you have no idea what I'm talking about, you a) need to jump on the Perry's Plate Facebook wagon or b) don't spend enough time on Facebook. (I'll forgive the latter.)
So ya. Popcorn as crusting material. Who would have thought??
I've tried this technique with two types of fish (cod & sole) and two types of cooking methods (pan frying & baking). We liked the thinner fillets like sole (or tilapia, if that's your thing) and both cooking methods were great. You get a crisper, browner crust by pan frying (like the photo below) than you do with baking (top photo).
I snagged this recipe in Whole Grains Every Day, Every Way by Lorna Sass and tweaked it a little. That book was also the source of one of my favorite snacks, Autumn-Spiced Buttered Popcorn. There are more recipes in that book besides those containing popcorn. I just have a thing for popcorn.
A BIG, HUGE, thing.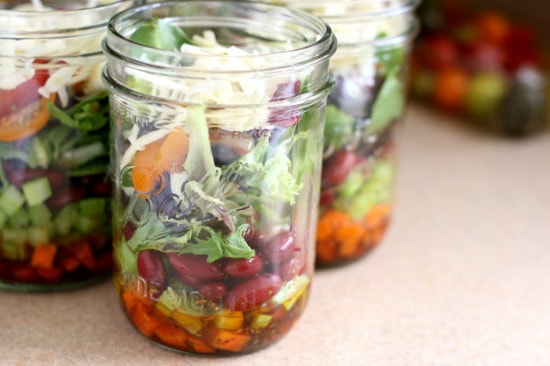 On a somewhat unrelated note (and because it added so much color to the top photo), I wanted to share these jars of salad with you! This particular recipe was one that I photographed for Clean Eating Magazine, but you could adapt it anyway you like. Just put a bit of vinaigrette in a mason jar and add things that won't go mushy (like carrots, celery, beans, peppers, etc.) Then stuff it with salad greens and your favorite toppings (Parmesan shavings *swoon*).
When you're ready to eat, just give it a shake and pour it out into a bowl. Or eat it straight out of the jar. I made each of my girls a jar for dinner that night, and they loved the shake-and-dump method.
I wish had this idea before I had kids and packed my lunch to work!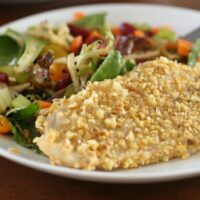 Popcorn-Crusted Fish
Yield: Serves 4

Prep Time: 15 minutes

Cook Time: 15 minutes

Total Time: 30 minutes
Ingredients
8 sole fillets (I like the wild-caught Dover sole at Costco.)
salt
freshly ground pepper
3-4 cups buttered, salted popcorn
2 eggs
1/4 tsp ground chipotle or cayenne powder
1/2 cup whole wheat pastry flour (or other alternative flour of your choice)
oil for shallow pan-frying (coconut oil rocks)
Instructions
Pat the fillets dry and season with a sprinkle of salt and pepper. Set aside. Grind the popcorn in a food processor until it's as fine as you can get it. (I had a hard time getting the fluffy popcorn parts to grind small.) If you're using plain, unsalted popcorn, stir in a generous pinch or two of salt. Spread the popcorn meal on a plate. Spread the flour mixed with a generous pinch of salt on another plate. Beat the egg and chipotle powder in a shallow bowl. Press each fillet into the flour to coat both sides. Gently shake off the excess flour and dip fillet into the egg mixture to coat both sides. Dredge the fillet in the popcorn meal, pressing gently to thoroughly coat each side. Set coated fillets on a platter. Heat a few tablespoons of oil in a large nonstick or seasoned cast-iron skillet (to coat the bottom of the pan) and heat over medium-high heat. Cook fillets in batches until the coating is crisp and the inside of the fish flakes easily with a fork, a minute or two for each side. Serve immediately. Nat's Notes: 1. I used air-popped popcorn drizzled with butter and a few pinches of salt. 2. You can also bake these in the oven at 425 for a few minutes. The topping won't be as brown and crispy before the fillet is cooked through. 3. I tried this with a thicker cod fillet and didn't like it as much. The thinner the fillet, the more you can taste the crusty outside.

SaveSaveSaveSave