Stitch Fix: It's OK to Send it all Back
Hey guys! I'm stepping out of the kitchen again. I've been spending a ridiculous amount of time in there and thinking about food in general. I decided that I'd like to hire someone to come to my house every day at 7PM and clean my kitchen — dishes, stove, & floor.
And "accidentally" set fire to the all the toys on the floor.
Instead of food, let's talk about shopping. I've mentioned Stitch Fix on here before, but I wanted to chat about the fear in everyone's mind before they order a box. (Don't know about Stitch Fix? Go read this post. You'll love it.)
"What if I hate everything in the box and lose my $20?!"
You know, the $20 stylist fee you pay for each box. It can go toward anything in the box, but if you send it all back, you don't get your $20 back. You've had that fear, right? Losing that $20?  I thought it when I signed up a couple of years ago, but I realized last summer that I'm not really losing $20 if I send it all back.
In September (of last year) I ordered a box during the first trimester of my last pregnancy. I waffled back and forth (mmm. waffles.) about posting it, and got busy with the holidays and forgot about it. I think it's still relevant, so here I am a year later! First, I wanted to share what I got and my opinions about each item. Clearly I'm not a fashion blogger, and I don't even have a full-length mirror in my house. I'm standing on a step stool in the bathroom. Classy, right?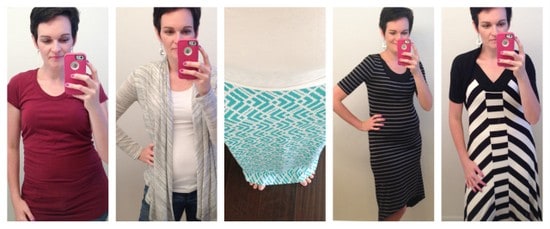 The first top I actually really liked. The color was a brick red (which I don't love), but it was super soft and the fit was fantastic. The neckline wasn't too low, and I wouldn't have to wear a layering piece underneath. BUT. It was more than I wanted to pay for a maternity top I was only going to wear a few months — especially since this was our last baby. If I knew I was going to be pregnant again, I might have splurged.
I was on the fence about this cardigan. It was a little too drapey in front for my liking. Also, I had just started looking into the Dressing Your Truth program and according to that I shouldn't wear gray. (Or brick red, for that matter.)
I really wanted to love this skirt. I loved the print and the color, but it was just too spandex-y. You know when you shake an item of clothing and it kind of bounces? Yeah, that's how this skirt was. It was also a little snug around my behind so I'd have to wear Spanx every time I wore it. Um, no.
This gray and black striped dress just fit too strangely. Too big around the neck line and too tight everywhere else.
I was on the fence about the black and white one, too. I think I may have kept it if it didn't have that row of horizontal stripes down the middle of the front. It seemed to make me look wider than I actually was. And no one wants that, right?
For the first time ever, my entire Stitch Fix box was being returned. And I was OK with that.
I didn't feel like I was losing my $20, though, because here's what I got in return:
A personal stylist who hand-picked items just for me.
Shipping both ways.
A mini shopping trip without having to wrangle my kids in a store. (That alone is worth it to me.)
Fun mail with surprises inside.
SOO worth it. If you find that you simply, 100% hated everything in the box, don't be shy about leaving feedback! The more detailed feedback you give them, the more they can hone in on your style and body type and the better the boxes get.
I usually receive at least one item per box that I love, and I've only had one box where I've loved and kept all five items. It was equally exciting and terrifying. You get 25% off if you keep everything, but it's still a chunk of change. It happened to be in November so it ended up being my Christmas present from my husband that year. Yay!
Try it out, and let me know what you think! Here's my referral link if you'd like to use it: https://www.stitchfix.com/referral/3058829.
Disclaimer: This is not a sponsored post. I signed up for Stitch Fix and purchased the clothing myself. This post does contain referral links and Stitch Fix will give me a small credit for new-sign ups who use my link. This isn't a special privilege for bloggers. Anyone can get referral credits. If you try out Stitch Fix, shout it from the roof tops and you may end up with a free box in a few months!