Costa Rican Rice & Beans
What can I say about this? It's an easy, straightforward version of rice & beans. It's supposed to be authentic Costa Rican, but I'm not Costa Rican, so I don't know the difference. All I know is that it's fast, delicious, and a great way to use leftover rice in the fridge. I used Jasmine rice, but any type of rice would do, even brown rice. I really liked the use of Worcestershire sauce — something that I don't use often, yet appreciate it every time I do.
And it has bacon in it. How could it possibly be bad?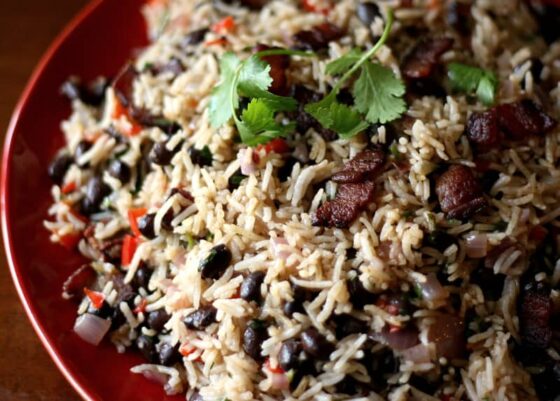 Costa Rican Rice and Beans

Ingredients:

6 strips uncooked bacon
1/2 onion, finely chopped
1/2 red bell pepper, finely chopped
1 15oz can cooked black beans, drained
3 cups cold cooked rice
1 ½ tablespoons Worcestershire Sauce
4 tablespoons broth (preferably beef, but any will do)
½ tablespoon hot sauce, optional (I used Tapatio)
1 handful of cilantro, finely chopped
salt and pepper

Directions:

Cook bacon (sliced or whole) in a large saute pan over medium heat until crisp. Remove bacon and all but 2 T of remaining fat. (If you don't wish to use any bacon fat, discard and replace with 2 T of your preferred cooking oil). When bacon cools, crunch it up into small pieces. Set aside a bit of the bacon bits for garnish.

Add peppers and onion to skillet and cook over medium heat. Add beans and cook 2 minutes longer. Add cooked rice and mix, cook 3 minutes more. Add Worcestershire, hot sauce, broth, cilantro, and bacon and mix well. Adjust seasoning with salt and pepper, and if the rice seems too dry add a little more broth. Garnish with reserved bacon crumbs. If desired, top with sour cream.

Nat's Notes:
1. The reason the rice should be cold is so it won't turn to mush when you add it to everything else. Cold rice is drier than warm, freshly cooked rice.

adapted from Costa Rican Typical Foods via Kitchen Worthy