Herbed Baked Goat Cheese Salad
This is the first recipe I've posted in about a week. I'd love to say I was doing something noble like reorganizing my closets or spending quality time with my children instead of blogging, but in reality, I was sucked into the inescapable vortex that is
Hunger Games
. My children were fed and bathed and I managed to keep a walk way through the toys in the living room, but that about all I've done the last 2-3 days. Luckily, the
Tasty Kitchen interview
was a nice distraction away from my lack of posting.
If you've been following my little blog for a while, you may notice a few ingredients that pop up frequently, like bacon, sweet potatoes, chard, and . . . goat cheese. What can I say? I cook what we (I) like. That's why you'll probably never
ever
see blue cheese, fennel, asparagus, peaches, cherries, or nectarines (I have a strange aversion to stone fruits), among other things on my "no, thank you" list.
Goat cheese? Yes, please. Warm goat cheese with fresh herbs covered in roasted nuts? Now,
PLEASE
. I loved this salad. A lot. What's nice is that you can keep the disks in your freezer and take out only what you need. It makes a great lunch!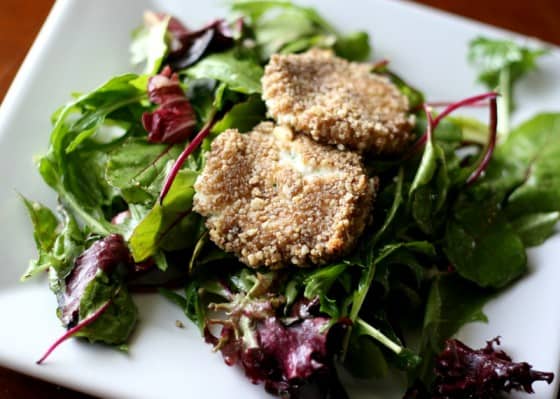 On a side note — growing your own herbs is SO much cheaper than buying them fresh at the grocery store.
I don't have a lot of space for planting, but I managed to get three tomato plants and about 10 different kinds of herbs scattered in pots and tucked away in my flower bed. (I can't keep flowers alive, so I plant something edible instead.) I am not a gardener, and I manage to kill most green, living things that come into my care. So when I say herbs are easy to maintain, I really mean it. I love going outside with my shears and snipping off a bit of this and that to add to whatever I'm making.
Herbed Baked Goat Cheese Salad

Ingredients:

Vinaigrette:
1/4 cup extra-virgin olive oil
1 1/2 tablespoons red wine vinegar
2 teaspoons Dijon mustard
1 tablespoon minced shallot (about 1/2 of a shallot)
1/8 teaspoon salt

Salad:
1 1/2 cups pecans
12 ounces goat cheese, softened
2 tablespoons chopped fresh chives
1 teaspoon minced fresh thyme
2 large eggs
nonstick spray
12 cups hearty salad greens (around 10-12 ounces)

Directions:

To make the vinaigrette, combine all ingredients in a jar, seal the lid, and shake vigorously until well combined. If you don't have a jar to use, combine all ingredients (except oil) in a small bowl and whisk together. While continuing to whisk, add the olive oil in a steady, small stream.

For the salad, place the pecans in a food processor and pulse until finely chopped, about 10 minutes. Transfer to a medium bowl. Add the cheese, chives, and thyme to the food processor and process until smooth, about 30 seconds. Cover and chill until firm, at least an hour or up to a couple of days.

Scoop about 2 tablespoons of the chilled goat cheese mixture out at a time and roll into balls. You should have about a dozen or so. Beat the eggs in a small bowl. One at a time, dip the balls into the egg mixture (allow the excess egg to run off), then roll them in the nuts, pressing gently to adhere. Place the balls about 2 inches apart on a rimmed cookie sheet (a small 1/4 sheet pan works well if your low on freezer space). Grease the bottom of a measuring cup and use this to gently press the balls into disks (about 2-inches wide). Cover entire pan with plastic wrap and freeze until completely firm, at least 2 hours or up to 1 week.

Place oven rack to the upper position in your oven and preheat to 475 degrees F. Remove plastic wrap and spray the disks lightly with nonstick spray (or brush with a little oil or butter). Bake until the nuts are golden brown and the cheese is warmed through, about 7-10 minutes. Let them cool for a few minutes. Toss the greens with the prepared vinaigrette and serve the warm cheese rounds over the dressed salad.

Serves 6.

Nat's Notes:
1. It's VERY important to freeze the disks before baking them. If you don't, they'll end up a runny mess in the oven.

from The Best of America's Test Kitchen 2010 cookbook