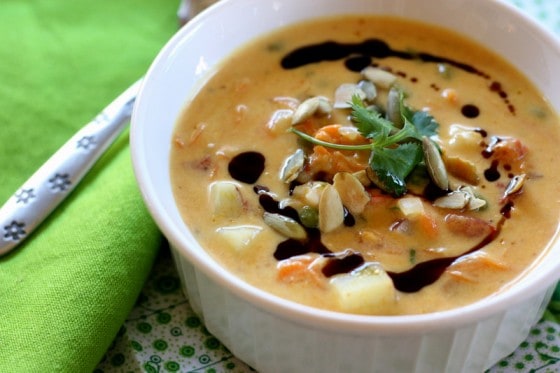 I threw this soup together for our lunch on Monday and can I just say that I completely lucked out?
Why?
Because around 11AM I was feeling kind of blah. I think whatever I had for breakfast wasn't agreeing with me, and I didn't feel like eating anything. I looked through my little recipe notebook at some lunch soup ideas I had thrown together last year and, using what I had on hand, ended up with this. I never though something so delicious could come from such a lack of appetite.
I must say I was partially inspired by a Thai Pumpkin Hummus recipe I made from Cara's Cravings recently, and the combination of pumpkin and Thai flavors stuck with me. That hummus is the bomb, by the way. I took it to a small tailgating party, and it got a lot of ohhhs and ahhhhs.
This can of odd-looking (it's a strange dark green color) liquid was the perfect accent to this bowl of creamy pumpkin-coconutty goodness. I have a special place in my heart for "Kürbiskern" oil because of the 18 months I spent in Austria as a representative for the LDS Church. I spent eight months in the Styrian region it mentions on the can, and I about died from excitement when I saw this stuff in a specialty grocery store in Berkeley.
If you have it, it's a great garnish for this soup. If not, no sweat. Fresh cilantro, pepitas (toasted pumpkin seeds), and Thai chili paste work wonderfully as well.
I also have my eye on this
Healthy New England Seafood Chowder
from Katie at Healthy Seasonal Recipes with gluten-free adaptation! You could even make it dairy free by using coconut cream in place of half-and-half.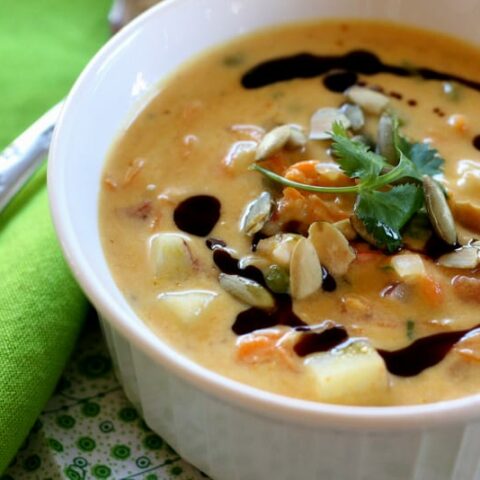 Pumpkin-Coconut Chowder with Shrimp
Additional Time:
30 minutes
This is a quick little soup that's unique and can be made for an easy weeknight meal. It has a Thai-inspired flavor and creaminess from the pumpkin.
Ingredients
1 Tablespoon coconut oil (or avocado oil)
1 shallot, peeled and diced
1 Tablespoon grated fresh ginger
1 cup chicken, vegetable, or seafood broth
1 cup shredded carrot (about 1 large)
1/2 cup frozen peas (or other small, quick cooking vegetable)
1 cup 1/2-inch diced potato (any kind will do, including sweet potatoes)
1 Roma tomato, diced
1 14 or 15 ounce can of coconut milk (the real stuff, not light)
2 Tablespoons lime juice
1 teaspoon fish sauce (optional)
1/2 cup pumpkin puree (canned is fine)
1/2 teaspoon salt
6-8 ounces uncooked shrimp, thawed, tails removed and cut into 1/2-inch pieces
4 Tablespoons chopped fresh cilantro
Instructions
Heat oil in a medium saucepan over medium-high heat.
Add shallots and ginger. Stir and cook for 3-4 minutes until the shallots are tender.
Add the remaining ingredients (except for the shrimp and cilantro).
Bring to a boil, then reduce heat and simmer for 10-15 minutes until potatoes are tender.
Add the shrimp and cilantro during the last 5 minutes of cooking time. Cook until shrimp are pink and opaque.
Serve hot and garnish with more fresh cilantro, roasted pumpkin seeds (pepitas), pumpkin seed oil and/or Thai sweet chili sauce.

SaveSave