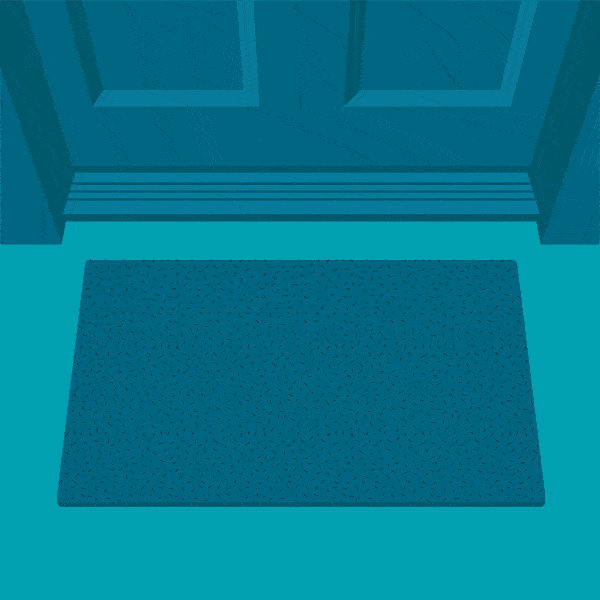 You may have seen the Light the World campaign online this month encouraging everyone to celebrate the birth of Jesus Christ by serving others and following His example. Have you participated? I'd love to hear some of the things you or your families have done!
I find it difficult sometimes to get out of my "list slaying" mode and notice when someone needs help. I'm happy to help when asked, but sensing the needs of others (and knowing what to do) isn't something that comes naturally to me. I love reminders like this that remind me to actively search for ways to serve others.
Day 21 of Light the World is Feed the Hungry.
I love this one for obvious reasons, but over the last couple weeks it's been glaringly obvious to me how much we have. WE. HAVE. SO. MUCH.
You do, too — if you're connected to a computer reading this and if you haven't had to wonder where your next meal will come from. Or if you will have enough to feed your family.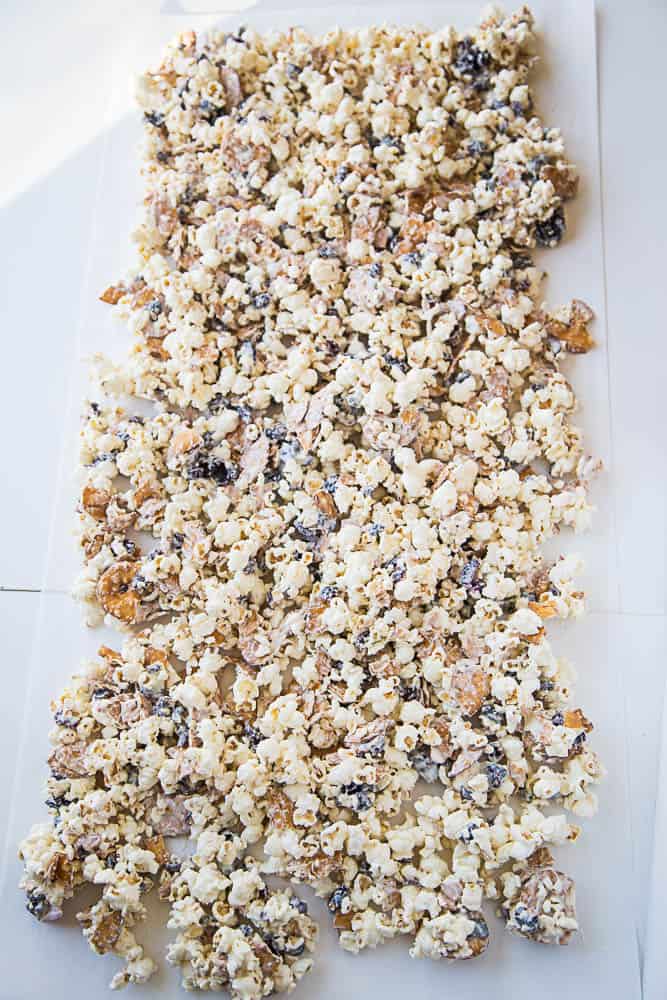 Our church congregation takes turns maintaining a homeless shelter overflow. Basically, homeless people are bussed into the shelter and overflow and spend the night. They might be given a bottle of water as they are bussed back out the next morning, but otherwise they aren't given any food. (I'm not sure why. City funding, maybe?)
We decided to make about 40 snack packs and take them to the shelter to give to the people who spend the night on the night our congregations volunteers.
I was walking through Costco looking for some inspiration and wanted to make some kind of homemade popcorn treat to add to the snack packs. The Pretzel Thins were on sale, sitting by the dried cranberries. Bingo. So I whipped up some white chocolate cranberry pretzel popcorn. (Details at the end of the post. It was pretty darn tasty.)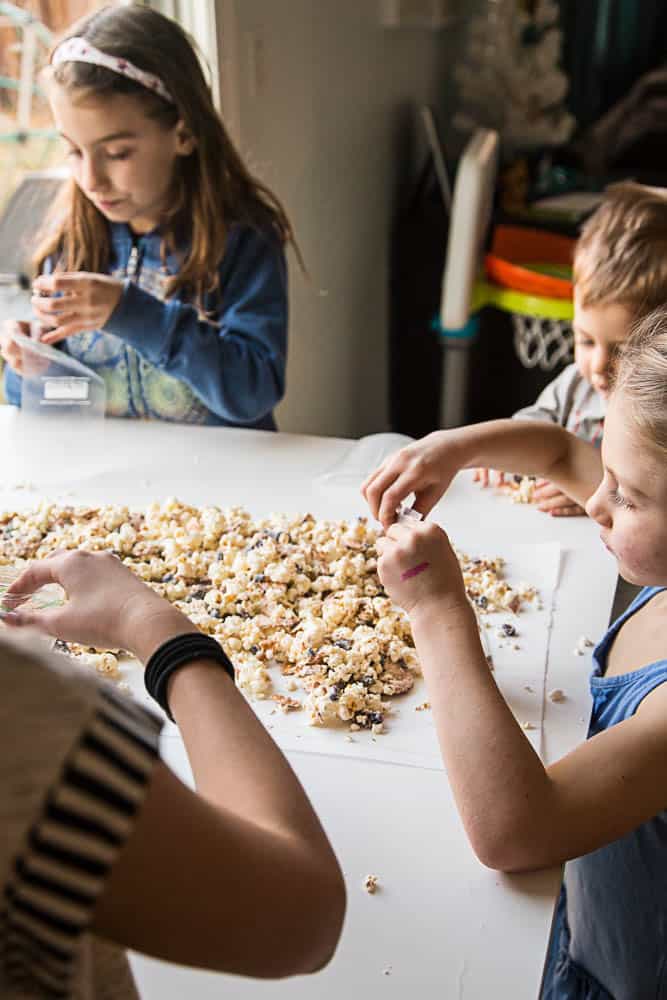 The kids helped make the popcorn, put them into little bags, and then assemble the snack bags with a few other items. We had a good chat about why and for whom we were doing this. It was good for them to realize that there are people out there who aren't as fortunate and that we can lift and serve them — even in small ways like this.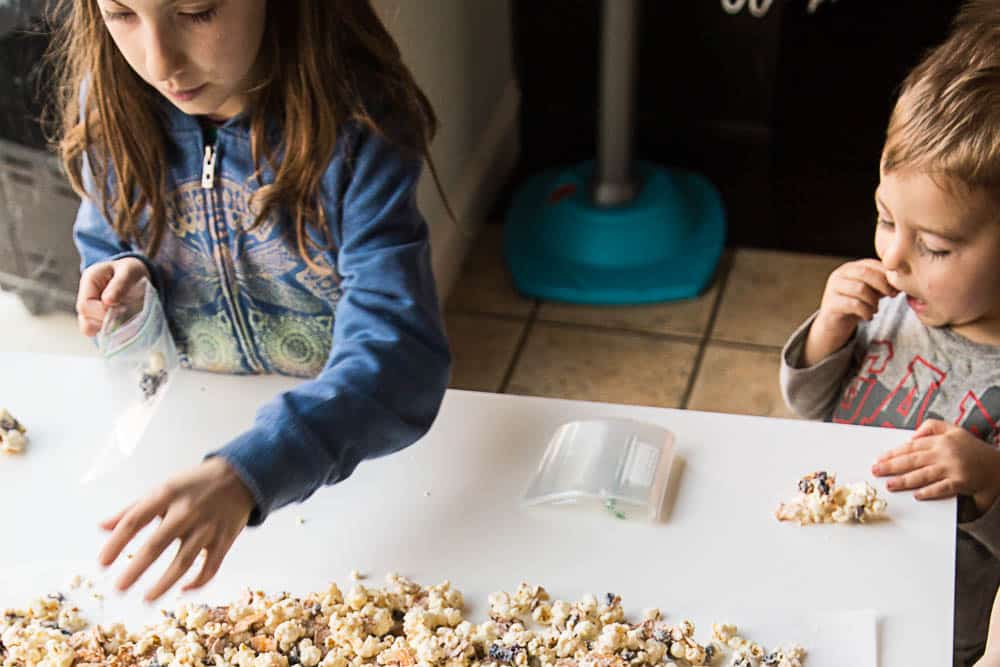 Even little ones can help — even if they just snack the whole time. It's good for them to be involved. :)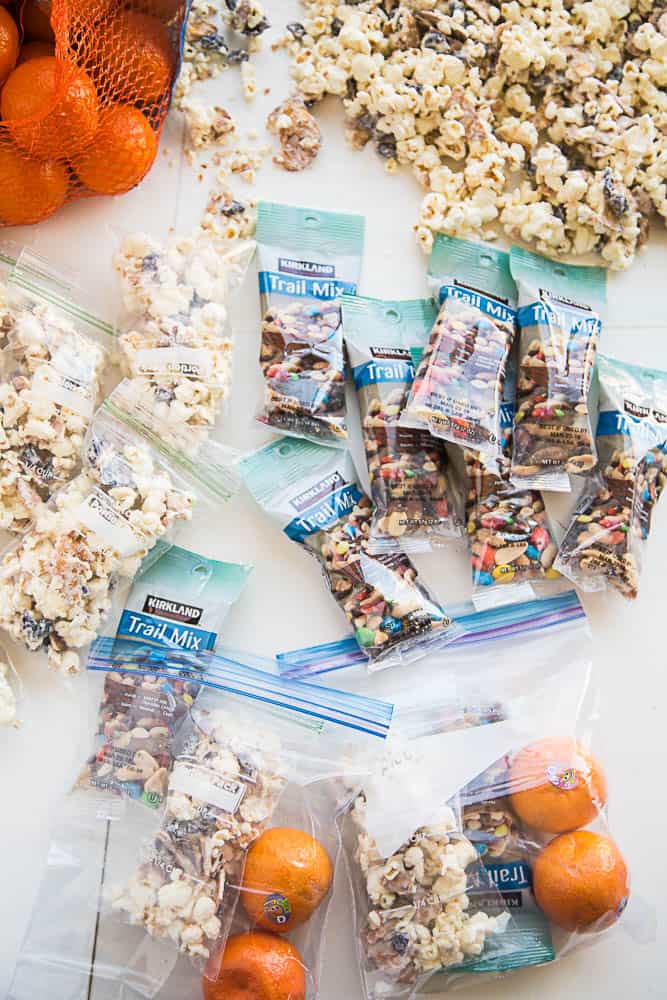 We added a couple of clementines and a package of trail mix to our snack packs, too.
If you're looking for ways to feed the hungry today (or any day… there are always hungry people to be fed), here are a few ideas.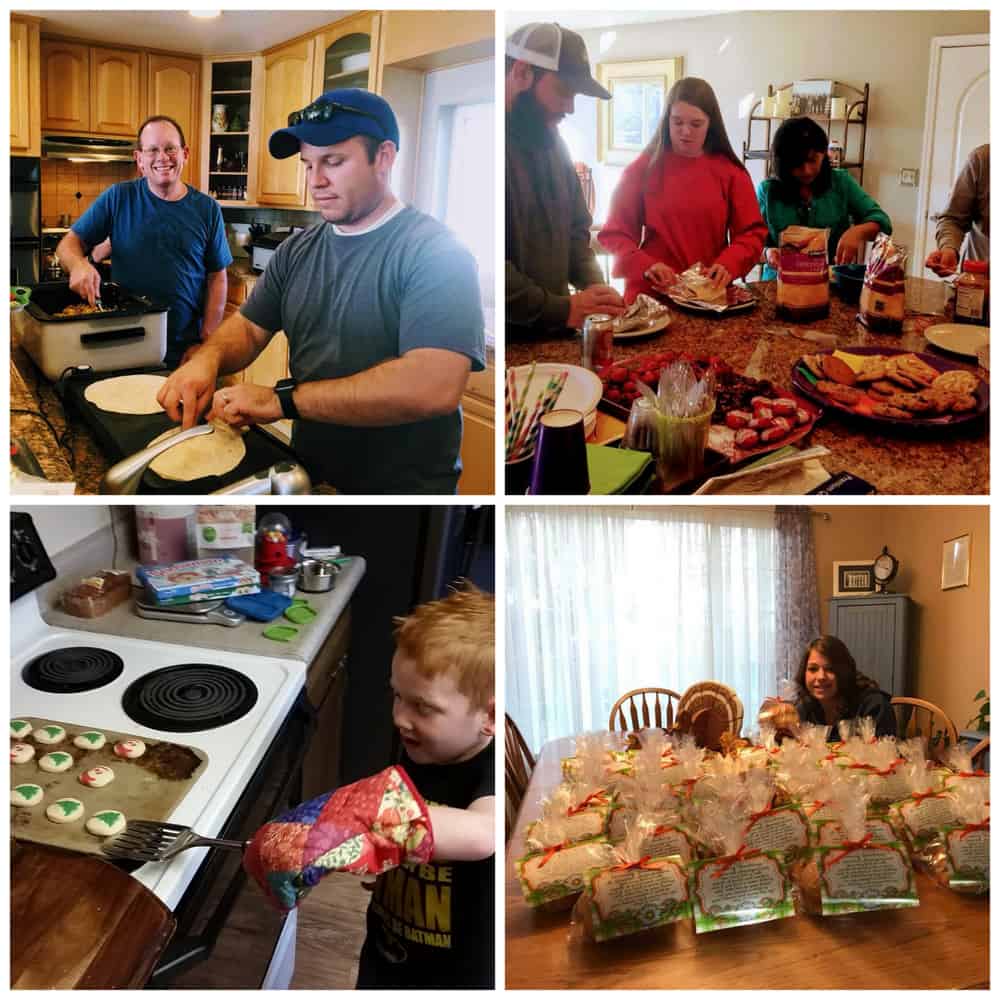 Five Ways to Feed the Hungry
Help the homeless.
Volunteer at a soup kitchen or a homeless shelter. Or simply give out meals & snacks to people you see on the street. A youth organization in our congregation recently made over 200 breakfast burritos and passed them out to people downtown. (Mmm… breakfast burritos.) I loved that idea!
Donate to your local food bank.
Food banks are always in need of donations! Donate directly or help the efforts the post office/boy scouts/local organizations make in collecting food. Many grocery stores around here have had pre-packed grocery bags full of food you can purchase toward their donation. It's so easy to add an extra $5-10 to your grocery transaction for the week!
Feed a friend.
It's also good to remember that someone might need a meal even if they aren't homeless. Do you know a family who is sick? Someone who recently had a baby? A new neighbor who hasn't made friends yet? Whip up your favorite meal and take it to them. Or, if possible, invite them to have dinner with you!
Lift Spirits.
Feeding people spiritually and emotionally can be just as nourishing as feeding someone a meal. Do you know anyone who may have just lost a loved one or is going through some really tough stuff? Visit her. Text her. Send her a card. Drop a plate of goodies on her doorstep. Let her know that she is loved by you.
Check JustServe.org.
JustServe.org is a service created by the LDS Church to connect people willing to give service to people in need of service. It is open to anyone of any faith. Anywhere. Just in the Reno/Sparks, NV area where I live there are over 100 service opportunities listed!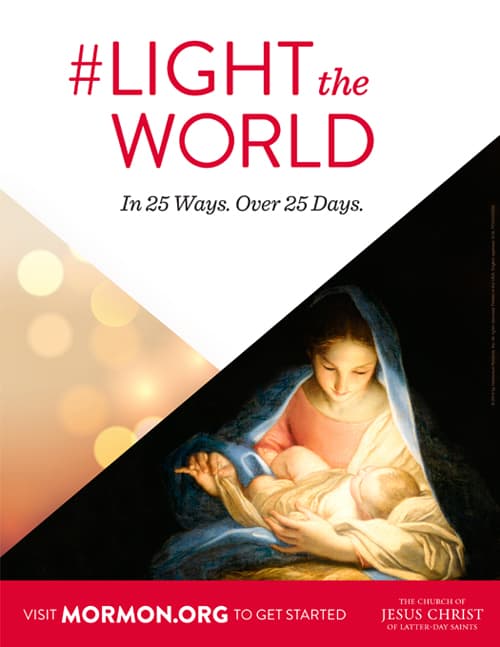 The Light the World campaign runs until the 25th, so you've got a few more days to participate if you like. Download the handy calendar or find your own ways to light the world this Christmas season.
SaveSave
SaveSave
SaveSave