What We Eat Weekly (Fall/Winter #2)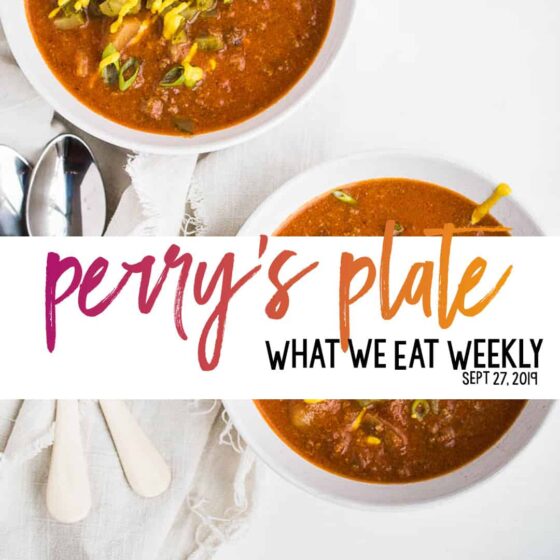 Here you'll find our weekly dinner plan! Almost all of our dinners are gluten-free and most are grain-free and dairy-free or can be easily converted. Some weeks we do well sticking to plan, and some weeks…. well, you know. Life happens.
The "coming soon" meals mean I'm doing photos and will have links added as I publish those recipes.
Dinner Menu for Sept 27th:
Monday
Caesar Salad or possibly a salad kit. (Nope. Rescued a bag of Brussels from the back of the fridge and roasted them. Then tossed them in some Dill Pesto. Then added them to my soup. I feel like there was some destiny involved in dinner prep that night.)
Tuesday
Wednesday
Thursday
Breadsticks with leftover Sourdough Pizza Dough from the weekend
Toppings: diced pickles, mustard, cheese
Friday
Roasted Beets with Roasted Garlic Vinaigrette (coming soon) (Nope. Not this either.)
Green Salad (Out came the Caesar kit we had planned for Monday. lol)
Saturday/Sunday
Cold Remedy Chicken Soup (our favorite basic chicken soup!) out of the leftover roasted chicken from Friday. (Along with bone broth from the chicken bones.)
Leftovers
Weekly Notes:
I'm not sure why I get ambitious on Wednesdays. Photos? Nope. We still had hash, but I used a few red potatoes, leftover ground beef taco meat, and leftover roasted Brussels. And then we had scrambled eggs and toppings with it (guac, cheese, sour cream). That chicken breakfast sausage will get made this weekend, though, because the meat is still sitting in the fridge.
---
Disclosure: This post may contain Amazon affiliate links. Purchases made by using these links don't cost you any extra and helps to keep my content free.