Quinoa with Black Beans and Cilantro
Has anyone else discovered quinoa yet? I'd seen recipes using quinoa floating around the Internet and on the Food Network, but until I made this dish, I'd never had it before.
Here's what it looks like uncooked. It sort of reminds me of couscous, but has a chewier texture. Oh, and you need to rinse off quinoa before you cook it because it has a bitter defense compound on its outer "shell".
If you've never heard of it, quinoa (pronounced "KEEN-wa") is a grain. I looked it up in one of my favorite (and possibly my nerdiest) foodie book: On Food and Cooking: The Science and Lore of the Kitchenby Harold McGee. Here's what Harold had to say about it:"Quinoa can be cooked like rice or added to soups and other liquid dishes; it's also popped, and is ground and made into a variety of flatbreads."
Um.. popped? I'll have to try that sometime.
I made this to have as a light dinner, but it would also be great as a side dish because it comes together really quickly – like a rice pilaf. And it's another excuse to use cotija cheese. Mmm. We loved it — even Miss Picky-Pants Sophie ate some.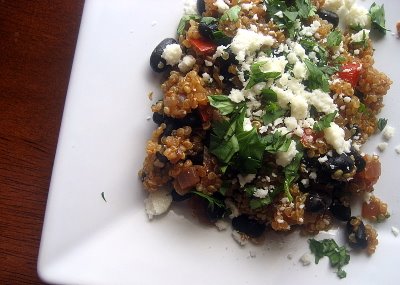 Quinoa with Black Beans and Cilantro

Ingredients:

1 T oil
2 c chopped white onions
1 c chopped red bell pepper
1 c quinoa, rinsed, drained
2 tsp chili powder
1/2 tsp ground cumin
1/2 tsp salt
1 1/2 c water
1 15-oz can black beans, rinsed, drained
1/2 c chopped fresh cilantro, divided
Crumbled Cotija or feta cheese (optional, but recommended)

Directions:

Heat oil in a medium saucepan over medium-high heat. Add onions and red pepper; saute for a few minutes until they begin to soften. Stir in quinoa, chili powder, cumin, & salt; add water and bring to a boil. Cover, reduce heat to medium-low, and simmer until quinoa is almost tender, about 14 minutes. Add beans and 1/4 c cilantro. Stir and cook, uncovered, until heated through and liquid is absorbed, about 2-3 minutes.

Transfer to a bowl and sprinkle with remaining cilantro and cheese. Makes about 4 main dish or 6 side dish servings.

From Bon Appétit Sept 2008