My "Fancy" 15-Minute Breakfast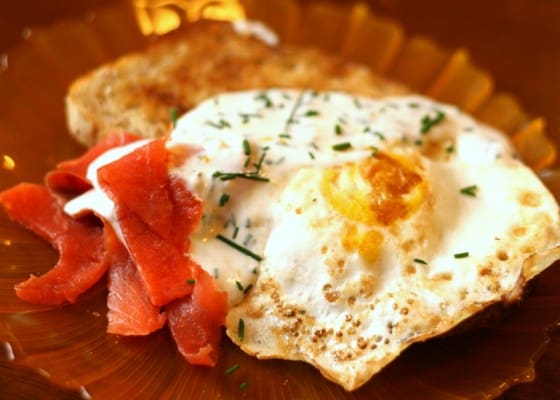 I'm usually OK eating what my kids eat for breakfast. Most weekday mornings consist of some combination of oatmeal, toast, fresh fruit, smoothies, yogurt, granola, or scrambled eggs. Once in a while I get a hankering for something a little "fancy".
One morning I happened to have some leftover smoked salmon from a sushi rolling class I taught at church. I don't usually keep smoked salmon on hand. It's expensive, and the kids won't touch it. I love it, though. So I decided to add it to a fried egg over toast and whip up a quick lemon-chive sauce to drizzle over top. Very tasty. Very grown-up. And best of all, very fast. If you make the sauce the night before you could have this done in 10 minutes.
By the way, I may have mentioned earlier my aversion to runny yolks. I think I may be converting to the other side. I like my yolks a TAD bit runny, but more like the consistency of pudding. I've come a long way. :)
Fried Egg with Smoked Salmon and Lemon-Chive Cream

Ingredients:

1 egg
1 slice of bread
a few strips of smoked salmon
1 T sour cream
1 T milk
a few pinches of lemon zest or freshly squeezed lemon juice
2 tsp chopped fresh chives
salt and pepper to taste

Directions:

Crack the egg into a skillet over medium heat and fry it how you like it. (Or even scramble it. It doesn't really matter.)

While the egg cooks, stick a piece of bread in the toaster. In a small bowl combine the sour cream, milk, zest, chives, and a pinch of salt and pepper. Stir to combine. Set aside.

Butter the toast (or not) and place it on a small plate. Top with fried egg, smoked salmon, and a drizzle of cream.