Homemade Nutella + Weekly Menu Plans!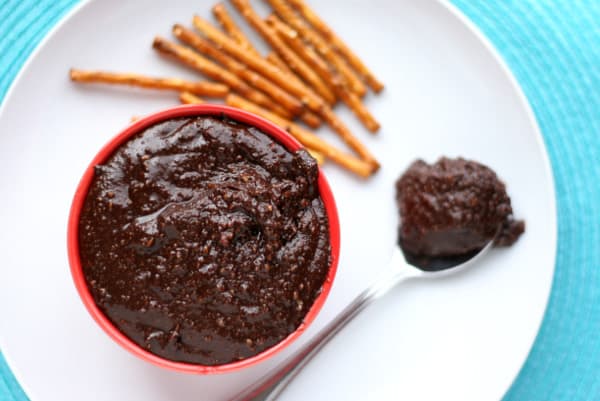 I know, I know, the thought of trying to replicate the culinary icon that is Nutella may be blasphemous to some. For what it's worth, it gave me yet another reason why I love my food processor more than my stand mixer.
And it only takes 5 minutes to make — a lot quicker than running to the store.
But first, I want to tell you a couple of things:
1. You still have until tomorrow to enter to win a 7-inch Wustof Santoku knife! Even if you already have a good knife, you should still enter. You can never have too many good knives. Go to the giveaway post and leave me a comment! And like always, there aren't any hoops to jump through.
2. Another exciting announcement…I've finished the first weekly menu plan!
Click over to the Menu Plans page (on the menu bar) and check it out. Since so many of you asked for a low-carb menu, that was the first one I did. This menu is typical of what I would plan for my family for a week, with an extra day of meat. I've got another low-carb menu that's almost ready to go as well as vegetarian, gluten-free, and dairy-free menus in the pipeline.
I have to tell you… this project was harder than I thought it was going to be. Not only did the recipes need to be low-carb, but I wanted them to be seasonal, not too expensive, and things that would appeal to a lot of people (even kids). My brains feel like they just gave birth.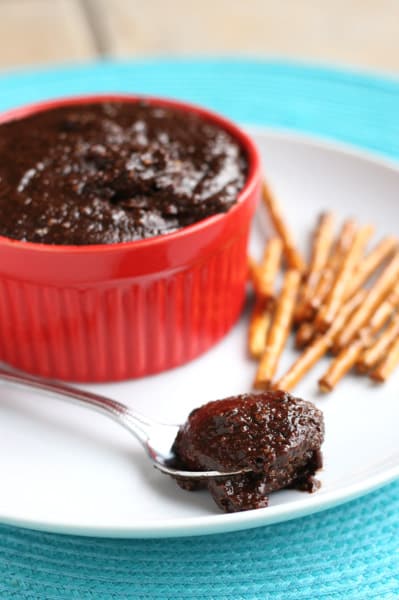 Enough about that.
I really love Nutella. I love Nutella more than I love bacon. (Whoa. I know.) I'm seriously lacking in Nutella recipes, but for a good reason. I don't like to dilute it. I'd much rather dunk some pretzels in it (or eat it straight out of the jar with a spoon) than to add a bunch of stuff to it or bake with it.
I've had this recipe for Chocolate Hazelnut Spread (Homemade Nutella) sitting in my file for YEARS. It was the recipe that lead me to Elana's Pantry, one of my favorite food blogs. I tried out her Rosemary Apple Chicken, the always-delicious Thai Chicken Lettuce Wraps, and she introduced me to "Rice" — mind. blown. Somehow the Homemade Nutella kept getting pushed aside.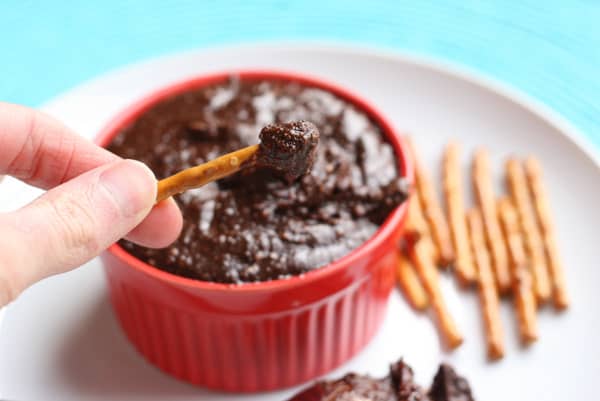 You're probably wondering if this really tastes like Nutella. Well… kind of. I wouldn't say it's better or worse than Nutella, just different. It's like a darker, richer, coarser version of Nutella that sits better in my stomach. You know what else I like about this recipe? It's mostly made of nuts. If you look at Nutella's ingredient list, the first ingredients are sugar, then oil, then chocolate & nuts.
The homemade version is mostly nuts and the amount of sweetener is entirely up to you. The original recipe suggested using agave nectar, but I'm still on the fence with that one. As heavily processed as agave nectar is, I'm still not convinced of its virtues. It's probably better than white sugar — I'll give it that much. Better to go with raw honey, though.
Will this replace Nutella in my house for the rest of my life? Probably not, but it might hold me over a bit longer between jars. And I'll feel a smidgen better about eating a whole cup of it.
Try it out! I'm curious to know what you think!
Chocolate Hazelnut Spread (Homemade Nutella)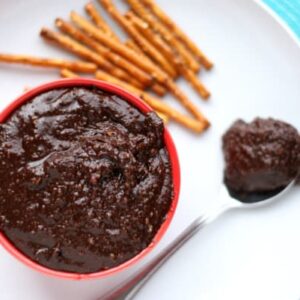 Ingredients:
1 cup chopped hazelnuts

1/4 cup good-quality, unsweetened cocoa (I used Ghirardelli)

1/4 cup liquid sweetener (honey, agave, maple syrup)

1 T hazelnut oil or a neutral-tasting oil like grapeseed

1 T vanilla extract

a pinch of salt
Directions:
Combine all ingredients into the mixing bowl of a food processor and pulse until it begins to break down. Process for about a minute until it's relatively smooth. (It won't be as smooth as Nutella.) If you have a hard time getting it mixed, try adding a teaspoon or two of water to get things going.
Taste and adjust sweetener to your liking. For mine, I used 1/4 cup plus 1 T of sweetener.
Makes about 1 1/4 cups.
Nat's Note:

1. The original recipe suggested roasting the nuts, but I try to avoid doing that. Heating nuts to high temperatures oxidizes their fats. That's not a good thing.