Our Paleo Report + Six Favorite Paleo/Primal Meals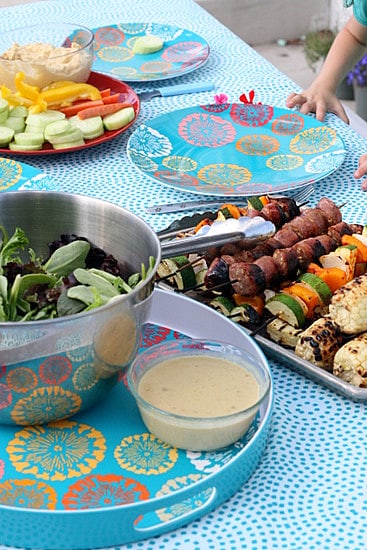 [Update: 3.7.13 - I apparently had a momentary lapse in memory and forgot that butter is, in fact, a dairy product. Thank you for cutting a post-partum, sleep-deprived mama some slack. You can use coconut oil for anything in this post that called for butter. If you can find Kerrygold grass-fed butter, that's great as well. That is all.]
July is over! And so is our paleo/primal month. Whew. I learned a lot during this (which I added at the bottom of the post), but first let's get to the food.
A few of you asked me to share our favorite Paleo meals, and since I'm usually an obedient blogger, I obliged.
I also created a new "Paleo/Primal" category for the index — recipes that fit or can very easily be adapted to fit the Paleo/Primal lifestyle. (Not quite complete yet, but getting there…)
Meal #1
The meal shown above is simply Aidell's Chicken & Apple Sausage and a bunch of vegetables tossed in grapeseed oil and smoked paprika, hummus, raw vegetables for dipping, and a green salad with mustard sauce to drizzle over everything.
The recipe for the mustard sauce is found in Mark Sisson's book, Primal Blueprint Quick & Easy Meals. Basically you melt a couple tablespoons of butter and add a chopped shallot. Saute for a couple minutes, then add 1/2 cup chicken stock and simmer for 5 minutes. Add 3-4 tablespoons of Dijon or German mustard and 1/4 cup coconut milk, then simmer for a couple more minutes. Stir in some chopped parsley if you like.
(Yes,  I realize hummus isn't Paleo. I decided to include an occasional legume to our meals because I didn't want to eat lots of meat.)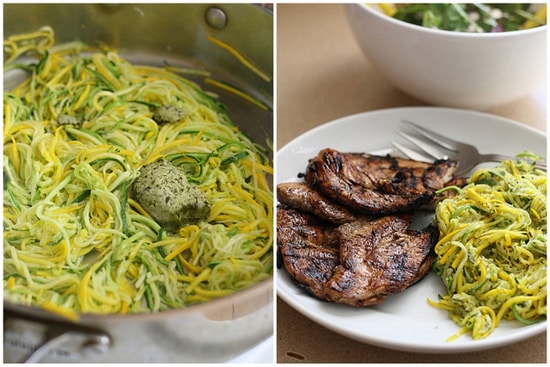 Meal #2
This may have been my favorite meal of the month.
Balsamic Roasted Chicken — Betcha thought it was steak, eh? I used the marinade from this recipe. Speaking of red meat. We ate beef only once last month. You don't have to have steak every day to eat Paleo.
Zucchini & Summer Squash "Noodles" with Basil Butter — Use the technique to prep the squash in this recipe. Then make the basil butter by combining a stick of soft butter and a half a bunch of basil in the food processor. Keeps in the fridge for a long time. Just add a couple of tablespoons into a hot pan and toss the squash around a bit to warm it up. I made a version of this squash with dill butter last night. Wow.
Simple Spinach Salad with Balsamic Vinaigrette — Very similar to this salad. I left out the Pecorino. (And felt like crying in the corner.)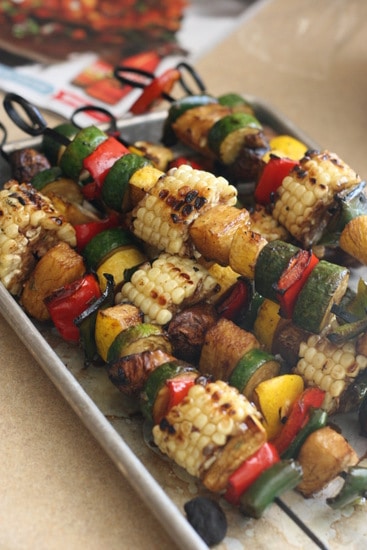 Meal #3
Butterflied and Grilled Whole Chicken — This one is still a work in progress. (Translation: My chicken keeps catching fire. Meat's good, but photogenic it is not.) Roasted chicken is always a treat. If it isn't 187 degrees outside.
Marinated & Grilled Vegetable Skewers — We did a lot of grilling last month. When my parents came out after the baby was born, they gave us a grill as a gift. L.O.V.E. it. I bet I turn that thing on 4-5 times a week. Last week I discovered how incredible marinades are when grilling vegetables. These vegetables sat in a bath of balsamic vinaigrette before I skewered them. I used zucchini, yellow squash, red bell pepper, poblano pepper, corn on the cob, brown mushrooms, and pineapple chunks. The biggest surprise for me was how fantastic the mushrooms and pineapple were!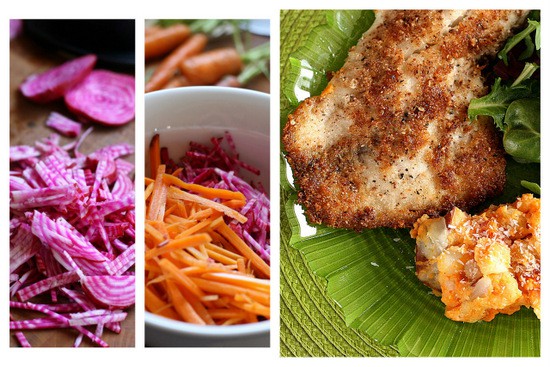 Meal #4
We made lettuce cups with…
Coconut-Almond Crusted Fish — I used the fish recipe in this post. I believe I used sole and baked it this time around.
and…
Carrot & Candy-Striped Beet Slaw — We affectionately call this "Party Salad," and I believe it's the most beautiful, photogenic thing I've ever made. If you can find candy-striped beets, they're so much fun. (And taste less like dirt than regular beets. Boy, I'm selling this one aren't I?)  The orange dressing plays off the natural sweetness in the carrots and beets and goes beautifully with the fish. Citrus + Fish = Always a good thing.
P.S. This wasn't a very filling meal. You might want to supplement with another vegetable side dish.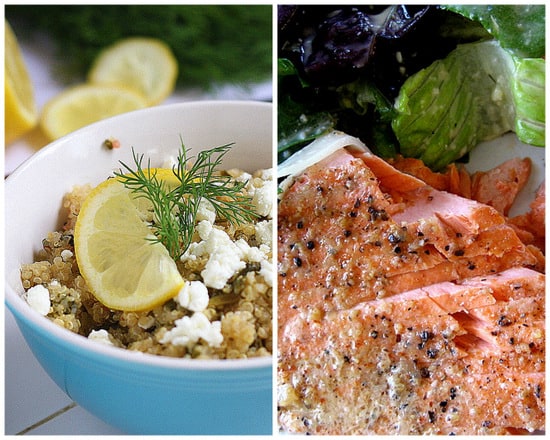 Meal #5
Salmon Foil Packets — My all-time favorite way to cook salmon. I keep trying new things, and keep slapping myself on the forehead as a result. Just don't overcook it!
Lemon Quinoa Salad — Technically quinoa is a seed. So we ate it. This recipe is great, even when you leave out the cheese. (Yep. Cried in the corner.) This other quinoa salad is fantastic as well. Apparently a lot of you like this one, too! I've got a lot of other salad recipes that could easily be paleo if quinoa isn't your thing.
We also had grilled corn on the cob. With butter. I'm not going to haggle over whether or not those things are paleo.
Plus it's July. I'm eating corn on the cob. With butter.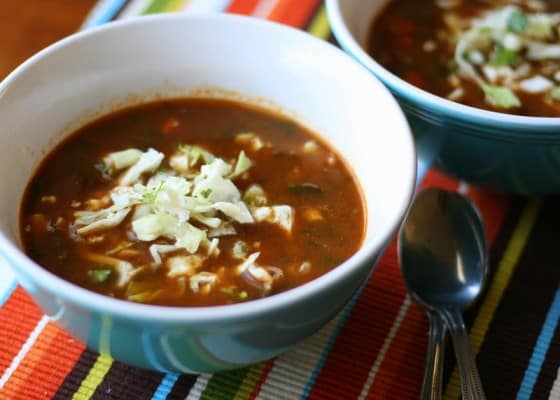 Meal #6
Beso's Tortilla Soup — I've been making this a lot in the past few months. Soup in the summer? Yes. It's very light and summery. My kids like that they can customize their own bowls.
 What did I learn?
1. That I would go absolutely nuts without cheese. For reals. I'd take cheese over chocolate most days.
2. Speaking of nuts… I figured out two weeks into this experiment that my breastfed baby breaks out in a rash and gets cranky when I eat nuts. I was only after I quit eating nuts that I realized how much I depend on them when I'm eating Paleo, and I really struggled after that. So I decided to eat cheese again as a consolation. (See #1.) Eating all-nut granola and baking with almond flour really kept my cravings under control for "real" granola, pancakes, and such.
3. After the first week my 5-year-old daughter noticed that we weren't eating any sweets. She asked me why and I told her it was because I wanted my fruit to taste like candy. She liked that idea. It's true. Fruit, and even vegetables taste sweeter these days.
4. Replacing grains with greens is easier than I thought. Instead of having burritos, we just put the filling over a bed of salad or in a lettuce cup. Same thing with Sloppy Joes (which I LOVED and will post shortly).
5. I lost 8 pounds! I am breastfeeding, which burns quite a few calories, and I quit eating sugar and starchy food, so losing a few pounds was no surprise.
6. For me, personally, I don't think I could eat strictly Paleo all the time. (Although being able to eat nuts would make it easier. See #2.) I feel like I need some kind of starch in the morning, like oats, to hold me longer, and I found that eating Paleo dinners keeps me from getting sleepy and lethargic in the evening. (I thought that was normal. It's not!) While we'll still have pizza and other non-Paleo indulgences occasionally, I think we'll stick to mostly Paleo dinners.
Have any of you been converted or are experimenting with a Paleo/Primal lifestyle? I'd love to hear your thoughts!