Roasted Chiles Rellenos Bake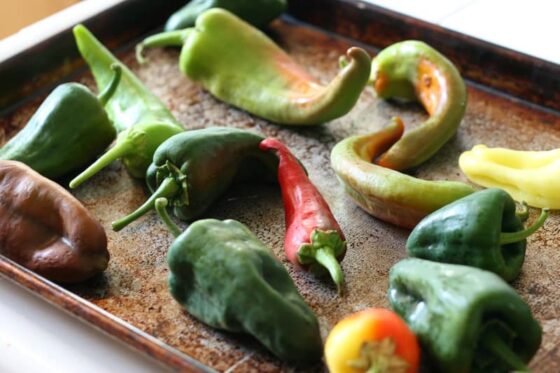 Pretty, aren't they? I've always thought that peppers and chiles are some of the prettiest vegetables. Red bell peppers in particular.
One weekend I had these beautiful multi-colored peppers (mostly Anaheims and poblanos) from our CSA box and wanted to do some kind of chiles rellenos dish. Only I didn't want to fry them.
Or eat four pounds of cheese for dinner.
I found Pioneer Woman's recipe for
Lazy Chiles Rellenos
which layered the chiles, cheese and had a mixture of eggs and milk poured over the top. It reminded me of a breakfast casserole. I liked the "laziness" of layering everything instead of stuffing chiles, but I didn't want a breakfast casserole. I wanted some kind of crust. Like the crust of something fried without frying it. (The ultimate dream, right?)
Then I found Roasted Chiles Rellenos in
The Roasted Vegetable
, in which the chiles were stuffed with cheese. Then a mixture of mostly whipped egg whites was spooned on top of the chiles followed by baking.
So.
I took the lazy layering aspect from Ree's recipe and combined it with the whipped egg topping from Andrea's recipe. Then I added tomatoes. Because I had some. And they made it prettier.
We really like this! (Clearly. The four of us ate the entire pan.) We ate this for dinner with a green salad, but I think it would be awesome as a brunch. You could even roast the chiles the night before and layer everything except for egg mixture, which could be done really quickly in the morning.
My husband, even though he enjoyed it, thought the tomatoes threw off the whole chiles rellenos concept. I guess he's a purist.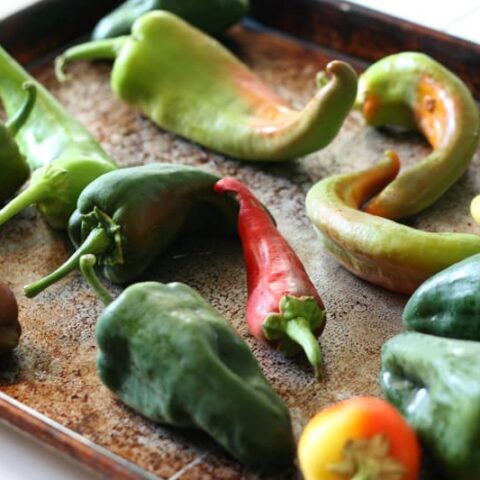 Roasted Chiles Rellenos Bake
Yield: Serves 6
Additional Time: 1 hour
Total Time: 1 hour
This short cut chiles rellenos is more like a breakfast bake! And much easier than stuffing chiles.
Ingredients
8-12 small to medium chiles/peppers (I used a combination of Anaheims, poblanos, and sweet peppers)
2 cups shredded Monterey Jack cheese
2-3 Roma tomatoes, sliced (optional)
5 large eggs, separated
1 Tablespoon + 1 teaspoon arrowroot or tapioca starch
1/2 teaspoon salt
salsa (for garnish)
Instructions
Preheat oven broiler. Place peppers on a rimmed baking sheet and broil for 10-15 minutes. Turn peppers once or twice during roasting so they're blistered all over. Peppers should be tender with lots of black spots. Place in a paper sack or a bowl covered with plastic wrap. Leave them for about 10 minutes.
Reduce oven temperature to 350 degrees F. When the chiles & peppers are cool enough to handle, peel their skins off. The 10-minute steam they had just then should loosen up the skins quite a bit. Don't worry about getting every piece of skin off. Just the stuff that comes off easily. Remove the stems, cut in half and remove the seeds and whitish membranes.
Lightly oil a 9x13 baking dish. Lay the chiles and peppers flat, covering the bottom of the dish in a single layer. Sprinkle with half of the cheese. Lay tomato slices over the cheese, then the last of the cheese over the tomatoes.
Separate the egg yolks from the whites into separate bowls. Whisk the yolks together with the starch and salt. Beat the whites with an electric mixer until soft peaks form, then gently fold the whites into the yolk mixture.
Spread the egg batter evenly over the cheese layer. Bake for about 15 minutes until the topping is browned.
Serve hot with salsa and a green salad.
SaveSave
SaveSave
SaveSave