Would it be weird to admit that I've always wanted a bear hug from Emeril Lagasse?
He seems like he'd give great hugs. And from what I've heard, he's super nice and genuine. I'd love to sit at a bar stool in his kitchen, chat with him, and watch him cook. So would about a million other people, I think.
When I had the opportunity to review Emeril's newest book,
Sizzling Skillets and Other One-Pot Wonders
, I figure that's about as close as I'm going to get to the man himself. Not only did I get to review this book, but I'm giving one away to one of you! (Details below. It's pretty painless, I promise.) This will be the first of several cookbook giveaways this fall!
This book is packed with fantastic-looking dishes that, I'm sure, taste as great as they look. Although it's a "one-pot" book, most of the recipes have long ingredient lists and lots of steps. It's not a book I'd turn to on a Wednesday night at 5:30 looking for something quick. Nor is it a book I'd gather ideas from if I'm watching my diet. But it's definitely a book I'd turn to if I've got dinner guests on the weekend. Or a family gathering to prepare for.
Kind of comes with the territory. Emeril isn't known for doing 30-minute meals. He is known for knocking socks off, though.
I've got a shopping list filled with recipes stuck in this book. I hope I can get to all of them before I die. I'd especially love to try his Southern Chicken and Dumplings, Indian-Inspired Beef, Cheese Soup with Chicken & Peppers, and Cheese Enchiladas with Smoky Sauce. (Seems I'm craving cheese lately.)
I did try Emeril's Mulligatawny, though, with high hopes. I love the
Mulligatawny recipe
I have here on the blog, so I wanted to try Emeril's spin on it.
Took longer than I thought it was going to, but it was delicious! It wasn't pureed like the other Mulligatawny, but thick and chunky. Packed with vegetables and Indian spices, even my kids devoured it.
I also tried Chicken in the Pot, which is a great slow cooker recipe for whole chickens! There's a whole chapter in this book dedicated to slow cooker recipes. It seems everyone's clambering for those lately. The recipe for this chicken is below as well as the info for the cookbook giveaway. Good luck!!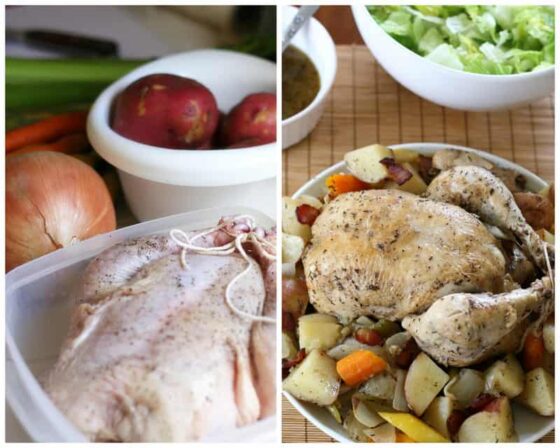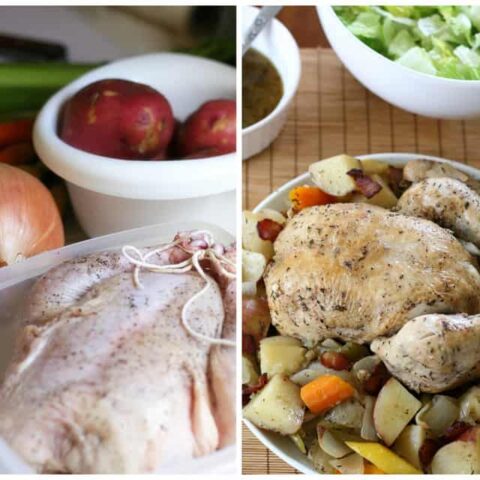 Chicken in the Pot
Total Time:
4 hours
30 minutes
Ingredients
One 4-pound whole chicken, excess fat removed, rinsed and patted dry
1 Tablespoon kosher salt
1 teaspoon freshly ground black pepper
1 Tablespoon butter
4 ounces applewood smoked bacon, cut into 1/2-inch pieces
3 medium carrots, peeled and cut into chunks
2 medium onions, chopped into large pieces
1 celery stalk, cut into 1/2-inch pieces
1 3/4 pounds new potatoes
4 garlic cloves, smashed and peeled
1 Tablespoon dried thyme, crumbled between your fingers
1/2 cup dry white wine or chicken stock
1 Tablespoon chopped fresh parsley leaves, for serving
Instructions
Season the chicken inside and out with salt and pepper. Tuck the wings behind the back and tie the legs together with kitchen twine.
In a Dutch oven large enough to hold the chicken, melt the butter over medium heat. Add the bacon and cook, stirring as needed, until the fat is rendered and the bacon is crispy. Transfer the bacon to a paper towel-lined plate and set aside.
Place the chicken on its back in the Dutch oven. Cook until nicely browned, 4-5 minutes. Carefully turn the chicken onto its breast and brown for 4-5 minutes longer. (Stick the handle of a long wooden spoon into the cavity of the chicken to help you maneuver it.) Turn the chicken on its side and cook for 4-5 minutes, then repeat on the other side. Transfer the browned chicken to the crock of a 6-quart slow cooker.
Add the carrots, onions, celery, potatoes, garlic, and thyme to the slow Dutch oven. Cook, stirring as needed, until the vegetables are nicely glazed, about 4 minutes. Remove from the heat and transfer the vegetables to the slow cooker, scattered around and under the chicken so that everything will fit. Add the bacon and wine/broth.
Cover, set the slow cooker on high, and cook until the chicken and vegetables are very tender, about 4 hours.
Remove the chicken from the slow cooker and set aside to rest for 15 minutes before serving. Using a large spoon, divide the vegetables and broth among serving bowls. You will able to portion the chicken easily with the spoon.
Lay the chicken pieces over the vegetables. Sprinkle with parsley and serve immediately.
Notes
Nat's Notes:
1. I thought this was a little heavy on the onions. I would half the onions and add a few more carrots next time.
2. I used chicken stock instead of wine.
3. It only took 3 hours for this to cook in my 6-quart oval slow cooker.
SaveSave
SaveSave