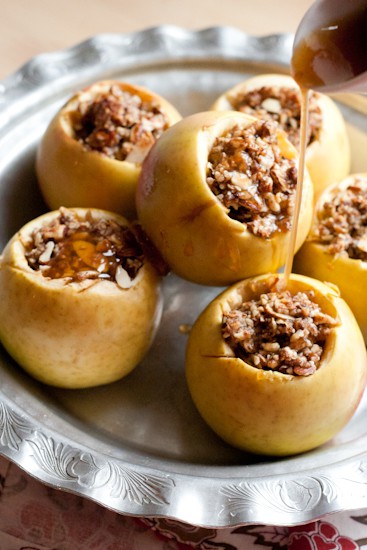 So, I'm sort of late to the game, but I'm totally in apple/pumpkin mode. As a blogger I should be feeding you gingerbread and peppermint right now. I guess that's what happens when I take a blogging break mid-September to mid-November.
You know what, though? We eat apples and pumpkin the entire seasons of fall and winter.
And I'm glad to have a little mojo back.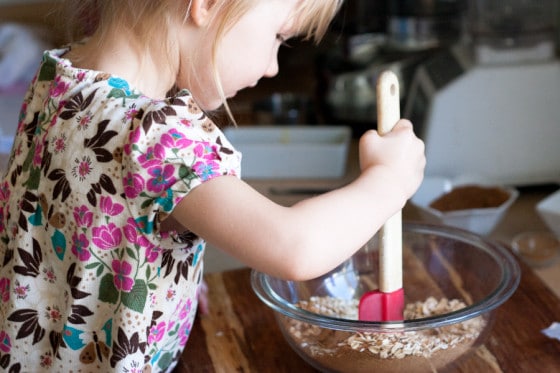 Recently I did a step-by-step post on the Tasty Kitchen Blog featuring a Baked Apples recipe from My Friend's Bakery. It was such a fun, easy recipe and my littlest was the perfect sous chef. She's usually my sous chef, whether I'd like one or not.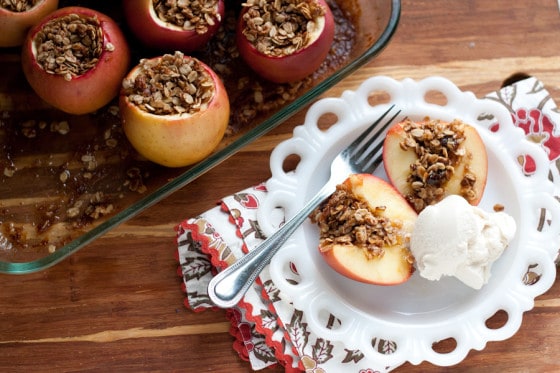 This is a traditional recipe, made with oats (and eaten with caramel sauce and vanilla bean gelato), but I wanted to create my own paleo version.
And eat it with caramel sauce and vanilla bean gelato.
Joking.
OK, not really. I have very little self-discipline when I'm pregnant. The only thing that keeps me from jumping completely off the wagon is that gluten and sugar (particularly when eaten together) give me the worst heartburn ever. I figured this out during my last pregnancy.
Hot sauce? No problem.
Spicy sausage? Bring it on?
Brownies and ice cream? Heartburn and reflux so bad I can't lay down to sleep.
It's awful. But at least I can control it well. (When it isn't November and December.)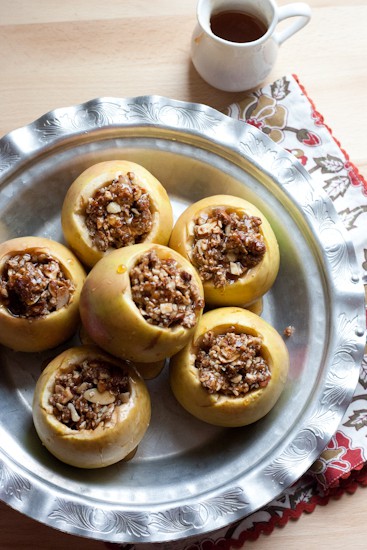 So yes, a cleaned-up paleo version of that delicious fall treat!
I made some apple cider syrup to drizzle over these, which, depending on your paleo-ness, may or may not be OK for you. Fruit juice in general has a high concentration of sugars, but when you reduce it by 3/4ths? Yowza. Like, the most delicious syrup ever, but very sweet.
And the perfect replacement for caramel sauce, if I do say so myself.
If you have some extra apples whip up these Gluten-Free Apple Nachos for dessert later in the week! You can find the recipe over at My Gluten-Free Kitchen.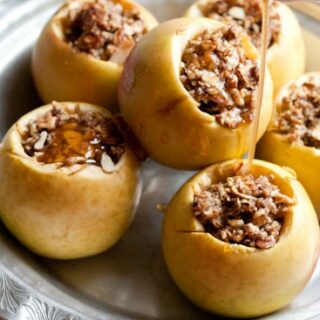 Paleo Baked Apples
This is a naturally-sweetened fall treat! It's also gluten-free and grain-free.
Ingredients
6 medium-sized baking apples
1/3 cup raw, unsalted pecans
1/3 cup raw, unsalted hazelnuts
1/3 cup sliced almonds
2 Tablespoons honey
2 Tablespoons coconut oil, melted
pinch of salt
For the Cider Syrup:
1 quart of unsweetened apple cider
Instructions
Preheat oven to 350 degrees F. Line a small baking dish (that will hold all the apples) with foil.
Chop the pecans and hazelnuts finely or pulse them in a food processor. Transfer them to a medium-sized bowl and stir in the almonds, honey, coconut oil, and salt. Combine well.
Cut out the top of each apple with a small, sharp knife and scrape out most of the core with a spoon.
Place the apples in the lined baking dish and fill each cavity with the nut mixture, pressing tightly. All of the mixture should fit into the apples.
Cover with foil and bake for 20 minutes. Remove foil and continue to bake for another 10-15 minutes until the apples have softened and the nuts are toasted.
While the apples are baking, put the cider in a pot and boil for 35-40 minutes until it has reduced to about 1 cup.
Drizzle some cider syrup over the apples and serve.
Notes
Nat's Notes:
The remaining syrup can be stored in an air-tight container, refrigerated, for a couple of weeks.
Save
Save