Mexican Chicken Pizza with Butternut Squash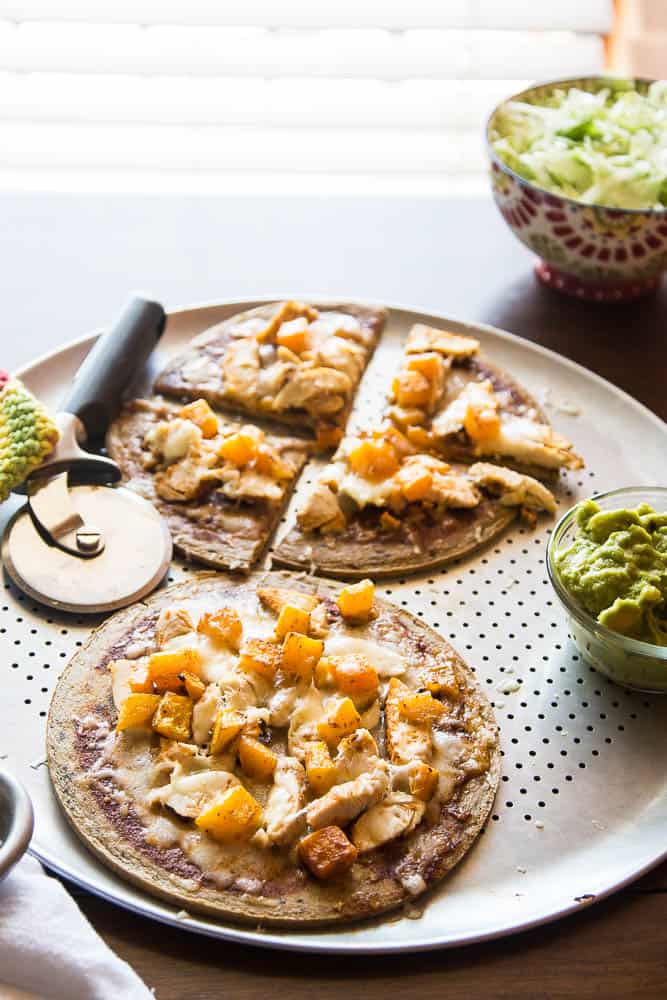 I really love butternut squash. Steve likes it, too. I'm trying desperately to get my kids to like it, but so far I get devastated moans and scrunched up noses. And an occasional dramatic drop to the floor. Sigh.
By putting it on a Mexican chicken pizza, I thought I'd win them over. I mean, it's pizza. And there's cheese involved.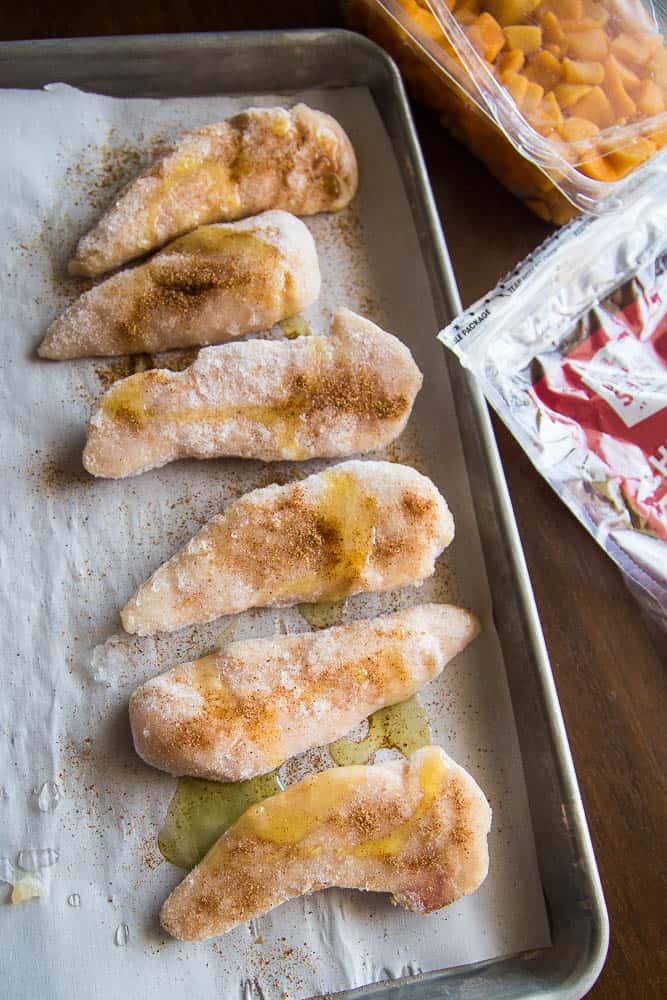 The last time I made this I was in Salt Lake City visiting family, so I ran over to Sprouts and grabbed some Sprouts Butcher Shop chicken tenders, a frozen paleo pizza crust, and a few other things. By the way, Sprouts has their entire freezer section 20% off through Aug 16th!
I always seem to overlook the freezer section. There are so many easy, fast dinners you can whip up from stuff you find in the freezer section. I'm not talking about frozen burritos but actual ingredients.
Like chicken tenders. I was staying at my parents' place and my mom always has my Sweet Potato Fry Seasoning in her cupboard, so I sprinkled some on the chicken and butternut squash before I roasted it. You could also use homemade taco seasoning.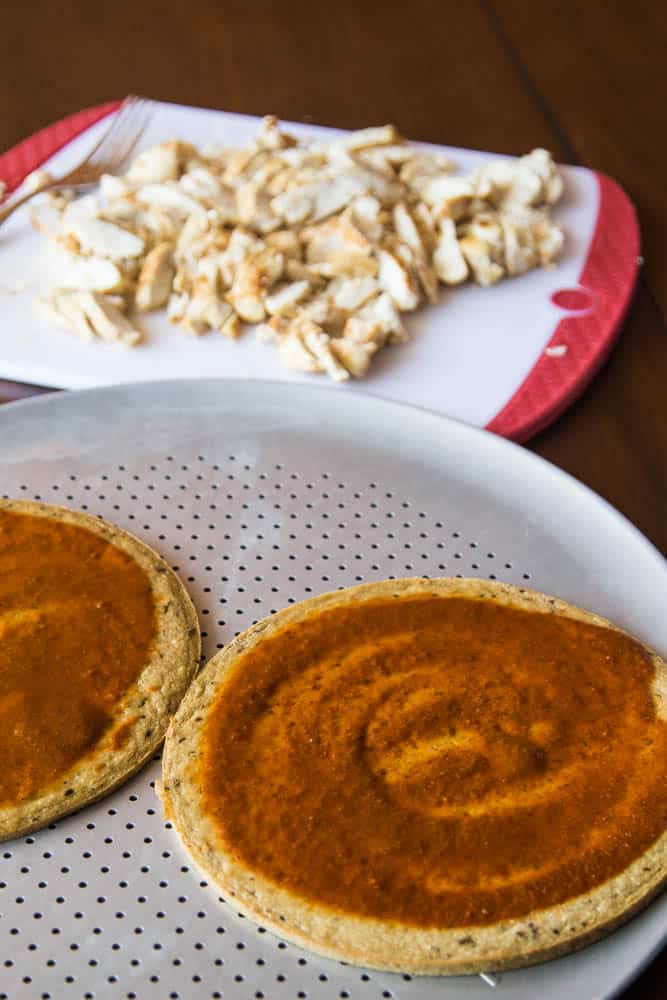 I had never tried Mikey's paleo pizza crust before. Honestly, it wasn't bad. I think a homemade one would be better, but in a pinch it was perfect!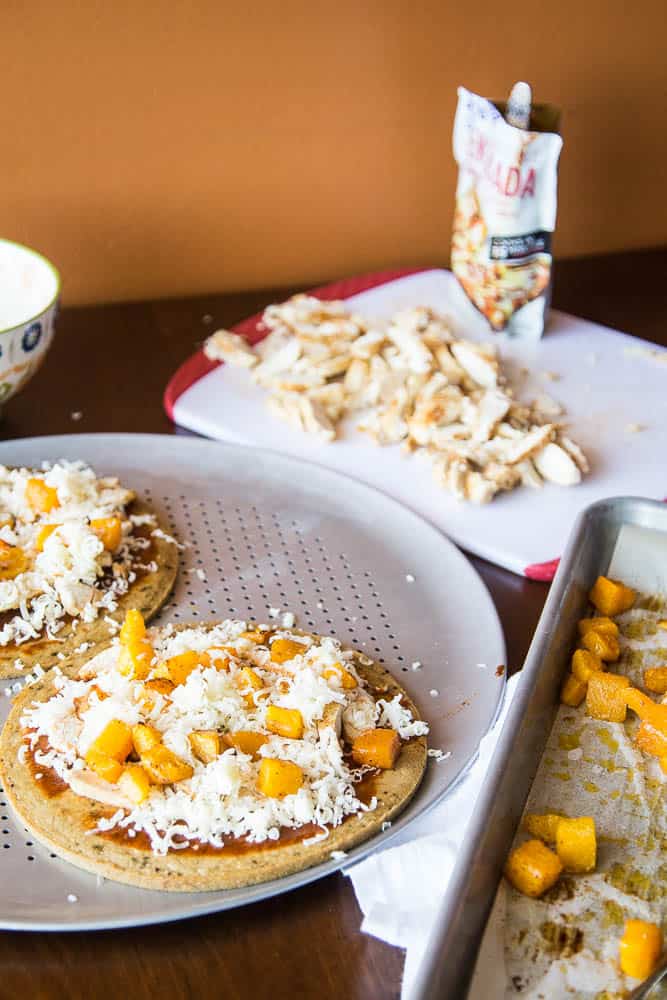 You could even cook the chicken & butternut squash ahead of time and throw it together when you're ready to eat. Or when you run in the door from swim class and your kids are showering.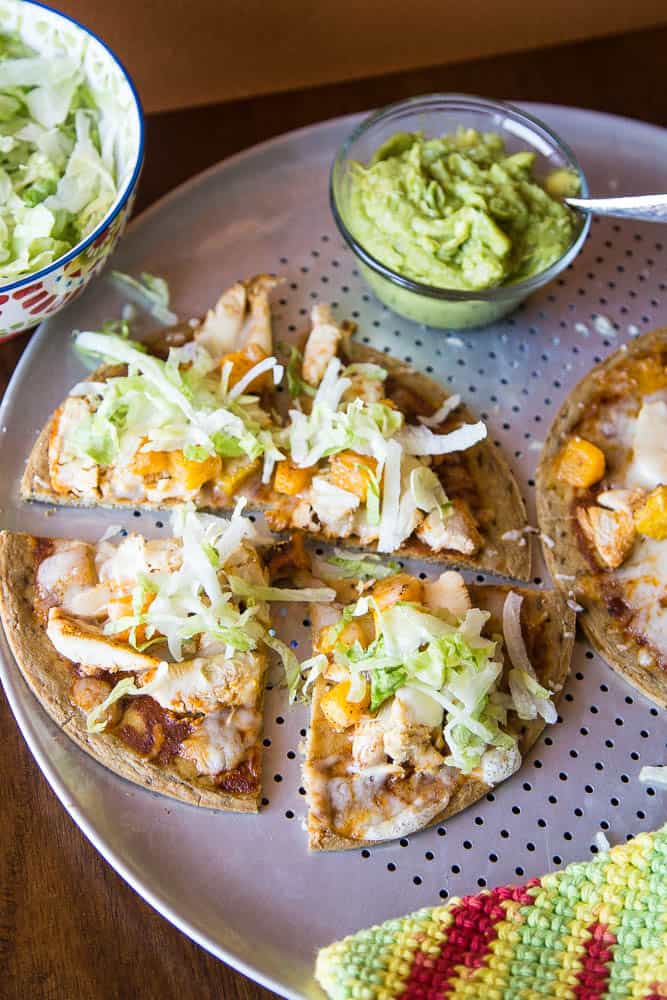 This is totally optional, but you can throw some shredded lettuce on guac on top, too. Did I say the guac was optional? It's not, really.
Oh, and hot sauce would be good, too.
PS. My kids totally ate this! (After they pulled all the squash off. Sigh. I'll just have to settle for Apple-Squash Soup with Bacon if I want my squash fix.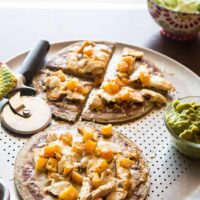 Mexican Chicken Pizza with Butternut Squash
Yield: Serves 4-6

Prep Time: 10 minutes

Cook Time: 35 minutes

Total Time: 45 minutes

Grab a few things from the freezer section and whip up this Mexican Chicken Pizza with Butternut Squash for a busy weeknight dinner!
Ingredients
3/4 pound chicken tenders
1 Tablespoon taco seasoning or another Latin-style seasoning blend
1 Tablespoon avocado oil
2 cups butternut squash cubes, fresh or frozen
1 large or 2 small pre-cooked pizza crusts (gluten-free/paleo, if possible)
1/2 cup enchilada sauce
4 ounces Monterey Jack cheese (optional)
Shredded iceberg lettuce and guacamole, for serving
Instructions
Preheat the oven to 425 degrees F. Line a rimmed baking sheet with parchment or prepare with non-stick spray.
Lay the chicken on half of the baking sheet. Sprinkle half of the seasoning and drizzle half of the oil on both sides of the chicken. Roast for 10 minutes.
Add the butternut squash to the other side of the pan, adding the rest of the seasoning and oil to the squash. Toss to coat. Return the pan to the oven and roast for another 20-25 minutes until the chicken is cooked through and the squash is tender and they both have golden brown spots. Flip the chicken and squash around once during roasting. Transfer the chicken and squash to a large plate to cool for a few minutes while you gather the rest of the ingredients.
Set the oven to a high broil.
Place the pizza crust on the rimmed baking sheet, if it'll fit. If not, use a pizza pan.
Spread some of the enchilada sauce on the crust, to your liking. Slice the chicken thinly. Add the chicken and squash to the pizza. Sprinkle the cheese on top, if using.
Broil the pizza until the crust is heated through and the cheese is melted, about 10 minutes.
Slice and serve with some shredded lettuce and guacamole.
Notes
Nat's Notes:
Sprouts has clean enchilada sauce (Frontera brand in a pouch), but if you can't find any, try my Whole30 Enchilada Sauce. It's easy to make and will be done before the chicken is finished roasting!
Disclosure: This post was created in partnership with Sprouts Farmers Market. All opinions shared are my own.