Balsamic Roasted Vegetables, Three Ways!
After I posted all those zucchini recipes I thought of several more. I'll have to put together another post in case you're still swimming in zucchini. We are. I've made pizza, cupcakes and a pasta dish and I'm only halfway through that "zucchini bat" as my cousin called it.
Speaking of . . . zucchini is delicious when it's roasted, so it would work well in this recipe. I took a basic recipe for roasting vegetables (which is excellent on its own as a side dish), and tweaked it a couple of different ways. I ended up with a tangy, cheesy vegetable side dish as well as a flavorful pita stuffed with the roasted vegetables and some grilled marinated chicken.
My husband really doesn't like balsamic vinegar, but I'm beginning to win him over. He loved these!
Still raw and happily lounging in some olive oil.
Three-Way Balsamic Roasted Vegetables
some originality, some adaptation from BHG.com
Option #1: Balsamic Roasted Vegetables (Base Recipe)
Enough sliced (as uniformly in size as possible) vegetables to fill a rimmed cookie sheet, slightly overlapping (red potatoes, green beans, onions, zucchini, squash, sweet potatoes, bell peppers, mushrooms, eggplant, etc.)
3 cloves garlic, sliced
2-3 T olive oil
3 T balsamic vinegar
1 tsp salt
1/2 tsp each black pepper and garlic powder
fresh/dried herbs (optional)
Move oven rack to the upper third of the oven and preheat oven to 400 degrees F. Line a heavy rimmed (preferably light-colored to prevent burnage) cookie sheet with aluminum foil and spray with nonstick spray. Add the vegetables and garlic to the pan. Drizzle olive oil and vinegar, and sprinkle the salt, black pepper and garlic powder over top. Add herbs, if using. Using your hands, mix the vegetables until everything is coated, then arrange them as evenly as possible. It's OK if they overlap some. Roast for 35-40 minutes, until vegetables are cooked through and browned in spots. Remove from the oven. Transfer to a platter and dish up.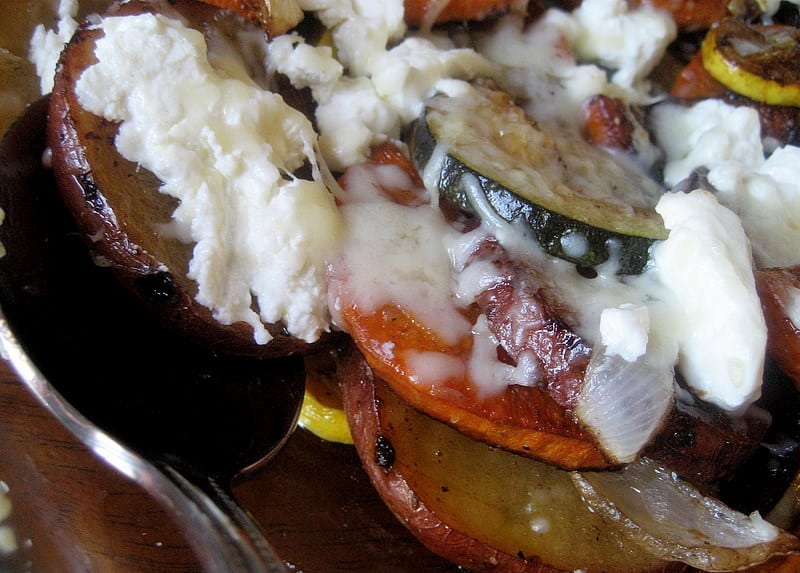 Option #2: Balsamic Roasted Vegetables with Fresh Cheese
additional ingredients:
2 ounces crumbled goat cheese
1/4 c grated Italian cheese blend
Roast vegetables as directed above. Transfer roasted vegetables to a 9×13 baking dish, sprinkle cheese over top, and broil for 3-4 minutes or until the cheese is melted.
Option #3: Balsamic Chicken and Roasted Vegetable Pitas
additional ingredients:
2 boneless, skinless chicken breasts, butterflied or pounded thin
¼ c. oil (olive if possible)
2 T. balsamic vinegar
3 T. water
2 T. Italian seasoning
4 pitas, halved
any vinaigrette or Italian dressing
shredded Parmesan or Italian blend cheese
(Several hours in advance) Combine chicken, oil, vinegar, water, and Italian seasoning in a plastic resealable bag. Mush it a bit to ensure the chicken is coated, then refrigerate for at least 2 hours, up to overnight.
Roast vegetables as directed above. Meanwhile, preheat a BBQ grill (or nonstick skillet) to medium-high heat. Discard marinade and grill (or saute) chicken until thoroughly cooked, flipping once, about 8-10 minutes. Remove chicken from pan and let rest for 5 minutes before slicing into strips.
Fill pitas with roasted vegetables, strips of chicken, a drizzle of vinaigrette and a sprinkle of cheese.
Makes 8 pita halves.